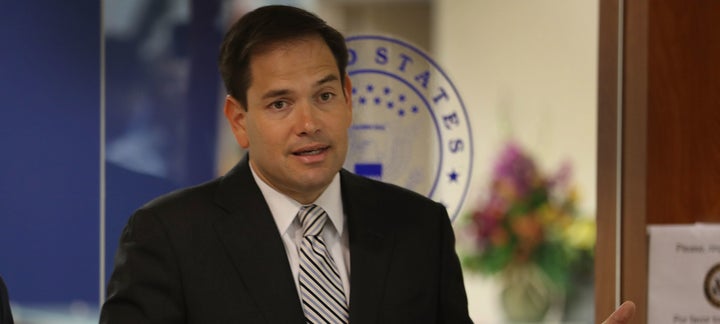 In May, Rubio told CNN's Jake Tapper that he would attend the RNC, vowing "to be helpful" in the fight against Hillary Clinton. But now that Rubio is running for re-election in the Senate, he'll be too busy with campaigning to attend, said spokeswoman Olivia Perez-Cubas.
"Florida has always been a competitive state and it will be this fall. Marco had planned to go to the convention before he decided to seek re-election. Since Marco got into the race late, he will be in Florida campaigning and meeting with voters instead of going to Ohio," Perez-Cubas told the Tampa Bay Times.
Rubio has lent presumptive GOP nominee Donald Trump tepid support, arguing that the business mogul is preferable to Clinton. But in a statement announcing his re-election campaign, Rubio sought to distance himself from Trump's racist, sexist rhetoric.
"The prospect of a Trump presidency is also worrisome to me," he said. "It is no secret that I have significant disagreements with Donald Trump. His positions on many key issues are still unknown. And some of his statements, especially about women and minorities, I find not just offensive but unacceptable."
Rubio joins a growing list of Republicans skipping the convention, including 2012 GOP nominee Mitt Romney, former Florida Gov. Jeb Bush, New Hampshire Sen. Kelly Ayotte, former president George W. Bush and Arizona Sen. John McCain.
However, some of Trump's former primary rivals are planning to speak at the event, including Wisconsin Gov. Scott Walker (R) and neurosurgeon Ben Carson. Ohio Gov. John Kasich (R), meanwhile, won't say if he plans to attend the convention (which is to be held in his home state), and a spokesperson for Sen. Ted Cruz (R-Texas) denied reports that the former 2016 candidate was in talks to speak at the RNC.
Before You Go
Marco Rubio On The Campaign Trail
Popular in the Community