LONDONDERRY, N.H. -- Sen. Marco Rubio (R-Fla.) doesn't care if people are sick of hearing him say the same line over and over. He's going to keep on doing it. 
"After last night's debate, [people said], 'Oh, you said the same [thing] three or four times.' I'm going to say it again. The reason these things are in trouble is because Barack Obama is the first president, at least in my lifetime, that wants to change the country. Change the country! Not fix it, not fix its problems," Rubio told a crowd at a town hall event Sunday morning.
It was his first public event since Saturday night's ABC News debate, where Rubio found himself a target after his third-place finish in the Iowa caucuses. It was a tough night for him. New Jersey Gov. Chris Christie (R), in particular, went after Rubio and questioned whether he has the experience necessary to be president. 
Christie called Rubio out for using the same attack over and over: "And let's dispel once and for all with this fiction that Barack Obama doesn't know what he's doing. He knows exactly what he's doing."
At one point, the audience booed Rubio for using the same line over again. 
The Democratic super PAC American Bridge also did some of their own trolling of Rubio Sunday morning. A couple of staffers dressed as robots and stood outside his event and said, "Domo arigato Marco Roboto!" and repeated Rubio's debate line.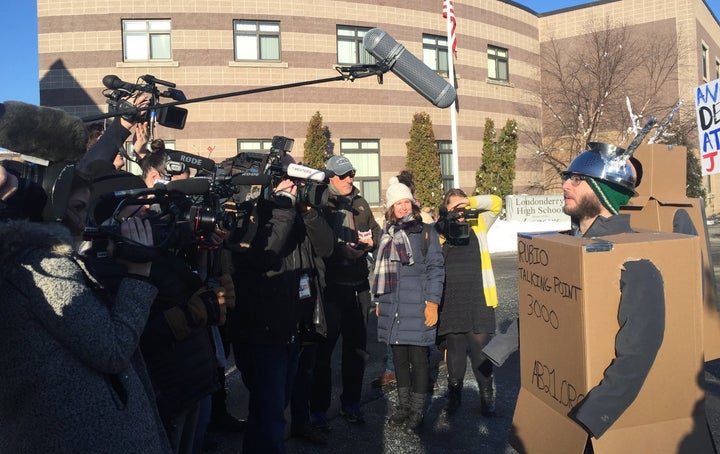 Rubio also defended his repetition in an interview on ABC's "This Week," saying he was fine that Democrats were highlighting his remarks.
"Well, actually, I would pay them to keep running that clip because that's what I believe passionately," he said on the show Sunday morning. "It's one of the reasons why I'm not running for reelection to the Senate and I'm running for president.  This notion and this idea that somehow, oh, this is an accident -- Obamacare was not an accident."
Calling all HuffPost superfans!
Sign up for membership to become a founding member and help shape HuffPost's next chapter