 By Elaine de Valle, VOXXI
In the last few days, Washington insiders were buzzing about two names: Ryan and Rubio.
Insiders told VOXXI that the contest for the vice presidential nomination came to be a race in the last weeks between the three Rs: Ohio Sen. Rob Portman, Wisconsin Rep. Paul Ryan and Florida Sen. Marco Rubio. Then last week, the talk was all Ryan and Rubio, Rubio and Ryan.
The Cuban-American from Miami must have known early, however, that he had not made the final cut: Rubio was on vacation with his wife and kids at an undisclosed location when Republican presidential nominee Mitt Romney announced Ryan would be his running mate.
The Florida Senator and best-selling author — who mixed campaigning with a tour of his recently released book, An American Son — is going to need that rest. Because the election isn't over for him.
"Marco Rubio now becomes the Romney/Ryan ticket's top national surrogate," said U.S. Congressman David Rivera, one of Rubio's closest friends who served with him in the Florida House. Rubio's role in the campaign will be as a fill-in, in other words.
"Wherever Romney and Ryan cannot be to campaign, Marco Rubio will be the first choice to stump for the presidential ticket," Rivera said in a telephone interview, shortly after the announcement was made while still listening to reaction on National Public Radio.
"Romney's Veep selection process has culminated with Ryan as VP and Rubio as the virtual deputy VP. No one will receive more surrogate speaking duty on behalf of the GOP ticket than Marco Rubio," Rivera told VOXXI.
U.S. Congresswoman Ileana Ros-Lehtinen told VOXXI she was pleased that Rubio was passed over.
"I'm glad Marco was not selected," Ros-Lehtinen said in a telephone interview from her home in Pinecrest, Fla. "Because now we'll have eight years of Romney/Ryan and then he'll be back in 2020, but not as the number two, as the top of the ticket. He'll be the man."
Rubio said in a statement that Romney had made another one of his "great decisions" by picking the 7-term Wisconsin congressman and Tea Party darling. "Choosing Paul Ryan as his running mate is a truly inspired choice," Rubio said. "Paul Ryan is a courageous reformer who understands our nation's challenges, has proposed bold policy solutions to solve them, and has shown the courage to stand up to President Obama and other Washington politicians trying to tear him down."
Rubio said he got to know Ryan during his Senate campaign. "He endorsed me early on when I was still considered a long shot," Rubio said. Now, he added, he looks forward to returning the favor.
"The Romney-Ryan ticket is going to win in November because it offers the American people visionary leadership to recapture the free enterprise spirit that has empowered countless Americans to build businesses from scratch and live the American dream," Rubio said in his statement. "I'm excited about the visionary change a Romney-Ryan team will bring to Washington, and I look forward to campaigning with them this fall."
Rubio was an attractive potential No. 2 for several reasons. He is a new face in the Republican establishment with charismatic speech and a Hispanic name that could sway the Latino vote. He is middle of the road on immigration issues, not embracing full amnesty but proposing a DREAM Act "Lite" before President Barack Obama's order in June to halt deportations. His harsh and increasing criticism of Obama's policies have become more frequent and focused.
But he also brought baggage: The freshman senator would have been blasted for his lack of experience would he have had to step in as President. He has four years left in his first term — which just happens to end in time for the next presidential race — and he was chided last month by the Florida Ethics Commission in its review of a complaint filed against him in his 2010 Senate race for misuse of campaign funds. While the complaint cleared Rubio of any wrongdoing, the investigator who wrote the close-out memo said the senator showed "negligence" by failing to recognize the difference between his personal credit card and a GOP American Express card — or catch the error in several monthly statements.
Still, Rubio's star has not stopped rising, many observers and friends told VOXXI. In fact, the VP picking process has catapulted him into a national arena he will use further between now and November to sway the vote to the Republican ticket.
Said Rivera: "When Romney is in Virginia and Ryan is in Ohio, who are they going to be asking for in New Mexico? Marco Rubio."
Congressman Mario Diaz-Balart, a member of Romney's Hispanic Steering Committee, agreed that Rubio will not disappear from the Election 2012 scene any time soon.
"Marco Rubio is a huge asset to the Republican Party," Diaz-Balart told VOXXI. "The fact that he was considered after just getting elected two years ago, the fact that he could have been chosen vice president already really says a lot. He's already become the most effective senator from Florida."
Diaz-Balart, like many DC regulars and political pundits, also sees the 41-year-old senator's omnipresence in the VP stakes and discussion as a sign that Rubio will be a force to reckon with in 2016 or 2020.
"He's a national leader," the Congressman told VOXXI. "And the more the country gets to know him, the more they realize what we who know him already know — that he is a brilliant, thoughtful leader and his potential, as much as people are beginning to notice, his potential is limitless."
"He has such a bright future," Ros-Lehtinen said. "He better put his shades on."
"Marco was already a great leader of the Republican Part and his career is going to continue to rise," said former U.S. Congressman Lincoln Diaz-Balart, who is friends with both Rubio and Ryan, adding that Rubio would continue to have influence over voters in the November elections.
"He's an extraordinary spokesman and leader with a tremendous future, and already an extraordinary presence," Diaz-Balart, the older brother of Congressman Mario Diaz-Balart told VOXXI.
"This was not a choice against Marco Rubio. You can only name one vice presidential running mate."
Before You Go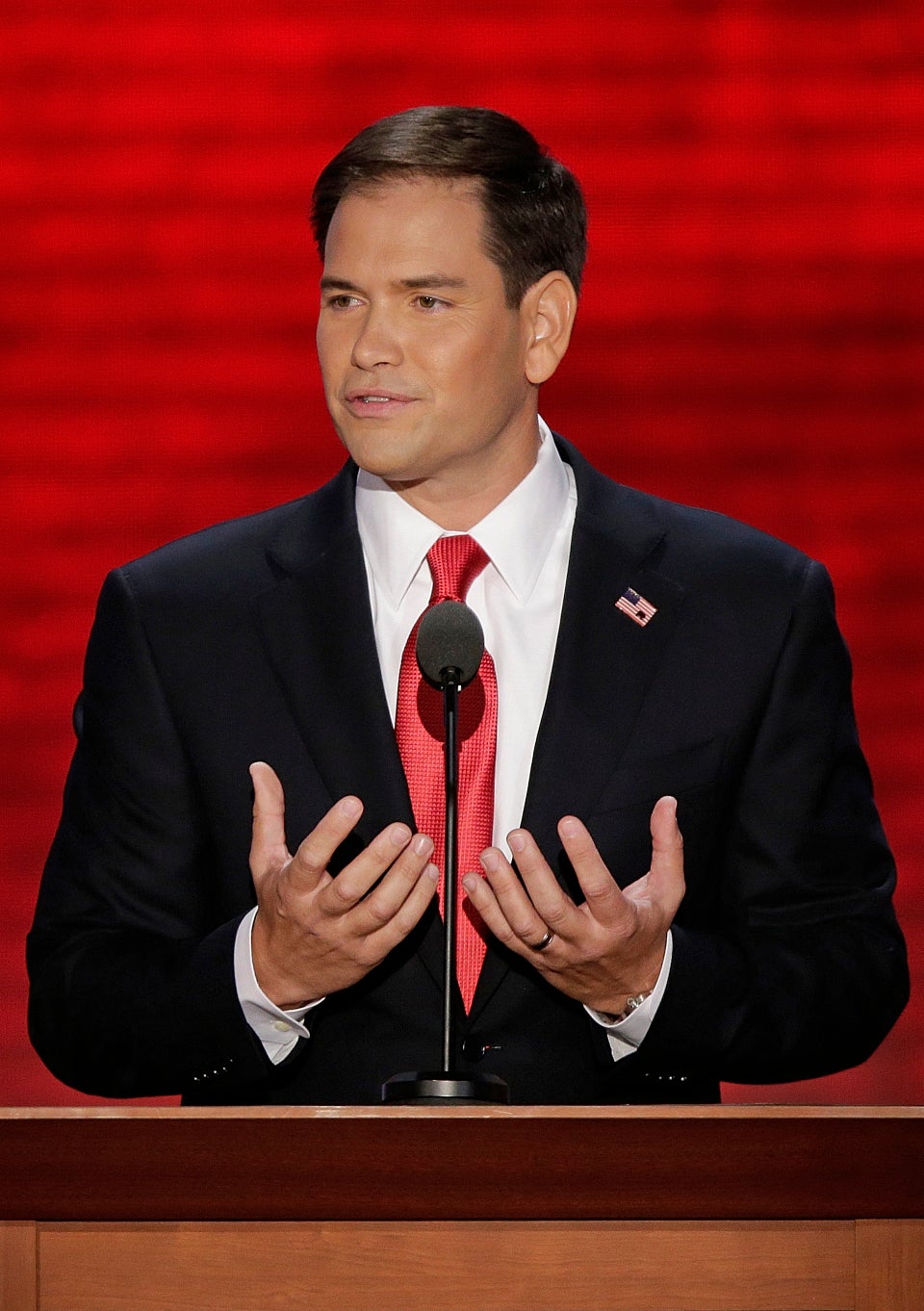 Sen. Marco Rubio
Popular in the Community