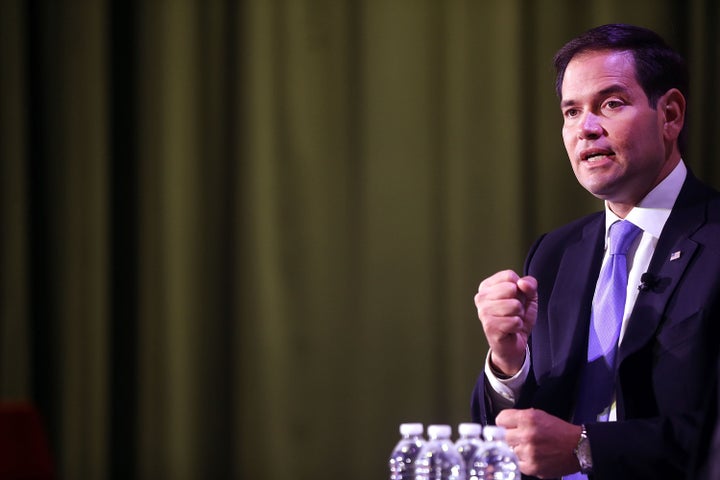 Even as the Democratic candidates gather in Las Vegas for the first of their party's primary debates, some consequential news is emerging from Sin City that doesn't involve whether or not Vice President Joe Biden's going to drop in on tonight's affair unexpectedly like he was Nicki Minaj. As Politico's Alex Isenstadt reports this morning, casino mogul Sheldon Adelson is apparently close to deciding which candidate he'll purchase for the 2016 election, and the lucky winner looks to be Marco Rubio.
Yes, the Florida senator has apparently emerged as the favorite to earn a year-long cash commitment from Adelson, after Rubio delivered what Politico describes as a successful "performance" for the billionaire at the Venetian Las Vegas hotel and casino. This is bad news, I guess, for the Judds, whose performance has only earned them a commitment from Adelson through Oct. 24. Per Politico:
Those close to Adelson — who spent more than $100 million on Republican candidates and causes during the 2012 campaign and has been aggressively courted by most would-be Republican nominees — stressed that the 82-year-old gambling magnate had made no final decision on whom he'd support but said that momentum had strongly shifted to the Florida senator. A formal endorsement, they said, could come as soon as the end of the month — and with it, the potential for a multimillion dollar contribution. With a net worth of $25.7 billion, according to Forbes, Adelson can afford to spend freely.
It's taken quite a while for Rubio to win Adelson's affections, a process that has been ongoing since April, when it was reported (again, by Isenstadt) that Rubio had "taken the lead" in the "Sheldon Adelson primary." As Isenstadt reported then, one follows a pretty simple blueprint to win Adelson's favor:
Adelson's attraction to Rubio is in no small part centered on the Florida senator's outspoken support for Israel, an issue near and dear to the billionaire's heart. Rubio has reached out to Adelson more often than any other 2016 candidate, sources close to Adelson say, and has provided him with the most detailed plan for how he'd manage America's foreign policy.
These requirements have been more or less fulfilled by just about every candidate who is running for the GOP nomination. Rubio, however, has separated himself from the pack thanks to his efforts to worm his way into Adelson's good graces by doing such things as "phoning the billionaire several times a month to provide in-depth updates on the state of his campaign." It's not particularly noteworthy to witness an American politician bowing and scraping before an oddball billionaire during our nation's spin through the "Doom Loop Of Oligarchy," but it is a little funny to reflect on the fact that Rubio likes to pretend he is different.
"When people give money to me, or support me, they're buying into [my] agenda, I'm not buying into theirs," is the line that Rubio enjoys giving to voters on the stump. It's a very pretty thing to say. The only problem is that not too many people have been buying Rubio's agenda of late. As The Hill's Jonathan Easley reported last week, Rubio's third-quarter fundraising report arrived to the sound of wet bleats from the sad trombone:
White House hopeful Sen. Marco Rubio (R-Fla.) raised $6 million in the third quarter, a disappointing haul for a candidate who has been rising in the polls and lauded as a potential threat to former Florida Gov. Jeb Bush for the GOP's establishment mantle.

That's a drop from the $9 million Rubio raised in two-and-a-half months in the second quarter, after he launched his bid for the White House in mid-April.

All told, Rubio has raised $18 million in hard campaign dollars this year, which includes about $3 million for his Senate reelection bid that has transferred to his presidential account.
And lo, the Boy Wonder was made to go on bended knee to the Venetian, for succor. Meanwhile, Rubio's primary antagonist, the sunburnt Wonder Bread loaf from reality television, had this to say:
Okay, okay, I hear you, broken clock, you were due.
But it's an upcoming meeting with "Doug Deason, the son of billionaire megadonor Darwin Deason" that seems more emblematic of the new path Rubio is walking. Rubio failed to win himself the Deason dollars in a previous overture, owing to a difference of opinion. However, as Isenstadt reports, "[i]n an interview, Deason recalled getting an unsatisfactory answer from Rubio and said he hoped to get a better response the next time they met."
Considering that the sticking point between Deason and Rubio was the senator's support for federal sugar subsidies, a policy that a Florida politician must support simply as a matter of course, I'd say Rubio's fealty to his own agenda is about to get a lot more flexible.
REAL LIFE. REAL NEWS. REAL VOICES.
Help us tell more of the stories that matter from voices that too often remain unheard.