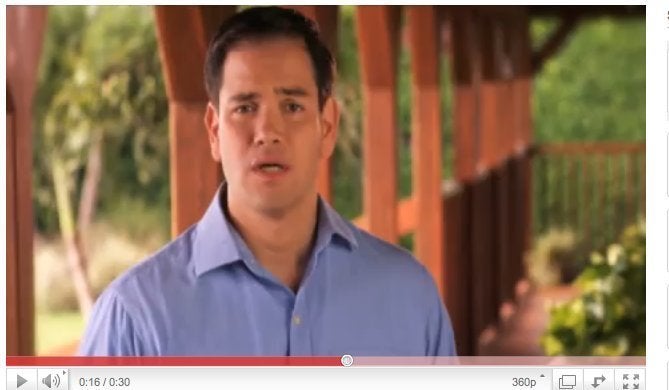 Florida's GOP Senate nominee Marco Rubio, "looking to solidify his robust support among Hispanic voters," is out with his first Spanish-language ad, despite the fact that he has repeatedly advocated English-only policies.
In the new ad, called "Padres," Rubio "talks about his parents' sacrifices and the importance of protecting the American dream by changing the direction Washington is taking our country." Politico reports that the ad will run in Florida markets that have heavy Hispanic populations. The script of the ad:
My parents came to this great country and worked very hard. They made many sacrifices so I could live the American dream. For that I will be eternally grateful. Unfortunately that dream is threatened by the actions of some politicians in Washington.

I'm Marco Rubio and I approve this message because I will work so that our children and grandchildren have the opportunity to live out their dreams.
Rubio isn't the only politician pushing English-only policies while trying to reach out to the Spanish-speaking population, and often, the messages are different depending on the language of the media market. In California, GOP gubernatorial candidate Meg Whitman put up Spanish-language billboards saying she would have voted against Prop. 187 -- which would have rendered undocumented immigrants ineligible for all state social services -- and opposed Arizona's controversial immigration law SB-1070. In an interview with the conservative English-language America's Morning News, however, Whitman said that while she doesn't think SB-1070 is right for California, she believes it should stand in Arizona.
REAL LIFE. REAL NEWS. REAL VOICES.
Help us tell more of the stories that matter from voices that too often remain unheard.