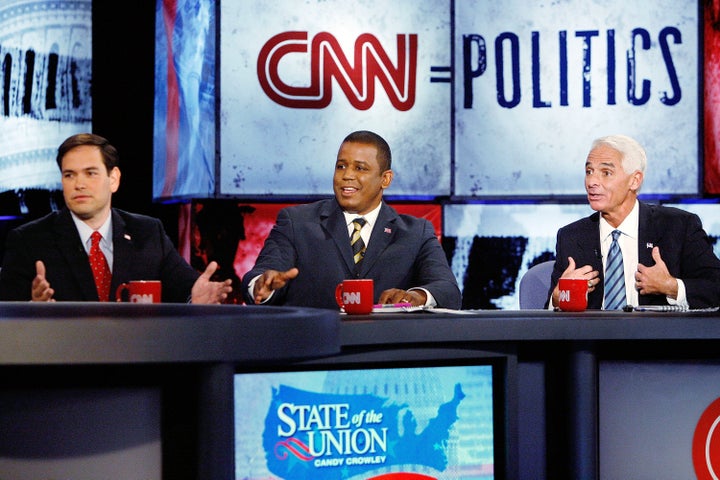 Sen. Marco Rubio (R-Fla.) expressed little love for the Senate Tea Party Caucus when asked about the political affinity group established by Sen. Rand Paul (R-Ky.) during an interview on a local Florida radio program last week.
Rubio opted against joining the caucus despite being elected last November with support from the conservative movement.
"My fear has always been that if you start creating these little clubs or organizations in Washington run by politicians, the movement starts to lose its energy," said the Florida Republican when asked about the matter. He added that his posture toward the caucus stems from his desire to perserve the grassroots nature of the conservative movement.
Rubio responded to the idea of creating a Tea Party caucus in the Senate in a similar manner when it was first floated during the 2010 midterm election season.
"Well I don't know what the need for that would be," said the Florida Republican during an appearance on CNN last year.
McClatchy recently reported that Tea Party Express chairman Amy Kremer was less than enthused to learn that Rubio would not be attending the inaugural Senate Tea Party Caucus meeting. According to the outlet, she said she was experiencing a "little bit of disappointment'' over the matter.
Rubio won't be on hand at this year's Conservative Political Action Conference, which will take place later this week. Roll Call recently reported:
The invitation to address the widely covered conservative meeting is far from the first request Rubio has turned down; it is part of a calculated effort to stay out of the national spotlight as much as possible.
...
But advisers and former colleagues said his decision to shun national exposure is unlikely to hurt the freshman Senator with those who supported him during the campaign.
Todd Harris, an adviser to Rubio, told Roll call, "The most important thing for grass-roots tea party members is how you vote, it's not what caucus you join or what TV shows you are on or what speeches you give."