SIOUX CENTER, Iowa -- With two weeks until the Iowa Caucuses, Sen. Marco Rubio (R-Fla.) hasn't given up on the state's influential evangelical block, campaigning at Dordt College over the weekend, a region known for its heavily concentrated population of social conservatives.
While the Florida senator has invested little time campaigning in the western and rural areas of the state, he's working to appeal to a wider range of the Republican constituency, trying to siphon off some of Sen. Ted Cruz's (R-Texas) support, who is leading in most recent Iowa polls and has made a heavy play for the state's evangelical northwest. The Texas senator has spent much more time in the state, building a deep support base with endorsements in all 99 counties, also seeking backing from at least one pastor in each county.
Rubio, speaking to around 600 voters on the Dordt College campus, a top Evangelical Christian College in the country, frequently highlighted his faith, in the same venue Cruz campaigned a week earlier.
"We believe that all human life is valuable because it comes from the same creator who loves us all," Rubio said, wrapping up his speech on Saturday evening. "You know why this country is so shameful that unborn children are being killed every single year. They are also children of God. Just because they don't have a birth certificate yet or a name does not mean you're not a person."
Rubio went on to criticize President Barack Obama for undercutting religious liberty.
"Religious liberty is the right to live your faith, in every aspect of your life, to never be forced by the government to violate your conscience," Rubio said, as the crowd erupted in applause.
Cruz signs lined U.S. Highway 75N toward Sioux Center, Iowa's 4th Congressional District, home to Rep. Steve King, who has endorsed the Texas senator, and campaigned with him on his bus tour through Iowa last week. Social conservative candidates have traditionally dominated this region of the state, with Rick Santorum and Mike Huckabee winning Sioux County in the last two caucuses. An area where evangelical leader Bob Vander Plaats, who has also endorsed Cruz, scored the majority of his votes in his failed attempt for the Republican GOP gubernatorial nomination in 2010.
In 2012, around 70,000 evangelical voters showed up to participate in the caucus, which was 57 percent of the turnout. In 2008, they were 60 percent of Republican caucus participants.
"They carry a lot of political power, way above their weight," said Dennis Goldford, a political scientist at Drake University in Des Moines, Iowa. "For Republicans of course, they need support of Christian conservatives. They are a huge voting block in Iowa."
Rubio's Iowa playbook has heavily concentrated on population centers in the state, while Cruz has focused his efforts in rural Iowa. Despite Rubio's absence in rural northwestern Iowa towns like Sioux Center, the majority of voters at his rally here seemed to still be undecided.
"Right now, I'm still shopping around a bit," said Emily Postma, 21, a Dordt College junior. "I'm leaning toward Ted Cruz personally, but that's also why I'm here tonight. I want to hear from Marco Rubio in the flesh. It helps bring it home when you see a candidate in person. So, I could sway."
David Aldeman, a Dordt College senior, said he was impressed with Rubio, but is choosing between Cruz and retired neurosurgeon, Ben Carson.
"I'd like to have someone with good morals and values, similar to mine," Aldeman said. "Christian values are a huge selling point to me with Cruz and Carson. I think having God in the center of your life is a good start for our nation."
Not all voters were undecided. Several, like Julie Holsing of Le Mars, Iowa, said they were solid in their commitment.
"I'm supporting Ted Cruz, but I just came here to listen to Marco Rubio," Holsing said.
Holsing said Cruz caught her eye initially because of his faith and his stance on religious liberty, but that's not the reason she is caucusing for him.
"Carson has Christian values, but he's not my man," she explained. "I'm supporting Ted Cruz because he has always fought for conservative values. I think he's very articulate and he could debate anyone."
Cruz, who recently embarked on a six-day barnstorming tour that included stops in 28 of Iowa's 99 counties continued to highlight his campaign style, drawing a contrast with Rubio.
"We're spending a lot of time in small, rural counties," Cruz said to reporters at a stop in Winterset, last week. "That's the way campaigning should operate in Iowa. It doesn't work from a TV studio in New York City," in a clear dig at Rubio.
Rubio is now making a major push in the state, campaigning here five of the last six weeks, and is running a schedule of 7,000 ads from Jan. 1 through caucus day. Last week, the Florida senator began running ads targeting evangelical voters. "Our goal is eternity," Rubio said in the ad. "The ability to live alongside our creator and for all of time. To accept the free gift of salvation offered to us by Jesus Christ."
Rep. Megan Jones, one of Rubio's new endorsers sat on stage at the rally in Sioux Center, after his event in her district was cancelled earlier in the day due to weather conditions.
"He may have missed his Spencer event today, but we still had a great turn out," Jones said. "He hasn't been here much, but the debates are really telling, people are really excited about him."
Rubio's campaign schedule in Iowa looks similar to Cruz's recent swing through the state, something Goldford says is probably not a coincidence.
"If Cruz went there, why shouldn't Rubio go there," Goldford explained. "He's trying to take some support away from Cruz, who has based his whole campaign on conservatives, evangelicals and tea party people. Rubio is going to follow him around and say, 'Look, I'm the alternative.' That makes perfect sense."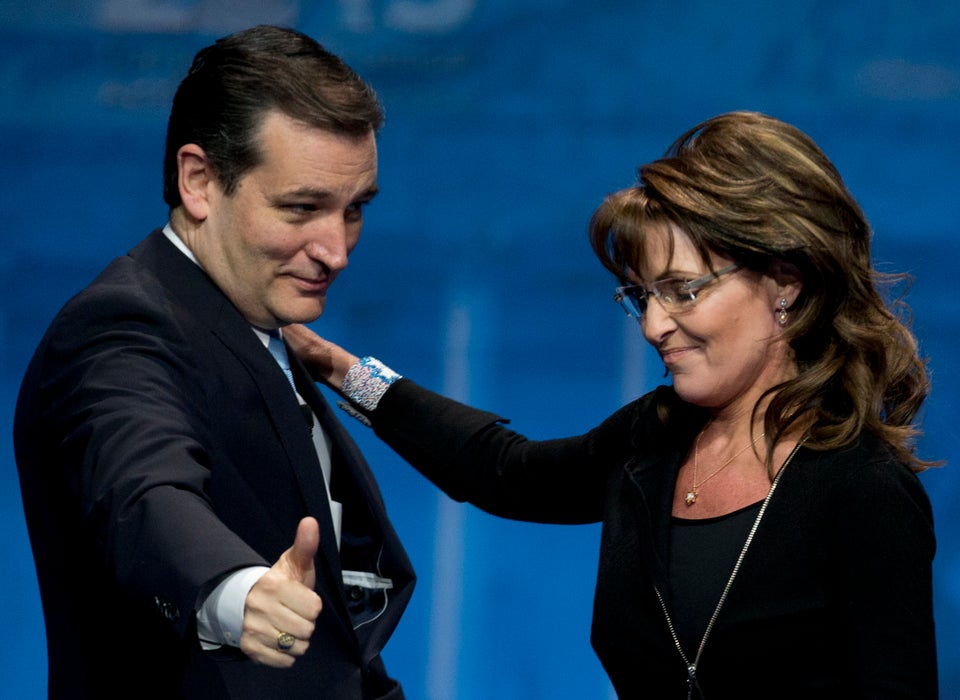 Sen. Ted Cruz
Popular in the Community