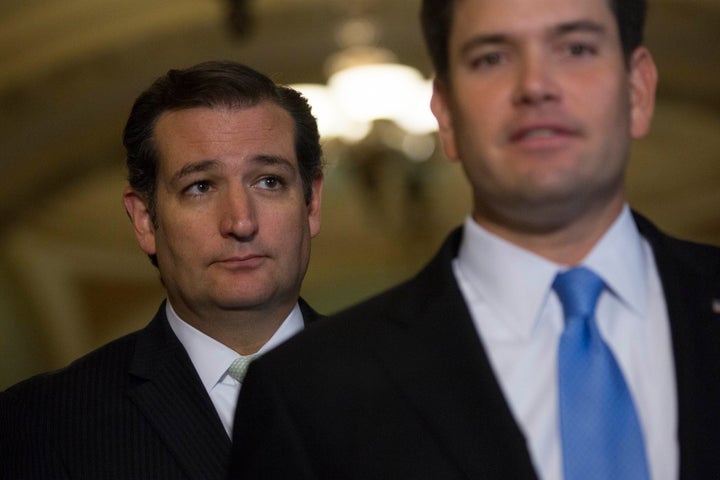 Republican presidential candidate and Sen. Marco Rubio (R-Fla.) is increasingly coming under fire from his GOP opponents over immigration reform -- something that could make it harder in months to come for him to get away with vague responses about deportations.
Rubio has long been a master of talking points on immigration. He supports "enforcing the law" and opposes "amnesty." During his bid for the presidency, he's said border security must come first and that he'd end programs that block people from deportation.
But his record includes helping draft and push through a 2013 comprehensive immigration reform bill, and fellow candidate and Sen. Ted Cruz (R-Texas) isn't letting him forget it.
"My reaction in all of politics is talk is cheap," Cruz said of Rubio Thursday on Laura Ingraham's radio show. "That you know where someone is based on their action. ... When politicians say the exact opposite of what they've done in office and I'd treat that with a pretty healthy degree of skepticism."
Cruz and Sen. Rand Paul (R-Ky.), another presidential contender, have both ramped up criticism of Rubio over the 2013 "gang of eight" bill, which was drafted by Rubio, three Republicans and four Democrats.
Cruz, who voted against the bill, said at a Wednesday town hall that it rendered Rubio indistinguishable on the issue of immigration from Democratic front-runner Hillary Clinton.
"That is a path to losing," Cruz said.
Paul, speaking to Ingraham on Thursday, accused Rubio of working with Democrats on the gang of eight to keep out conservative measures.
"Rubio went along with [New York Democratic Sen.] Chuck Schumer and there was a secret deal made. They voted en bloc against every conservative reform that was brought forward," said Paul, who also voted against the bill.
The dispute is over whether Rubio's more recent veer to the right is genuine, and whether he can be trusted. But his words can be interpreted different ways. Democrats can accuse him of flip-flopping. People like Cruz and Paul can make the case that he is too soft on undocumented immigrants because the Senate bill would have allowed many of them to remain in the country and eventually gain citizenship.
But how deportation policy functions is much more complicated than simply enforcing the law versus ignoring it. One of the biggest questions is over prosecutorial discretion, or the need for law enforcement officials to prioritize some people over others given limited resources.
That principle was the justification for the Obama administration's decision to instruct agents to prioritize recent border-crossers, individuals convicted of serious crimes and national security threats -- a move criticized by Republicans. It was also the basis behind the creation of deferred action programs, which Rubio and other Republicans have vowed to end.
Most candidates have said broadly that immigration laws must be enforced and that President Barack Obama's policies are at best misguided, at worst unconstitutional. But they haven't been all that specific on how their administrations might apply prosecutorial discretion, if at all.
There are 11.3 million undocumented immigrants in the U.S., and Immigration and Customs Enforcement officials have said they have the resources to deport about 400,000 per year. If the candidates want to indiscriminately deport everyone without prioritizing, they'd need a lot more money or could risk expending resources on people who came to the U.S. as children, or other longtime residents, when they could be using that funding to go after criminals and other potential threats.
Mass deportation is the stance Republican candidate Donald Trump has taken -- albeit without giving many specifics either, other than to say he would mimic a 1950s-era program called "Operation Wetback" that led to the expulsion of more than a million people, but also the deaths and removal of U.S. citizens.
Rubio has left himself wiggle room on deportations. He's said mass deportation would be impossible and that some people should gain legal status, but also hedged on whether the people he hopes to deny deportation relief to should actually be deported.
Wednesday on CBS's "This Morning," Rubio was asked specifically whether he thinks people who would benefit from Obama's yet-to-be-started Deferred Action for Parents of Americans and Lawful Permanent Residents policy should be deported.
"We need to enforce our law, and I do not support DAPA," Rubio said. "It's unconstitutional, it's the wrong way to do this, and quite frankly, we need to begin to enforce our immigration laws in this country or we don't have immigration laws."
That could be interpreted as a yes. In effect, though, it could just mean Rubio wants to nix Obama's policies and continue deportations -- which isn't the same as calling for those would-be beneficiaries to be rounded up and deported, particularly when he says he wants a bill that would allow some undocumented immigrants to stay.
Cruz has railed against a path to citizenship for undocumented immigrants, but he, too, has previously left the door open to allowing some of them to stay in the country legally. Paul has called for legal status for certain undocumented immigrants, too.
"Ted is a supporter of legalizing people that are in this country illegally," Rubio said. "In fact, when the Senate bill was proposed, he proposed giving them work permits."
Roque Planas contributed reporting.
PHOTO GALLERY
Most Awkward Moments On The 2016 Campaign Trail
Calling all HuffPost superfans!
Sign up for membership to become a founding member and help shape HuffPost's next chapter