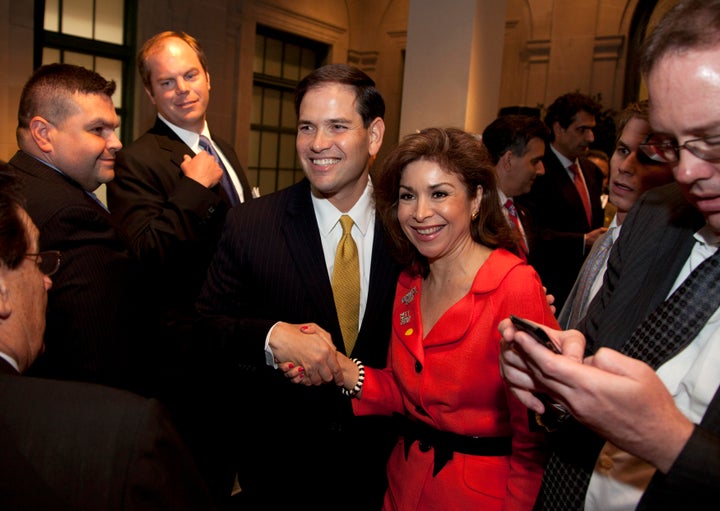 Raoul Lowery Contreras thought Rubio was just the kind of young Latino Republican who should be in Congress. So Contreras, a Mexican American immigrant and Republican Party foot soldier who started young working for the senator who replaced President Richard Nixon in Congress, did some legwork. A few weeks later, Contreras delivered Rubio to the Fairbanks Ranch Country Club, a stomping ground for mostly white, wealthy people a half-hour up the coast from San Diego. In the three hours Rubio spent at the club, he raised $50,000. Contreras can't remember what Rubio said. But he remembers the reaction.
"I saw those conservative women, especially the older ones, practically have orgasms over Rubio," said Contreras, 71, who writes a column for Spanish and English-language newspapers around the country. "They could barely contain themselves. At one point we were charging $250 for a photo with Rubio and there was absolutely no shortage of men and women in that line. I knew this guy was going places."
Latinos represent the nation's largest minority group, one of the fastest growing segments of the population and an electorate that the most optimistic projections place around 12 million voters this year. Latino votes are critical to the campaigns of both Romney and President Barack Obama. And, while many white, non-Hispanic commentators and some Latino political operatives have trumpeted the tea party-connected Rubio as a one-man solution to the Republican Party's problems, other Latino politicos who track the Hispanic electorate said Rubio's path is anything but clear.
In an NBC News/ Telemundo/ Wall Street Journal poll released this week, Latino voters preferred Obama to Romney by 34 percentage points.
"Republicans need to capture 40 to 42 percent of the Latino vote to win. Right now, I can't imagine Republicans hitting 30," said Matt Barreto, co-founder of the research and polling firm Latino Decisions.
Rubio, though his press secretary Alex Conant, declined to comment Thursday.
The problem for Republicans is that they have put themselves in an awkward position, said Barreto, who is also a University of Washington political scientist. In 2010, tea party candidates won with what were often rabidly anti-immigrant messages, Barreto, 36, said. Romney embraced some of these figures and their ideas during the primary. He has since tried to chart a new course.
Rubio aligned himself with the tea party during his campaign for the Senate and espoused what some saw as anti-immigrant, anti-government spending messages, Barreto said. Among Latino voters with connections to countries from which legal immigration is difficult, Rubio isn't well regarded, he said. And when Latino voters of all ethnic backgrounds are polled, they overwhelmingly support Obama's health care reforms and want to see the government spend to stimulate the economy, he said.
Beyond this, Rubio does not have a history of national policymaking, Barreto said. Many Latino voters –- 39 percent -– said they had never heard of Rubio, in a December Pew Hispanic Center poll.
"He's largely unknown outside of Florida and for the Mexican Americans who make up most of the Latino vote -- those who do know him -- it's pretty unlikely they are with him because they don't share his politics" said Barreto. "To believe that he's the answer, you have to not know Latinos. Latinos, by and large, are liberal. Rubio alone can't change that."
Rubio has proposed an alternative to the Dream Act, a mostly Democratic proposal that would give some young people brought to the country illegally as children a path to legal U.S. status. Rubio has not committed to what his proposal would include.
Even a watered down Dream Act could be a boon to Rubio and Republicans, Barreto said. About 53 percent of Latino voters have a relative or close friend who is an undocumented immigrant, according to a June 2011 Latino Decisions poll. But such a law is unlikely to move forward this year, he said. Rep. Lamar Smith, a Republican from Texas, chairs the House Judiciary Committee and would have to agree before the bill could reach the full House for a vote. Smith has made it clear that he will oppose any bill that offers any undocumented immigrant legal status, Barreto said.
"His imaginary Dream Act, that's what I call it," Barreto said of Rubio's idea. "It's savvy, but cynical."
Where Barreto sees Rubio's chances on the GOP ticket as improbable, Contreras sees a politician with the potential to solve the Republican Party's problems.
"Rubio has more than charisma," said Contreras. "He has 'it.' And even if Rubio weren't smart, even if he didn't speak perfect Spanish, even if he wasn't good looking and at the same time completely ready to be a heartbeat away from the Oval Office, He would still be the Cuban junior senator from Florida who can bring in 29 electoral college votes."
Rubio's presence on the GOP ticket boosts Romney's appeal with Florida voters by eight percentage points, according to a Quinnipiac poll released this week. And Florida is likely the key to winning the presidency, Contreras said.
"There's a very simple rule in presidential politics -- California, Texas and Florida," said Contreras. "The winner has to carry two of them. The whole map doesn't matter. It's those three. Romney doesn't have a chance in hell at California. But with Rubio, Romney has a real shot at Texas and Florida."
Still, even Contreras sees problems putting Rubio on the GOP ticket.
Cubans and their descendants, including Rubio, comprise about 3.5 percent of the nation's Latino population and 4.5 percent of eligible Hispanic voters, according to the most recent Census data. The same data indicate that Mexicans and Mexican Americans make up about 63 percent of the Hispanic population and nearly 60 percent of the nation's Latino electorate.
Cuban Americans have a special path to citizenship if they can escape or leave Cuba and make it to U.S. land. Mexican Americans, who want to immigrate legally, must wait from 10 years to 23 years for a visa, according to federal data. In June some types of visas will not be available to Mexican nationals. That difference has stoked tension between the two groups, Contreras said.
Rubio will also face questions about the way that he used a Republican Party credit card and managed mortgage payments on a home while he was an elected official in Florida, Contreras said. The Rubio family immigration story that Contreras heard Rubio mention back at the country club in California and many times since -- the idea that his parents were refugees who fled Fidel Castro's Cuba -- has turned out to be inaccurate.
"Listen, there are two others, Latinos, that I think could fill that particular niche that Republicans need," Contreras said, namely Nevada Gov. Brian Sandoval and New Mexico Gov. Susana Martinez. "But, I think that if I put them in the same audience at Fairbanks Ranch, people wouldn't be so overwhelmed by them. People simply would not be so bowled over. Let's hope Romney recognizes that."

Before You Go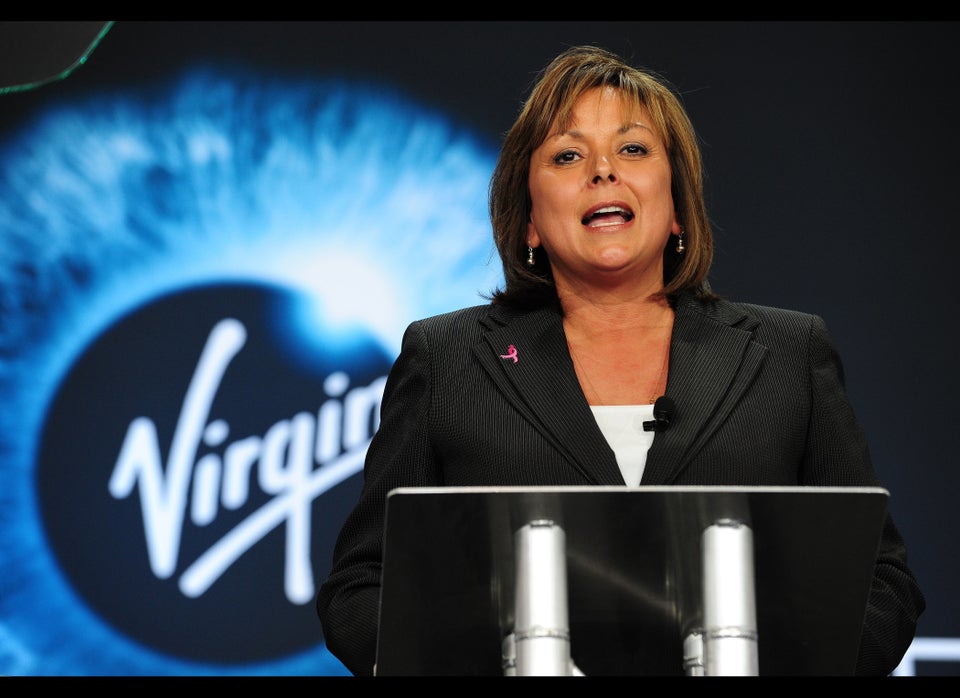 Leading Latino Politicians
Popular in the Community