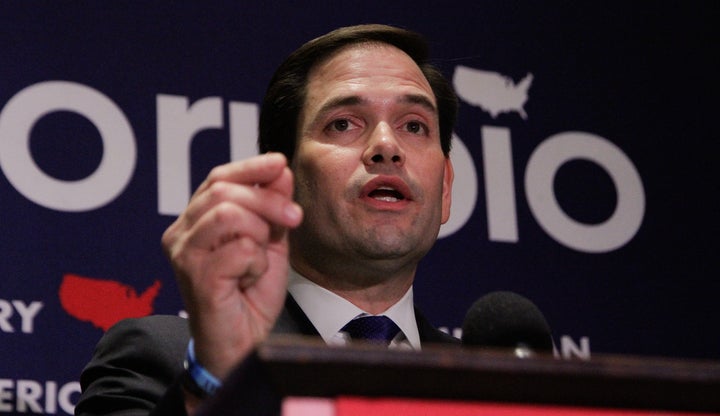 WASHINGTON -- Sen. Marco Rubio (R-Fla.) didn't get very far in his presidential bid, and he's out of a Senate seat as of January. What's next for him? It's not being anybody's running mate.
"I have no intention of being vice president," Rubio said in a Friday interview with Univision. "I'm always looking for a way to serve the nation, but I don't believe that it will be as vice president and I'm really not seeking it, I'm not requesting it, and it won't happen."
He said he'll support whomever the Republican Party nominates for president, but beyond that, he doesn't want to be involved in the 2016 race anymore.
"I wanted to be president of the United States. It didn't turn out that way. Voters decided otherwise and I will focus on my work here in the Senate because I have nine months left," he said. "After that, later, as a private citizen, I will continue looking for a way to contribute to the cause of political conservatism."
It doesn't sound like Rubio knows what he'll do next. He said that he hasn't had much time to think about it (really?) and that he'll try to do something as a lawyer in the private sector. As for a return to politics, it's up to a higher power.
"I haven't thought about aspirations for the future," he said. "I like politics, I like serving the public, and we'll see if God offers us another opportunity in the future."
If God is talking to Donald Trump, Rubio's days in public office are over. The GOP presidential front-runner predicted in March that if Rubio ran for president and lost, he wouldn't be able to run for office again in Florida or nationally.
"I certainly don't think that he would be considered by anybody as a vice president, and I don't think he could ever run for governor or whatever he might want to run for in the future," Trump said in an MSNBC interview. In a Fox interview later that day, Trump went even further: "If he goes forward and loses, it's the end of his career."
Before You Go
Marco Rubio On The Campaign Trail
Popular in the Community