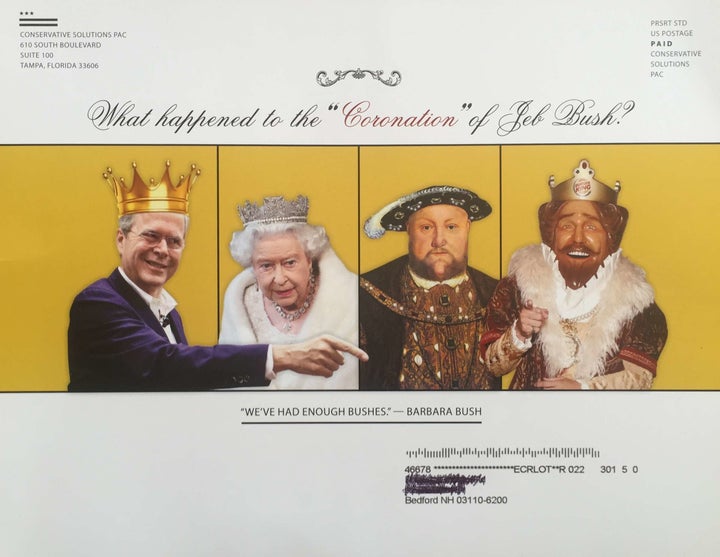 BEDFORD, N.H. -- The Republican presidential race has gotten so heated that not even the candidates' moms are off-limits anymore. 
With two days to go until the New Hampshire primary, a voter who lives in this heavily Republican town provided HuffPost with a jarring direct mailer that he received from Conservative Solutions PAC -- the super PAC that is backing Sen. Marco Rubio (R-Fla.).
The mailing features a photo of former Florida Gov. Jeb Bush (R) wearing a superimposed golden crown and pictured next to the bejeweled and white-haired Queen Elizabeth II, who bears an obvious resemblance to the candidate's mother, Barbara Bush.
And in case the intended link between the current queen of England and former first lady wasn't clear enough, the mailer includes an old quote from Jeb Bush's mother below the photo of Queen Elizabeth: "'We've had enough Bushes.' --Barbara Bush."
The provocative mailer -- which is headlined "What happened to the 'Coronation' of Jeb Bush?'" -- also features images of Henry VIII and the Burger King mascot. The suggestion that these two characters are stand-ins for Jeb Bush's father and brother -- both former presidents -- is equally clear.
"Most pundits claimed Bush/Clinton general election match up was inevitable," reads the back of the Rubio super PAC mailer. "They said the 2016 election would be a choice between these 2 dynasties."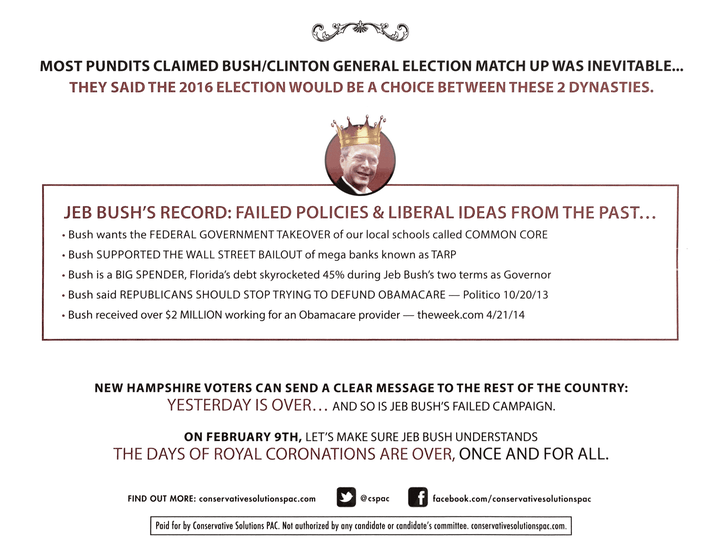 The mailer then lists what it refers to as Jeb Bush's "failed policies" and "liberal ideas from the past."
"Cute," Bush communications director Tim Miller said when shown the Rubio super PAC mailer. "But after all his whining about negativity, you'd think Marco would at least have some respect for a woman who has served this country with such distinction."
"To say these famous monarchs and fast food legends symbolize real people requires a leap of royal proportions," Conservative Solutions PAC spokesman Jeff Sadosky said.
A Rubio campaign spokesperson did not respond to a request for comment.
This story has been updated to include comment from Rubio's super PAC.
Update 2/8 -- During an appearance on "CBS This Morning" on Monday, host Norah O'Donnell asked Rubio about the mailer.
"Senator, should Barbara Bush's 90-year-old mother be off-limits in this campaign, and do you denounce that mailer that your PAC sent?" O'Donnell asked.
"Sure," Rubio replied. "Well, first of all, I haven't seen that mailer. And second of all, it's not from my campaign. And the third thing I would say: We're now at a stage where I've had, I don't know, $35 million of attack ads run against me, many from Jeb Bush's super PAC. We're down to the final moments here. I have tremendous respect for the Bush family."
Calling all HuffPost superfans!
Sign up for membership to become a founding member and help shape HuffPost's next chapter