 San Francisco Opera opened its 2012-13 season this month with Verdi's Rigoletto. Conducted by Music Director Nicola Luisotti, the final performances on Tuesday, Sept. 25 and Sunday, Sept. 30 will feature Marco Vratogna in the title role, Albina Shagimuratova as Gilda, and Arturo Chacón-Cruz as the Duke of Mantua. In his third appearance with SF Opera, Italian baritone Marco Vratogna marks his debut as "Rigoletto," a role he began crafting years ago with Maestro Luisotti prior to either of them arriving in San Francisco. Still in his thirties, a lion-hearted Leo, Vratogna is that rare breed of natural dramatic baritone who owns the vocal prowess and seductive appeal of the alpha male so predominant in the Verdi repertoire.
"Maybe it's a side of me," he said during our recent visit. "I didn't choose anything. Maybe Verdi chose me."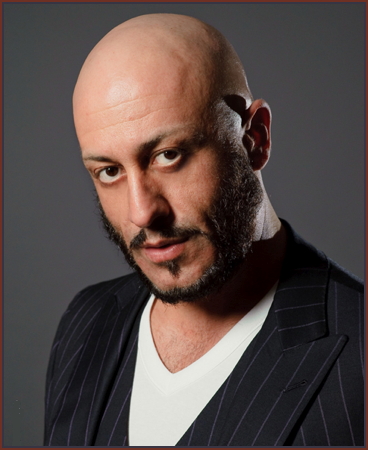 MARCO VRATOGNA. Photo, Daniele Barraco
Marco made his San Francisco Opera debut in 2009 as "Iago" in Verdi's Otello. Perfectly cast as one of the Bard's most provocative and manipulating scoundrels, his performance was astonishing, offering the depth of a seasoned Shakespearean and the musical clout of one the composer's best villains. Vratogna's commanding presence and rich tonality sparked tremendous tension during his Act II aria, "Credo in un Dio crudel," where Iago admits to an innate predilection toward evil, jealousy, and dark skepticism. "I believe in a cruel God," states the merciless Iago, "who has created me in His image." The aria sails up to the highest points of the baritone range and then rumbles with the mocking laughter of the devil himself. Vratogna's delivery was completely spellbinding.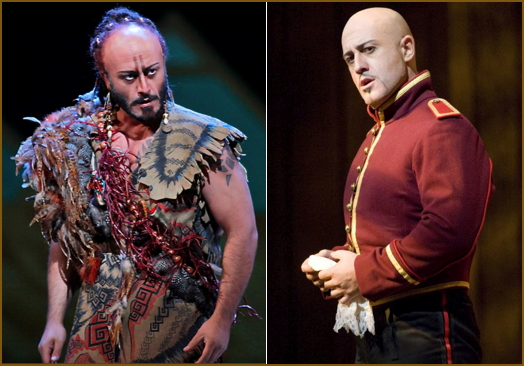 MARCO VRATOGNA - as "Amonasro" and "Iago."
San Francisco Opera. Photos, Terrence McCarthy
He returned to SF Opera in 2010 to open the season in a sparkling new production of Verdi's Aïda. Two weeks later, the fourth performance was simulcast to AT&T Ballpark where it was cheered by a record-breaking crowd of 34,000. As "Amonasro," King of Ethiopia, Vratogna is equipped with furious and electric energy contrasted by loving tenderness toward his daughter Aïda, and a climactic outta-the-park High G-flat for their Act III duet, "Ciel, mio padre!"
"I sang a lot of Verdi roles before Rigoletto," he said. "I've performed 31 roles in 12 years. My first production was in 2000, Verdi's Stiffelio, in Trieste, with Nicola Luisotti conducting."
The role of Rigoletto comes to many world class baritones as they approach the middle of their careers. It is not unusual that their early performance résumés list many roles in common, i.e., the elder Germont (La Traviata), Count di Luna (Il Trovatore), Tonio (Pagliacci), Alfio (Cavalleria Rusticana), and Escamillo (Carmen). Some of them, such as American-born baritones Leonard Warren and Robert Merrill seem to pop out of nowhere (Merrill wanted to play baseball, Warren worked in the fur business) and suddenly are singing in front of a great conductor. How does that happen? As a kid, I was sometimes glued to the radio on a Saturday afternoon for broadcasts from the Metropolitan, especially when Robert Merrill and Ettore Bastianini were featured. I asked Marco about his early classical influences.
"Also Bastianini, and Tito Gobbi, Piero Cappuccilli. Listening to them, I began thinking I would get to where I have come. My grandfather was an opera singer, not professionally, but as a hobby. My parents sent me to the conservatory. I was 17. After a year, I was finished with it and started working out at the gym. In 1999 I decided to start my career."
"So there was a strong familiarity and understanding of the world of opera in your family," I said. "Lucky you! But where does your musicianship come from? What I mean is the wherewithal to absorb the numerous roles you now perform throughout the world. You are an amazing actor, with a potent and beautiful voice, and along with all of that, you radiate a fiery charisma. My question is more about the skills that it takes to read through a score and then memorize and retain the role. Were you working with private coaches?"
"Then how are you able to accomplish all of this so quickly? You don't have a photographic memory, do you?"
"Yes. I've never had a problem with memorization. I can learn a role within a week."
And there it is -- a tool in the box I've never encountered with anyone in the performing arts and, specifically, with any singer I have ever followed.
"Now I work with Italian coaches, such as Bruno Nicoli at La Scala. My first opera was with Nicola Luisotti. He was not exactly my coach, but more of a reference point. He is a great musician and I have learned so many things from him. I don't have a teacher. For the past 11 years, I have studied alone, by myself -- watching, listening, borrowing bits from here and there."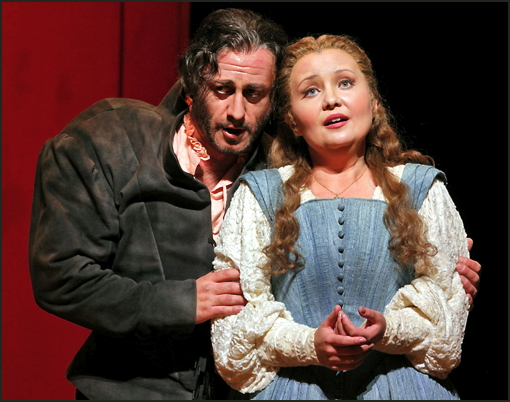 MARCO VRATOGNA (Rigoletto) and ALBINA SHAGIMURATOVA (Gilda)
San Francisco Opera, 2012. Photo, Cory Weaver
Rigoletto is a hunchback. Perhaps not as challenged as the bell ringer over at Notre Dame, but encumbered enough to be an object of ridicule and the totally other at the Court of the Duke of Mantua. He survives as a Court Jester. Of late, he has been the Duke's hired fool, his resident "buffoon." His job is to amuse his master with personal jibes and to assail the courtiers, sycophants, and hangers-on with endless carping and bad press. Every night at the Ducal Palace it's been the equivalent of The Don Rickles Show. It's getting old. Perhaps if the greedy opportunists all banded together they could figure out a means to avenge themselves and to dispose of this acid-tongued nuisance. Permanently. The problem is that Rigoletto really excels in this freedom to mock pandering and to expose everyone's not-so-secret trysting -- such as all the overt foreplay going on in the corner over there between the Duke and the irresistible wife of Count Ceprano. And if the Count should ever voice his displeasure? "Send him to prison!" says Rigoletto to the Duke. Or, if his master really wants to shut him up, "Cut off his head." Enter Count Monterone. He boldly rages against the Duke for molesting his daughter. Rigoletto fires off a wisecrack about the girl as the Duke arrests the grieving man. Before facing the hangman, Count Monterone invokes a curse upon both the Duke and Rigoletto. The Jester has more than a nervous fear about the efficacy of an Italian hex, especially one calling for blood. He also has a beautiful daughter, Gilda, that no one knows about and, since her arrival in Mantua three months ago, has been sequestered from public view. Unfortunately, since attendance at Sunday Mass remains an obligation for one's salvation, she has not escaped the wandering gaze of the irreverent Duke. The Monterone Curse is now in full swing. How will it come down on Rigoletto's daughter?
"Everything you do has to be expressed physically," Marco says. "The physical expression goes with the voice. Rigoletto was an important challenge for me. Physically, I am more adapted to Iago, Scarpia, and Macbeth. Rigoletto is completely different from those characters. Rigoletto works as a clown in order to live, like one would in a circus. And almost all men who make people laugh for a living, inside are sad."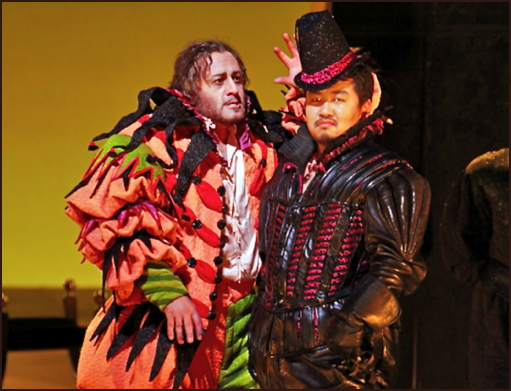 MARCO VRATOGNA (Rigoletto) and JOO WON KANG (Marullo)
San Francisco Opera, 2012. Photo, Cory Weaver
The courtiers not only succeed in kidnapping Gilda -- whom they thought to be Rigoletto's mistress -- but dupe him into participating in the abduction. Bound and gagged, she is turned over to the insatiable Duke. Later that morning, Rigoletto casually strolls among them, listening for clues, looking for a sign of Gilda. Obviously, he knows they all know he knows exactly what has happened. They are nonetheless stupefied when Rigoletto reveals that Gilda is his daughter. "Courtiers, you vile and damnable lot," he cries, "give her back to me!"
"Cortigiani, vil razza dannata" is a fantastic moment in the opera and ranks among the most familiar arias in the canon of the dramatic baritone's repertoire. It is packed with a range of emotional expression that stretches from blaring outrage to pitiful supplication. The aria's physical requirements are Olympian in the sense that it demands superstar vocal output and a ringing clarity that can soar freely throughout a large house such as the War Memorial. Marco Vratogna's rendition was pure Verdi.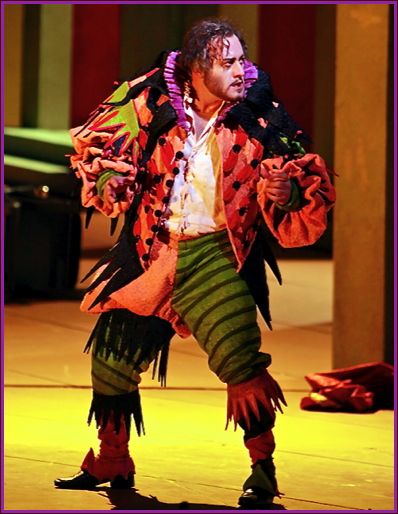 MARCO VRATOGNA - as "Rigoletto".
San Francisco Opera, 2012. Photo, Cory Weaver
"When I'm in that huge costume and wearing that make-up," he says, "I'm not myself anymore. My response to the character is automatic."
"So, Rigoletto is now in your body, in your voice, and is ready-to-go no matter where you sing it?"
"Your forthcoming schedule includes Scarpia in Hamburg, Iago in Tel Aviv, and Carlo Gérard in Andrea Chenier at the Vienna Staatsoper. I take it you also travel well."
"Yes, though when I first started traveling, I had problems. But during the last three months I've sung 24 performances of Scarpia in Vienna, Valencia, and Milan. It involved a lot of flying. The day after my performance in Valencia I took a plane to Milan to sing the role at La Scala."
"What kind of physical work-out are you doing?"
"I run and do breathing exercises that I've created over the years. I work a lot! And everyday I write out my feelings and sensations. I work with the breath and with the voice -- not to build something, but to eliminate bad habits."
Finally, I asked Marco what advice he would give a young baritone just starting out, who might come to him and say, "What should I do?"
"It's hard to say. From my point of view, the way things are now, it's not easy to get started. But if someone has the talent and the dream -- they have to run, and do it. Like me!"
Click here to purchase tickets online: RIGOLETTO
Watch Marco Vratogna perform "Nemico della patria" from Andrea Chenier:
Related
Popular in the Community