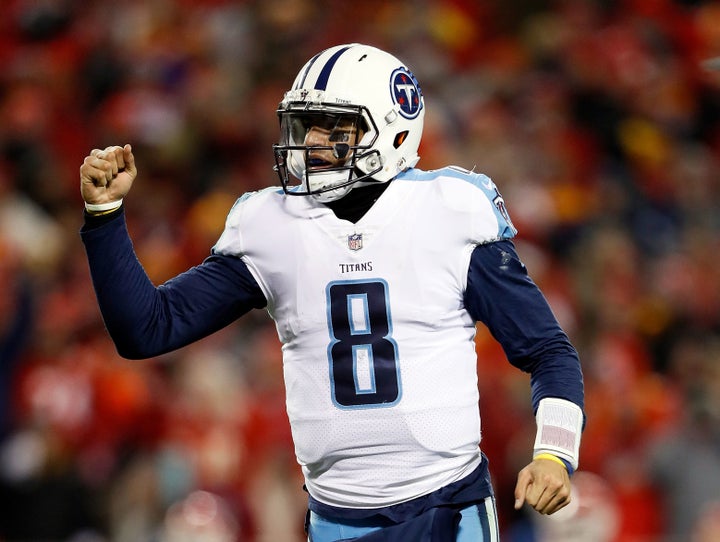 Marcus Mariota of the Tennessee Titans just made the play of a lifetime. 
The star quarterback shocked Arrowhead Stadium during the wild-card game against the Kansas City Chiefs on Saturday when he threw a touchdown pass from the Chief's six-yard line – to himself.
At the start of the third-and-goal play, Mariota scrambled to find an open receiver and, when he failed to find one, booked it towards the end zone before throwing the ball.
But when the Chiefs' Darrelle Revis tipped the ball, sending it back the other direction, Mariota caught it and slid into the end zone.
It marked Mariota's first post-season touchdown pass.
Call it luck, good timing or impressive agility, but the bizarre touchdown was crucial as the Titans were down by 18 points in the third quarter. The Titans were able to turn the game around and beat the Chiefs 22-21.
"I just got lucky there," Mariota told ESPN of the rare pass to himself. "I was trying to make a play, trying to give [receiver] Corey [Davis] a chance ... Revis batted it up in the air and made a good play, and I was just kind of in the right place at the right time."
The Mariota-to-Mariota touchdown is only the second time in NFL history that a quarterback has thrown to himself for a touchdown, according to the New York Times.
The first time occurred when Minnesota Vikings quarterback Brad Johnson threw, then caught a deflected ball and ran it to the end zone during a game against the Carolina Panthers in 1997.
CORRECTION: The headline in a previous version of this story misspelled Marcus Mariota's first name.
REAL LIFE. REAL NEWS. REAL VOICES.
Help us tell more of the stories that matter from voices that too often remain unheard.
BEFORE YOU GO
PHOTO GALLERY
20 Breakout Stars Of The 2016 NFL Season