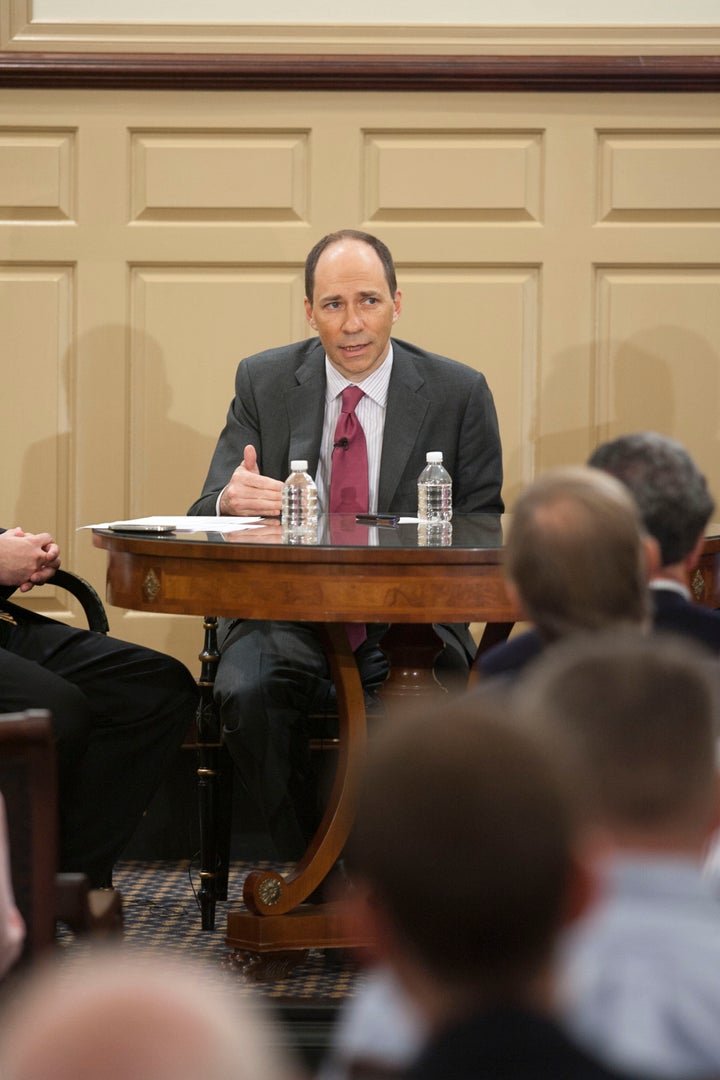 NEW YORK -- During a Tuesday morning all-staff meeting, Washington Post publisher Katharine Weymouth described outgoing executive editor Marcus Brauchli as an "amazing leader" who will be "very much missed."
Given such high praise, Post reporter Valerie Strauss understandably asked, in front of her colleagues, just why the publisher is now replacing Brauchli with Boston Globe editor Marty Baron. Weymouth "demurred," according to the paper's ombudsman, and the meeting soon ended.
But a couple hours later, Weymouth told The Huffington Post that it was Brauchli's decision to step down from the top newsroom job and assume a new corporate role upstairs. That decision, Weymouth said, left her to "find a first-rate journalist to run our newsroom and build on what Ben Bradlee had done and Len Downie had done and what Marcus has built on."
"My goal is to continue to produce world-class journalism at the Post," said Weymouth, whose grandmother, the late Katharine Graham, had hired Bradlee and oversaw the paper through major stories such as Watergate and the Pentagon Papers. "I looked all over the country and believe that Marty is the best editor in the country to do that. His legacy speaks for itself."
The editorial shake-up didn't come as a surprise in either the Post or Globe newsrooms, both of which officially got the news Tuesday during simultaneous staff meetings. There have been reports for months that Weymouth was looking to replace Brauchli, amid rumors of clashes between the two over budgetary issues. Earlier this year, Vanity Fair reported on another area of tension between the two, with Weymouth complaining to some in the newsroom that Brauchli and his deputies didn't "give a shit" about the Sports, Metro and Style sections.
Weymouth declined to discuss whether or not she asked Brauchli not to step down or how long she'd been in talks with Baron, who also declined to talk about those conversations with the Post publisher. In recent months, Baron also had discussions with the Pew Research Center about the job of president, according to a source familiar with the matter. Baron declined to comment. Alan Murray, a veteran of the Wall Street Journal, who'd been considered a candidate to fill that paper's anticipated opening atop the masthead, recently accepted the Pew job.
Now, the media parlor game shift to the Globe, which is setting out to find Baron's replacement. Editorial page editor Peter Canellos, columnist and former metro editor Brian McGrory, and managing editor Caleb Solomon are among likely internal candidates, according to Globe staffers. A former Globe staffer, The New York Times' Carolyn Ryan, is said to be a likely contender if management looks outside the paper.
Over past week, Washington Post staffers were busy trading rumors with Boston Globe staffers about the anticipated top editor change, as The Huffington Post reported last Friday, and Brauchil himself had signaled to some that he would step down by the end of the year, according to a source familiar with the matter. Indeed, Brauchli's last day will be Dec. 31, with Baron taking over a couple days later.
Baron told The Huffington Post that he has no "roadmap," "bill of particulars," or "grand plan" yet for the Post, a paper he describes as "a great journalistic institution." The Post's ambitions, he said, "are very high and should be very high."
But the Post, like other newspapers, has been hit hard financially in recent years and has gone through several rounds of buyouts and layoffs that have reduced the size of the newsroom. The paper has also retrenched by closing national bureaus to focus primarily on Washington. And staffers remain concerned about further cuts, given the restructuring and financial problems at Kaplan, the Washington Post Company's for-profit education and test-prep company that's helped keep resources at the paper amid advertising and circulation declines.
Baron couldn't yet speak to the possibility of further cuts, but said "the size of the newsroom will be determined by the direction of revenues by the company." Weymouth said the company will surely have to make cuts at some point in the future, but will continue to "do everything we can to protect the newsroom."
The Post doesn't currently charge for online content, but the Globe moved in that direction last year in order to generate revenue. Baron said he hasn't "had any substantive conversations" about doing the same in Washington. "I'm certainly not resistant to it if it makes sense," Baron said, adding that each paper has to look at its own business model, audience and commercial goals.
Weymouth acknowledged looking at different potential pay models for the Post in recent years but said "to date, as we've determined, it doesn't make sense for us."
Baron, who's spent the last eleven-and-a-half years in Boston, has overseen major political coverage at the Globe, but hasn't spent any of his professional career living in the district. Barons said coverage of politics and policy is critical to the Post and that it "is absolutely vital we hold powerful people and powerful institutions accountable."
"The Post has a long, glorious history of doing that," Baron said. "I expect that to continue."
Brauchli was not available for an interview, but heads upstairs following journalistic success as editor, including four Pulitizer Prizes, while also overseeing a difficult transition.
During his four-and-half-years, Brauchli's had the unenviable tasks of making cuts while integrating the paper's print and web divisions, which had been operating on different sides of the Potomac. Brauchli, along with Weymouth, faced tough questions following a botched 2009 plan to bring in revenue through a series of off-the-record salons, which -- borrowing from the paper's most famous story -- was labeled SalonGate.
And Brauchli has also faced issues of low morale and internal criticism over his management style, which some staffers viewed as too detached from the newsroom.
However, one staffer said while Brauchli is "a bit shy," that once you get to know him, "he's wonderful."
"He's smart, interesting, intellectually curious, has great ideas journalistically, totally committed to the craft and to finding a business solution," said the staffer, who is not authorized to speak publicy. "He's everything you'd want in an executive editor, minus the charisma and bombast."
The Post's troubles, whether in terms of finances, talent retention, or prestige, have been a subject of fascination in media circles throughout Brauchli's tenture, with several lengthy looks at the paper's storied past -- i.e. Watergate -- and less certain future.
The New Republic published a 2010 cover story on the "Post Apocalypse," detailing the "messy collapse of a great paper." Gabriel Sherman described a paper in the midst of an "identity crisis," while noting the frustration of many that management allowed two Post staffers to leave to form Politico, which now maintains a large footprint in Washington political media.
In February, The New York Times led its Sunday business section with story on the Post's future, given that the for-profit education giant, Kaplan, was now facing new federal regulation that could dry up resources for the paper. Post veteran Bob Kaiser said that "the survival of the institution is not guaranteed."
Weeks later, Vanity Fair published a 7,000-plus word article which struck a similarly ominous tone: "Ghosts in the Newsroom." The Post, wrote Vanity Fair's Sarah Ellison, is "haunted by its history."
"I'm sure that I'll be reading that about me, maybe within the first few months," Baron said of such recent gloomy coverage.
"Every modern day editor experiences the same thing," Baron added. "It's kind of wearying. It's a different world. It's a different business. News organizations, like the Post, like the Globe, have stayed true to our core values, our core mission and have had to adapt to compete in a different business environment."
Weymouth said people have been speculating about the Post's supposed downfall for decades and it's a story she doesn't think has merit.
"I'm sure that I'm biased," Weymouth said, "but I firmly believe we are one of the best papers in the country, if not the world
Related
Before You Go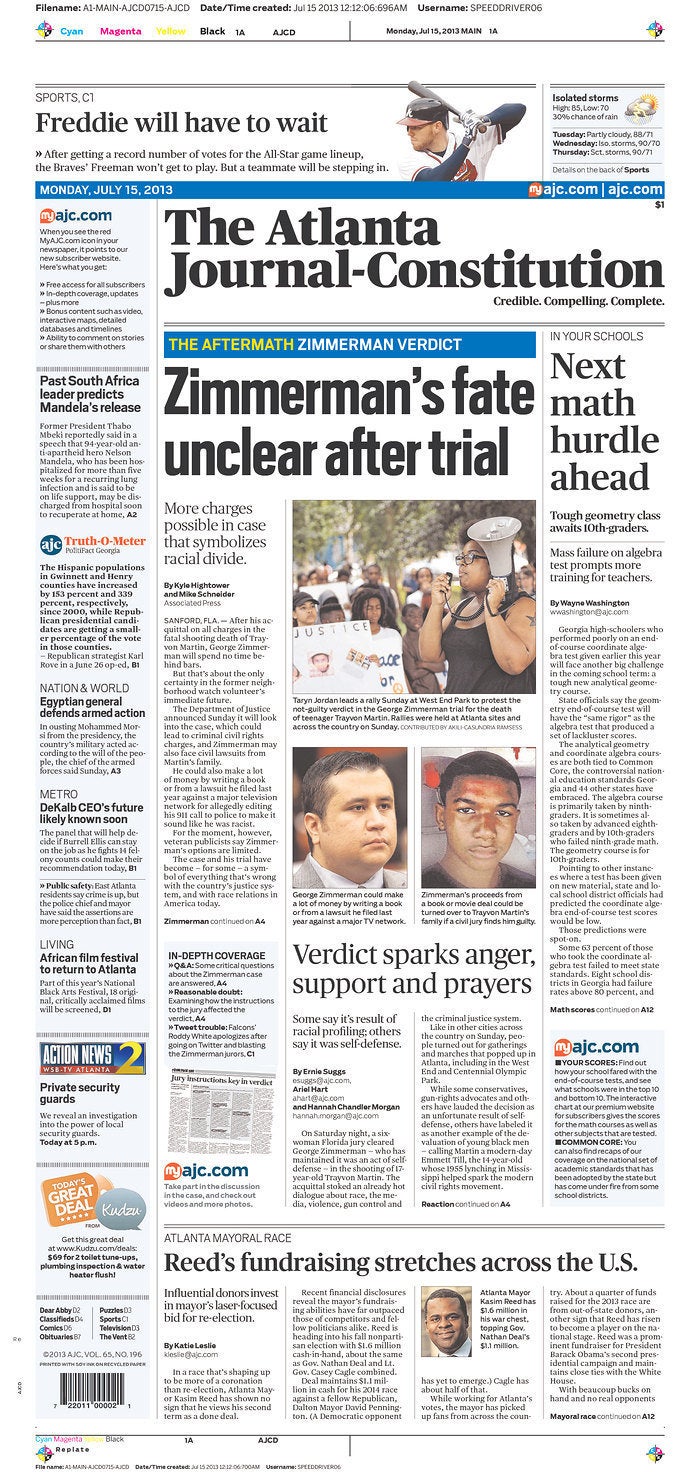 25 Biggest U.S. Newspapers In 2012
Popular in the Community