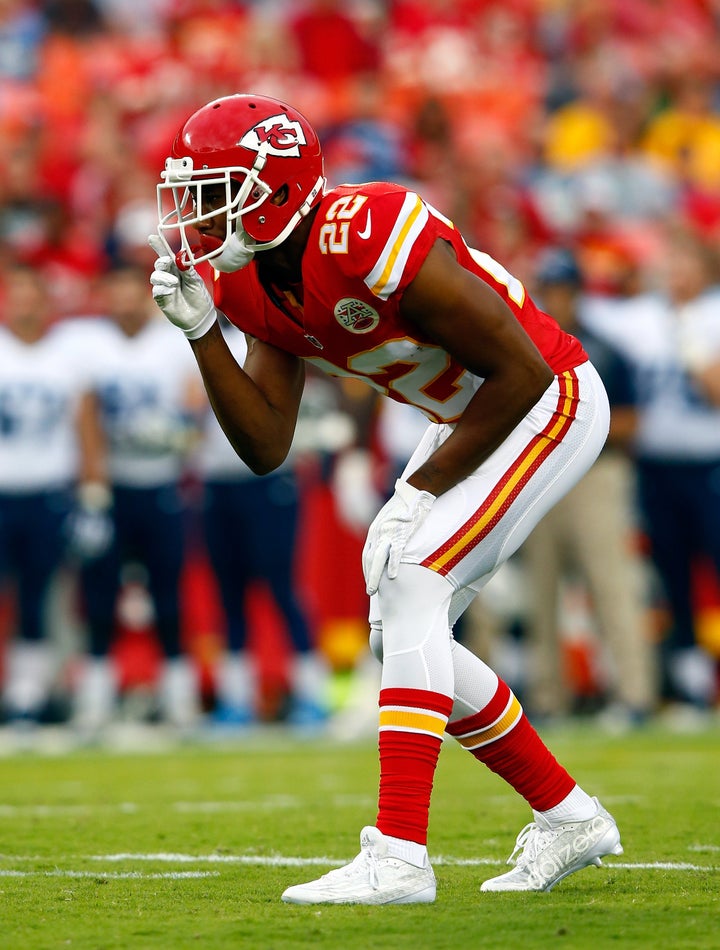 Marcus Peters didn't want to be a cliche. He didn't want a series of immature decisions to haunt him the rest of his life and mostly, he didn't want to squander his natural ability on the football field. And yet, after a tremendous start to his career at the University of Washington -- he amassed 11 interceptions in 34 games -- the talented cornerback was dismissed from the team during his junior season for violating team rules.
To understand where Peters is today is to understand where and what he comes from. He took his first steps on a football field and he counts Seattle Seahawks' superstar running back Marshawn Lynch, a fellow Oakland, California, native, as a de facto family member. Even as a little boy, he wanted to play in the NFL. Naturally, he wanted to succeed for himself, but also for his parents and community, who rallied behind him even amid the most challenging of circumstances.
He blossomed into a dominant two-way player in high school, and thought playing wide receiver was his ticket out. In fact, his first offer came from the University of Utah, to play offense. But in leading his team to its first-ever 12-0 season during his senior campaign, Peters also excelled at corner, and ended up being named MVP at the prestigious Nike Combine in Oregon. He received four offers ... just on the way home.
"There's a lot of 5-foot-11 receivers," his dad, Michael, told him, "but there's not that many 5-foot-11 [defensive backs]." 
A few years later, following the incident in Seattle that ended his collegiate career, Peters knew his professional life -- and his personal life, for that matter -- could go one of two ways. Instead of harboring anger and resentment toward the UW program, he instead shouldered the responsibility for his behavior, including arguments he'd had with several coaches.
"There was nothing but love and support, and that's one of the biggest reasons it felt bad to go out on a bad tilt," Peters told The Huffington Post. "They gave me a huge opportunity [and] I made a whole lot of mistakes."
With plenty of time to reflect, Peters returned to Oakland, upset and eager to turn the page.
"I went home and sat down with my family," he said. "We talked about what happened, and the biggest thing that my family told me was you can't make it where you were totally innocent. You've got to man up and take blame for what you did, what you cost. ... It helped me realize some things I needed to change, some habits I had from high school. And that's not me. I'm not that person."
Yet as important as his newfound attitude was, Peters was still faced with an uphill battle. NFL general managers and scouts were wary of a kid who, despite becoming a highly productive three-year starter, was once suspended from a game and eventually forced off the team. 
"He had nothing to hide," said Michael, who coached his son all the way through high school. "He actually manned up and took care of it. He met it right in the face. He told everything like it was. Me, him and his mom sat down and that's just the way he handled it."
The intense vetting process from the professional ranks began, and Peters had to confront his mistakes. While he excelled in certain areas at the pre-draft Scouting Combine, scoring rave reviews for his rare athleticism and dynamic playmaking ability, he ran the all-too-important 40-yard dash in a surprisingly slow 4.53. Plus, the reality remained that players kicked off of teams rarely get drafted, particularly on day one.
But Peters was groomed to be a professional, thanks in large part to his hard-working, strict, but very fair father.
"[He taught me] to always trust myself," Peters said. "If I see it, go, because you're only going to get that shot one time."
Michael's message to his son before the draft wasn't much different: If Peters handled himself the way he was raised -- to be forthright, earnest and mature -- everything would work out well.
Clearly satisfied by his positive attitude and overall character, the Kansas City Chiefs -- after concocting a 20-person vetting process spanning weeks and included a home visit -- selected Peters in the first round of the 2015 draft. ESPN Monday Night Football analyst and former Super Bowl champion head coach Jon Gruden called Peters "the best corner in the drafted, and it is not even close."
"Am I angry or anything at the teams that didn't take me?" Peters asked. "No, I'm not angry. I'm blessed that they even gave me the opportunity to come sit in front of them and to even talk about getting drafted."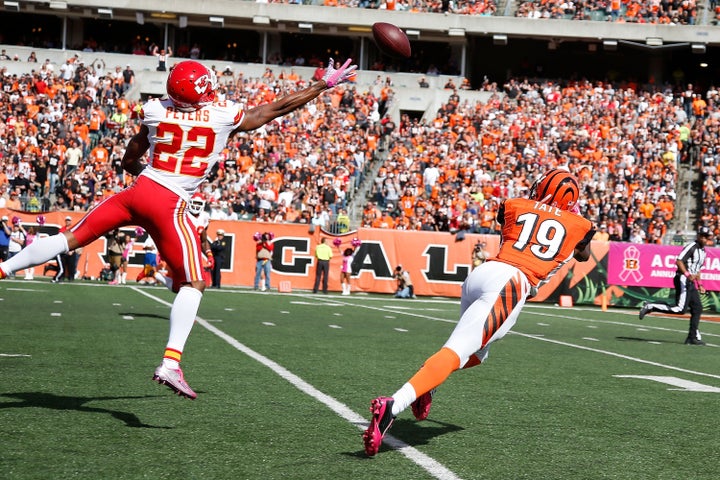 Blessed with a second chance, the cornerback entered training camp in terrific shape. He seized the starting job and has since become the front-runner for Defensive Rookie of the Year. In fact, he ranks third in the league with five interceptions and sixth in passes defensed, creating significant Pro Bowl buzz along the way. The 8-5 Chiefs, meanwhile, buoyed by his shutdown play on the perimeter, have rattled off seven straight wins. Their secondary, which ranked 12th in opposing quarterback rating last season, ranks fourth in 2015.
He now even shares an agent -- Relativity Sports' Doug Hendrickson -- with Lynch, whom he has admired for years.
The growth process for the 22-year-old Peters will continue, both on and off the field. The birth of his first child, a baby boy, gave him a greater sense of self, he said, because it forces him to be more responsible and places more significance on his decisions. Michael also believes having a child has had a profoundly positive effect on Peters, who lives with his girlfriend and son near Arrowhead Stadium.
"To be honest, I think that's one of the best things to ever happen to my son, that he had his own son," Michael said. "It made him more mature. He had to grow up real fast. He's gotta look out for his whole family."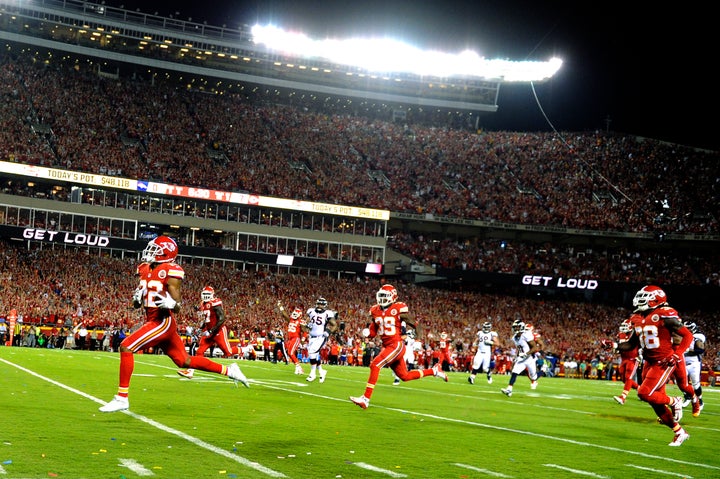 Peters is a ball-hawking magnet with a prodigious understanding of the game whose first touchdown came off a Peyton Manning pick-six, and his competitive nature has helped elevate him to an elite young player. He talks about playing "gladiator football" and "striving for as many Super Bowls as possible," hardly common verbiage for an unseasoned rookie.
Peters, who talks about winning like it's a privilege and not a right, desperately wants to be great. He plays instinctual football the way so many coaches demand and has become a consistent tackler and run-stopper, two areas in which rookie defensive backs typically struggle.
"The biggest thing," Michael said, "is that Marcus just has so much passion for this game, and he wears it on his shoulder."
And how does Peters feel about the extracurricular activities of being a pro football star? "Forget the money," he said. "Forget all the stuff which come along with it."
Peters prides himself on studying game film the way a veteran would. Instead of watching movies and cartoons as a kid, Peters wanted to break down footage of games.
His father speaks glowingly about how his son can draw up any play to perfection on a whiteboard and how at 6 years old he knew more about scheme than the local high schoolers.
"I have never seen a kid just take the stuff so fast," he added.
In a crucial Week 13 tilt against upstart division rival Oakland, Peters' special journey went full circle. For the first time in his young career, he played in his hometown in front of countless friends and family members.
After an onslaught of early nerves and struggles, he intercepted streaking Raiders quarterback Derek Carr and returned the ball 58 yards to help orchestrate a go-ahead touchdown for the Chiefs offense. Kansas City, in turn, captured a vital victory, firmly catapulting itself into the AFC Playoff race.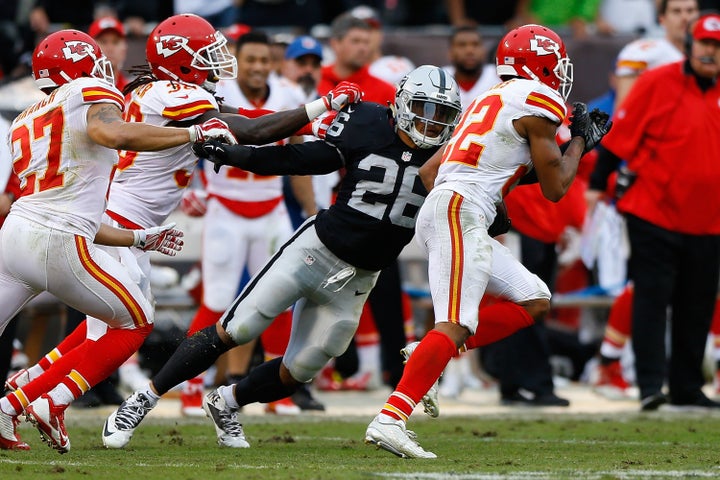 The ultimate reward for Peters wasn't the interception or even the victory. After the play, he found his mother in the stands and gave her the intercepted football, along with a hug and kiss. In his eyes, more so than ever before, he had finally made it.
He described his family and football as "everything."
"This brings total and complete happiness," he said.
Calling all HuffPost superfans!
Sign up for membership to become a founding member and help shape HuffPost's next chapter