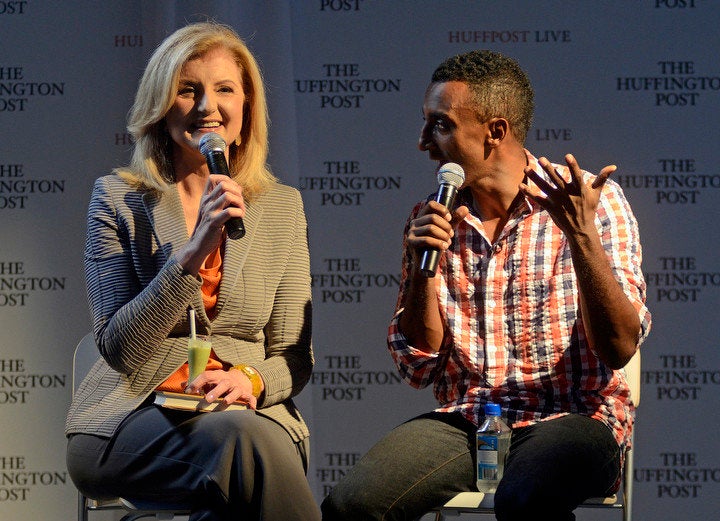 For Chef Marcus Samuelsson, whose restaurants span the globe from Harlem to Sweden, preparing good tasting food isn't enough -- it has to be good for you too. And he wants to change the way we talk about food in our society. "It's actually something that we put into our mouth -- it should be a higher priority," he says.
Before their chat, HuffPost Healthy Living caught up with Samuelsson to ask him a few questions -- check out some of the highlights below, then tell us how you prioritize nutrition in your own kitchens.
On banning the idea of "healthy food"
Why must there be a dichotomy between good-tasting and good-for-you food, Samuelsson asks. "Every time you use the word healthy you lose," he says. "The key is to make yummy, delicious food that happens to be healthy."
As he wrote in a recent blog post for The Huffington Post: "I don't distinguish the music I listen to from great music -- it's just music. There shouldn't be an announcement that divides our food between what tastes good and what is good for us."
Think how satisfying a plate of rice, beans and fish feels, for instance. "It doesn't have to be greasy, it doesn't have to be super-sized. When did that happen?" he says. "Healthy can be the new good. Eating delicious should not be sacrificed because it's healthy."
On his best tips for cooking healthy food
Portion control. In fact, according to Samuelsson, when you're eating high-quality, healthy food, you don't even need an oversized plate anymore. "If it's done really well, you don't want big portions because you think, 'That was so fulfilling,'" he says. "I'm not stuffed. I feel great."
His other go-to strategy? Shop and eat seasonally. "I look forward to soft shell crab in May," he says as an example.
On eating healthy on a budget
"I think it's very expensive to not eat healthy," he says, pointing to the burgeoning costs of obesity-related chronic diseases, such as diabetes. "Eating healthy is the only affordable option we have left."
And you don't need a kitchen full of tools to make it happen. "It's more mindset, that's the most important thing," he says. "You can be very modest and do it right."
In fact, he teaches regular cooking classes in his Harlem community to help teach the skills people need to prepare wholesome, good-tasting food.
On incorporating new cuisines into our diet
"As a nation of immigrants, we should take a page from the immigrants," Samuelsson says, explaining how other countries have great lessons to be learned in terms of healthy ingredients, and balancing food with an active lifestyle. "As Americans we should be inspired by those great ideas. We can make them ours."
On instilling good eating habits in children
Samuelsson, whose grandmother taught him how to cook, says the key is to constantly prepare food with your children, so they learn about healthy ingredients and it becomes natural to eat things like vegetables and fish. "Include them in the cooking, and therefore the eating doesn't become so esoteric and strange," he says. "Inclusion is better than exclusion."
On his favorite meals to make at home
Samuelsson's top picks include a grilled piece of fish with cous cous and tomatoes, a ramen soup with grilled chicken and fresh bok choy, and cabbage and a carrot salad with poached grilled shrimp and some chilis and garlic. "What could be fresher than that?" he says.
On how he stays fit as a professional eater
Exercise! "I love how I feel before and after," he says. His typical routine includes running, playing soccer with friends on the weekends and challenging his wife to basketball games. "I keep losing, but that's ok," he jokes.