Rep. Marcy Kaptur (D-Ohio) said in a meeting with other lawmakers on Wednesday that the way some of her female colleagues dressed was "an invitation" to sexual harassment, Politico reports.
"I saw a member yesterday with her cleavage so deep it was down to the floor," Kaptur said at a Democratic caucus meeting about sexual harassment, other people at the gathering told Politico. "And what I've seen … it's really an invitation."
"Maybe I'll get booed for saying this, but many companies and the military [have] a dress code," she continued. "I have been appalled at some of the dress of ... members and staff. Men have to wear ties and suits."
In a statement to reporters explaining her comments later on Wednesday, Kaptur suggested she never meant to blame the victim for being harassed.
"When I was first elected to Congress my office and I became a refuge for female staffers who had been mistreated by their bosses. Some of them in tears many days. It is something I carry with me to this day and something I brought up during our Caucus meeting. Under no circumstances is it the victim's fault if they are harassed in any way," Kaptur said in the statement.
However, she also doubled down on the idea that a dress code could reduce harassment. 
"I shared the stories from my time here in the context of the 'Me Too' legislation and how we can elevate the decorum and the dress code to protect women from what is a pervasive problem here and in society at large," Kaptur said.
Kaptur, now in her 17th term, is currently the longest serving woman in the House. She was one of more than 50 Democratic congresswomen who signed a letter Tuesday calling for Congress to investigate the sexual misconduct allegations against President Donald Trump.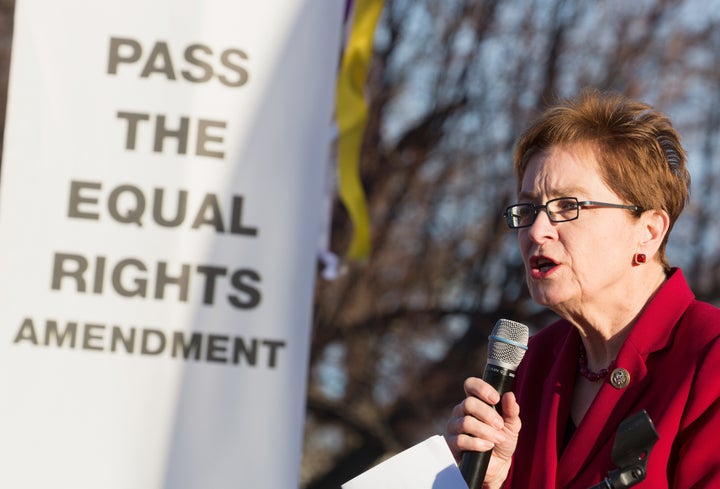 Late Wednesday, women's advocacy group UltraViolet pushed back on Kaptur's explanation of her comments ― specifically calling out her reiteration that a dress code may help protect women from harassment. 
"Rep. Kaptur, hear us loud and clear: no one deserves sexual harassment, no one asks for it, and the only people to blame for it are the harassers themselves," UltraViolet co-founder Nita Chaudhary said in a statement. "By blaming victims — not once, but twice today — Kaptur is protecting sexual abusers, not the survivors who are silenced and disparaged by the very institution in which they work every day. Kaptur is wrong and she needs to do better."
In October, another Democratic congresswoman, Rep. Eddie Bernice Johnson of Texas, also made headlines for similarly blaming sexual harassment in part on the way women dress.
"I'm from the old school that you can have behaviors that appear to be inviting. It can be interpreted as such. That's the responsibility, I think, of the female," she said.
These comments come as women across multiple industries, including politics, have been calling out sexual misconduct by men in the workplace, as part of the #MeToo movement. Last month at a congressional hearing, several female lawmakers testified about instances of sexual harassment involving other lawmakers or staff.
This article has been updated with comment from Chaudhary. 
Calling all HuffPost superfans!
Sign up for membership to become a founding member and help shape HuffPost's next chapter
BEFORE YOU GO
PHOTO GALLERY
Hollywood #MeToo March