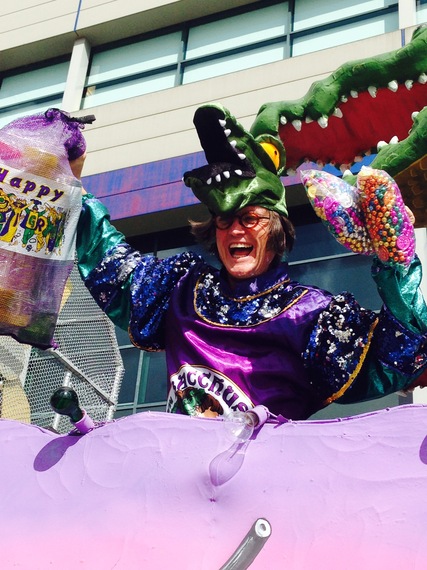 I rode on a float in a Mardi Gras parade last year. Lots of my firsts happened in New Orleans. I took a streetcar to school, met my lifelong best friend, joined the Marine Corps.
I ate my first oyster in New Orleans. I was thirteen. My family had moved there from Texas where the most exotic slimy thing I'd swallowed was okra. The waiter carried the tray as if they were valuable, easing it down onto our table. Things on ice appear more precious. I picked an oyster up. It smelled like the stinky parts of the Galveston beach. The shell was thick and jagged. Everything about it looked like something not to eat. I stared down at the gelatinous mass quivering in pearlescent liquid. I thought, "This is home now, better get used to it." With a toss I'd seen in movies, the cold lump slid down my throat. Once those flavors get in you, you're addicted.
Now I live in Santa Monica, but I go back to New Orleans often. I slap my veins as my plane lands. It scatters any cholesterol loose. To eat the foods I love, I need my arteries to act as my internal stretchy pants.
Parades roll for two weeks leading up to Mardi Gras day. Men and women make up the parade's Krewes. Think social clubs. They're named after mythological characters such as Endymion, Zeus, Comus, Rex. To belong to one of the Krewe's is a big deal. It's kind of like holding a prestigious public office where naughtiness is encouraged.
Masked krewe members ride floats and toss trinkets to people below. The crowd doesn't just beg for it -- body parts are flashed to earn the beads. It's not always pretty. Each parade ends in the Super Bowl or Convention Center, where guests of the riders attend a grand ball. The riders and guests celebrate in grand style. Black tie for men, full-length ball gowns for ladies. Come Ash Wednesday, partying screeches to a halt. But until then, as they say in the Big Easy, "Let the good times (and the parades) roll."
Each Mardi Gras, Dale (that best friend I mentioned) rides on a float in the Krewe of Bacchus. Usually, I put on a tuxedo and escort his glamorous wife Laura to the Bacchus Ball. He rides into the Convention Center on his float. He's exhausted and wet from throwing trinkets to the reveling throngs. However, this year, he tore his Achilles tendon. He sits this one out, and invites me out from the wings as his understudy to take the stage.
To me, an invitation to ride in the Bacchus parade feels like coming home a hero. It's getting the keys to the city -- and then tossing them out as a trinket to cheering crowds.
I get dressed at the convention center in a members-only dressing area. In moments, hundreds of men don satin costumes. In case fingers are numbed with bourbon or excitement, white-gloved attendants assist. I meet my culinary idol, Chef Tory McPhail of Commander's Palace. Still a god, but for the next few hours a mere mortal wrapped in the same lime green, glittery pants as me.

Uniformed up, I glide down the escalator to board my float. I pass last year's king, movie star Andy Garcia, on his way up. I extend my hand. When we touch, a zing of information is passed. I won't sanitize my hand the rest of the day.
I climb aboard my float to prep for battle. I build a fort of boxes of beads, make a plan, strategize. I try to calculate the amount of necklaces multiplied by the miles of the parade route divided by the estimated number of revelers but I ate a juicy, fat Po'boy while I dressed so my thinking is muddled by remoulade and fried oysters.
I hear the gas tractor cough awake. It spits our float and forty more forward. We resemble a disconnected caterpillar chomping our way into town. We're an armada of men dancing excitedly along the float's ridges, dressed in frilly satin numbers. We look like a gang of bad guys that have a change of heart and decide last minute to put on a Broadway show.

Like the camaraderie I felt in the Marine Corps, my float mates are my brothers in arms. A platoon serving together. The guy next to me is a beekeeper based in Baton Rouge. Other side rides a brain surgeon. Behind me is New Orleans royalty, both to me as a cook and someone that grew up here. He's the father of the young man married to Chef Emeril Lagasse's daughter. Like I learned in the Marines, we're equalized, perched on piles of plastic trinkets. Ammunition.
When my float rounds the first corner of the parade route, I feel the rush that a rock star must get as he takes the stage. Thousands scream. They want what I've got. Instead of songs, I toss beads to the adoring fans.
I have anxiety over my throwing style. Just because I look like a bloated Mitzi Gaynor hitting the Vegas stage, I still want to throw like a man. Turns out, my aim is good. Sometimes my float speeds by the masses, other times slowly. I give and give, wanting to make a connection to each person. Kids sit in boxes their parent's strap to ladders. I wince when I accidentally hit a few kids in the head with beads.
"I feel so bad about that," I scream to the guy next to me. "You?!" he says, "I beaned a baby. I'm a brain surgeon!"
The float rocks a few times, I stumble forward. But only a few inches -- I'm tied on with a harness. It's strong enough for me to lean out and dangle like a puppet if I want, but there's enough entertainment happening. This tether was implemented out of necessity. Easy to imagine the entire body of a boozed-up bank president hurling off the float, following the beads he just threw to a blonde. Would we hear the crush of bones and beads as the tractor rolls over both? The parade marches on.
A monsoon of alcohol floods every street during Mardi Gras. Shoes and reputations are ruined. I'm years sober. If you wonder how I have a good time at drunken Mardi Gras (I'm riding in the parade of Bacchus, the God Of Wine for fuck's sake), I assure you that I want a clear head to remember every second of this experience.
I ride the float for four hours. Throwing the beads is literally sex. I thrust my arms out over and over into the dark. I grunt and moan, ejecting ropes of pearls. I'm as insatiable as my partner, the entire city of New Orleans. I keep throwing, bending down for more. At one point we pass a Popeye's Chicken but I keep focused. I've forsaken all other lovers. The orgasm is instant and constant and lasts for hours. Plus I'm getting cheered.
I'm spent. We pull out of the rough streets and glide into the Convention Center for the Ball. I float in on a cloud of tractor smoke, a victorious gladiator. My friends are there, along with thousands of other black-tie Bettys.
Dale helps me off the float. We share a knowing look. He's as thrilled as I am. We've bungee jumped off a bridge, we've fired M-16's on Parris Island, we've ridden in the Bacchus Parade.
I wobble to the table, rolling on broken beads all over the cement floor. In one move I fall into a chair and reach into the center of the table for food. I dig into vats of red beans and rice without wondering "How long has this been there?" I grab hunks of king cake and paw it up to my mouth. Crumbs fall onto a table littered with other people's cups and beads. Beads everywhere. Any logical order of courses is tossed out like those cheap necklaces. A ham sandwich chases a brownie. Seconds in and I can't tell which cup is mine. The entire city is roofied right now, so I just grab one and drink.
The rock band Foreigner plays. I'm on my feet and in the middle of the dance floor. Dancing in a mass huddle is the most awesome post-coital cuddle.
Hours later, I limp out. Riders and revelers straggle from the ball into the streets. Ladies carry their high heels. Street sweepers, human and machine, scrub the streets all night.
I hope I don't oversleep tomorrow. Mother's Restaurant runs out of biscuits and black by 9AM. I consider hanging out on the Mississippi River till dawn, letting the moonlight shimmering across the water hypnotize me. If I stay up, the night never ends.
No one looks away from a sunrise. Why look back when everything in front of you looks splendid?