Mardi Gras is upon us here in New Orleans. Beads, floats, brass bands, and... geeks! Yes, geeks. Our next parade, which rolls this Saturday, February 22, is the Intergalactic Krewe Of Chewbacchus, a strange krewe of science fiction, fantasy and cosplay fans (or BacchanAlians).
I caught up with Midori Tajiri-Byrd, artist, costumer, milliner, baker, make-up artist, writer, musician, parade captain, and weirdo. Midori is essentially a force of nature. She creates amazing costumes, has modeled for me, has done make-up for my photography sessions, and marches in several parades. In amongst all of those things, Midori is captain of the Mystic Krewe Of P. U. E. W. C. (People for the Inclusion of Unicorns, Elves, and Winebots in Chewbacchus), a sub-krewe of the Chewbacchus parade made up of, you guessed it, unicorns, elves and winebots. Here are some things Midori and I discussed.
You are involved with several Mardi Gras parades, including Joan of Arc, and Chewbacchus. How did you first get involved with doing parades? What attracted you to this type of event?
What attracts me to parade culture in general is the ability to spread joy so quickly. For people who come to see a parade, whether it is a big float production, an artists walking parade or a neighborhood second line, it brings instant joy to the audience and, as a participatory event, they can often join in a second line, dress in their own costumes or try to catch special throws. For the performers in parades, it takes a certain kind of personality that not only wants to perform and dress up in costume, but wants to bring that kind of joy to people. And when you dance and march in these parades, throughout the weather, and the distance and the obstacles and still find a way to rally and bring excitement to the crowds, its the greatest feeling to share.
My mother is a very creative and resourceful woman and growing up she always made our costumes by hand. Being a performer by nature I never missed an opportunity to wear a costume, get on stage, decorate my bike or walk in a parade, but in most cities these opportunities are seasonal and not year round.
When my band played in Chicago I was on stage every weekend and often created theme nights as an opportunity to create new costumes. I began modeling for photographer Susan Anderson for a year-long series in Chicago Magazine that included a calendar girl theme of monthly pin-up girl costumes. While doing that series my interest in costuming and makeup artistry grew and I began working on my own projects.
While living in Chicago I walked in the Halloween costume parade in Boystown for a few years and began learning about how to translate a costume for the parade route, vs on-stage or on-camera. But it wasn't until I moved to New Orleans that I really began to step-up my involvement and love of parade culture and costuming. There are so many talented people here and so many venues to show your work and participate, it creates an environment where this kind of craft can grow like no where else in the world.
I initially joined [the dance krewe] The Organ Grinders and learned about how performance translates to the parade route. You need a lot of stamina to dance (not walk) in costume for hours on cobblestone streets in inclement weather and still keep up the high spirits that the crowds come to see! I have become more involved with additional parade Krewes in the past few years including the International Krewe of Chewbacchus (captain of the sub-Krewe of P.U.E.W.C.), I was Grand Marshall of the St. Catherine's Day hat parade in 2011, and am now a board member, I walk in the Barkus parade as a volunteer for Save-An-Angel, I have done volunteer work for I Heart Louisiana and their Greening of Mardi Gras efforts including the "Throw Me Something Local" campaign, and have joined Katrina Brees' groups in performances for America's Got Talent and this year will be riding an art bike in the Muses parade and Tuck's parade. I am also currently a member of the Chorus Girl Project, a New Orleans dance performance group. I also plan on participating more in the Nola Social Ride "Happy Thursday" costumed theme bike rides.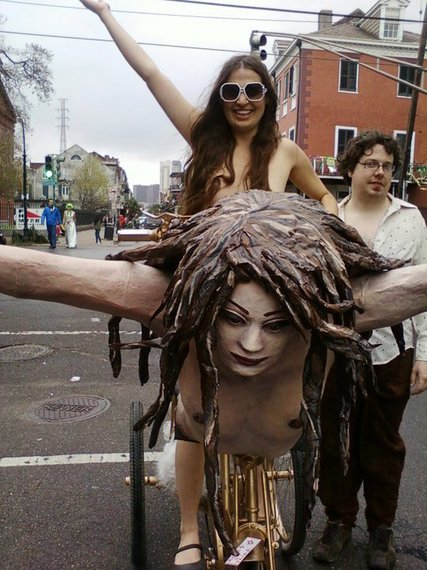 Mardi Gras art bicycles: above, Katrina Brees on one of her amazing Mardi Gras bicycles in 2011. Below, an alien bicycle in Chewbacchus, 2013.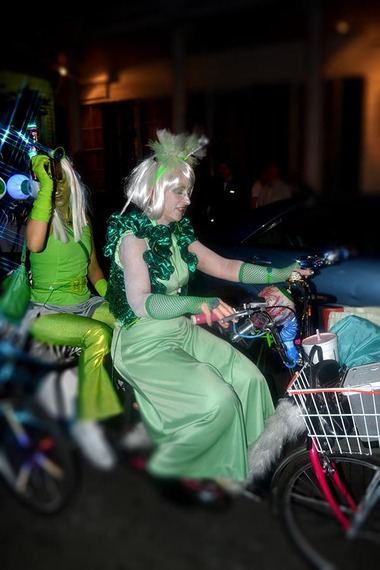 Chewbacchus is a 4-year-old parade. How do you feel Chewbacchus has
grown in four years, and where would you like to see it in another four years?
This is my second year marching with Chewbacchus and my first year as
a Krewe Captain. As a parade Krewe, Chewbacchus is probably unlike most other krewes in that it is made up of specifically sci-fi and fantasy fans. Beyond that, the costumes, contraptions and throws are all DIY and handmade. We are the world's only sci-fi parade krewe and the only one in New Orleans with these types of specialized "contraptions" (the customized vehicles that are driven, rolled, pushed or pulled through the parade instead of floats).
In the few years of its existence the International Krewe of Chewbacchus has grown exponentially and while it is still a walking parade, the explosion of numerous sub-krewes and more fantastic contraptions have resulted in a truly unique parade experience. As a krewe it has some basic management at its core, but the sub-krewes are run as small satellites and have freedom to create their own themes, ideas and events. As a krewe built around fandom it has become a home for all genres of interest. As the sub-krewes grow I would love to see them keep the same welcoming nature towards the variety of members we include.
You are leading the sub-krewe Krewe of P. U. E. W. C. this year. How did that sub-krewe get started? I assume it was your love of unicorns that got you interested?
The Krewe of P.U.E.W.C. was initially created to bring the fantasy-based fans into Chewbacchus, which, initially, was only Sci-Fi based. The founders staged a mock protest ( a faux-test) of Unicorns lobbying to be included in Chewbacchus. As a result the People for the inclusion of Unicorns, Elves and Whine-bots in Chewbacchus was born. This year, when I took the role of captain, I wanted to adjust the name of the sub-krewe to indicate that we are inclusive of all fantasy-based fandom and cosplay genres, and so the name extention of P.U.E.W.C. - F.A.R.M. was debuted. It is now the People for the Inclusion of Unicorns, Elves and Whinebots in Chewbacchus... and fantasy, anime, (Lord of the) Rings and magic! And yes, the name is intentionally clunky and convoluted ;)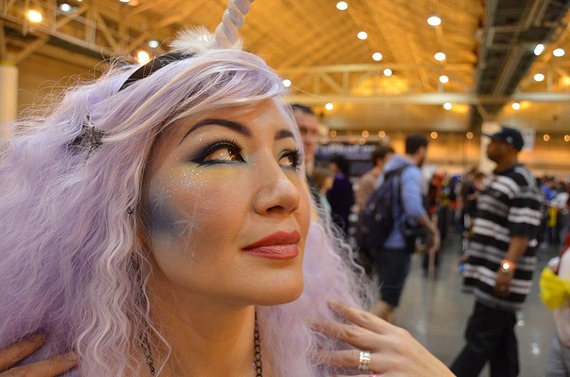 Unicorn Midori promoting the Krewe of P. U. E. W. C. at this year's Wizard World Comic Con (where there were a LOT of comics. 250 vendors!).
As a kid I was not especially girly at all, I wanted to be more of a tomboy, but was bad at sports. I did love performance though, but they didn't have all the glitter and sparkles they have these days. I was raised on The Muppet Show and Bugsy Malone, so while unicorns weren't exactly a part of my world, fantastical creatures and vintage show-girls were. I'm not so much a Sci-Fi fan, but I love cosplay, costuming, creating fantastical creatures and weird art, and building a world were people who love these things feel welcome to participate.
The most important part of participating in the parade culture and specifically in Chewbacchus and the Mystic Krewe of P.U.E.W.C. is to have a sense of humor and to not take yourself or anything too seriously. We work hard to create our costumes and contraptions, but beyond that the goal is to have fun, spread fun, rinse and repeat.
New Orleans is a city where fantasy and reality seem to blend into one another with some regularity. People walk down the streets every day in outfits that might be considered costumes in other places, and of course, we have several weeks a year when people costume and play out roles. Do you feel that there's a connection between the New Orleans lifestyle and fandom? Do you feel like New Orleans encourages or discourages fandom?
In terms of fandom as it relates to geek culture and sci-fi, no, I don't think New Orleans is discouraging in any way. There are plenty of sci-fi and fantasy fans here, as well as a healthy contingent of cosplayers and Lolita girls. In general, when out of costume, most fandom culture tends to be less outgoing, so in relation to the average New Orleans crowd that may wear a weekday tutu or a wig because its Wednesday (myself included), you may not see them as much when its not a specific event. But the fact that New Orleans is such a welcoming culture in terms of the eccentricity of its residents means that, even when they don't understand it, they accept whatever you feel like wearing that day. In that regard it may sometimes look like a lazier, more humid Seattle. But its the attitude here that sets us apart. Because of our parade culture, which is year-round and includes spontaneous second-lines that march through streets at the slightest provocation, its a much happier, more jovial environment when it comes to alternative ways you adorn yourself, fandom or otherwise.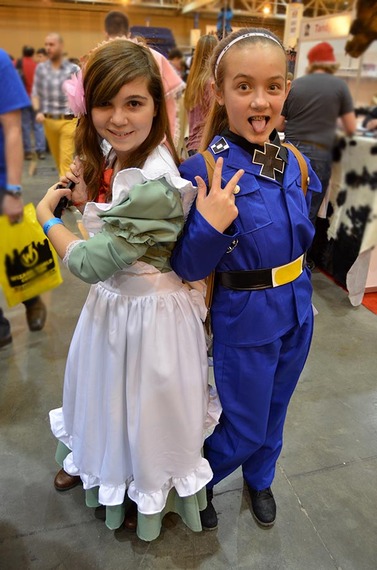 Above and below, New Orleans cosplayers at this year's Wizard World Comic Con (where there were plenty of comics)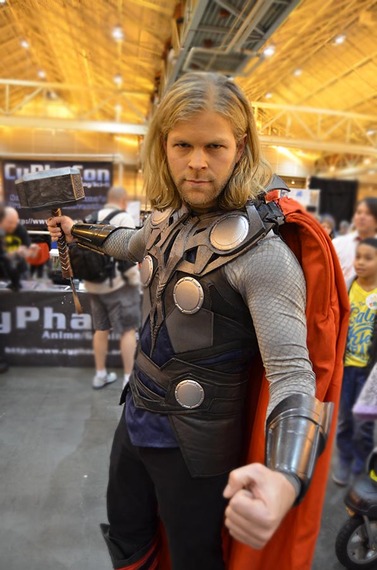 You are a pretty avid costumer and cos-player. Cos-play has become a
huge part of fandom: It's become a staple of cons, it has brought tons of females into fandom, there are cos-play celebrities emerging, and there's even a TV reality show about cos-players. Where do you see Cos-play now, as opposed to say a decade ago, and where do you see it going?
A decade ago I didn't even know the term "cosplay" All I knew is that I had a bigger costume collection than anyone else I knew, and would create my own reasons for wearing them if there wasn't a costume party or parade in town (grocery shopping at 2 a.m. in a fez and monkey suit? why not?). When a friend sent me a link for a cosplay event several years ago I thought, oh... that's what I'm doing!
With the growth of social media it is much easier to share ideas and learn techniques as well as creating a way for people who are involved in costuming to find each other. As with any group there will always be purists who don't like change, but I think it's great that cosplay has become a more common way to express our love of our favorite characters, and that it brings in all genders and ethnicities. The more variety and kinds of people involved, the more we all grow and create a world where we celebrate these things more often!
It has been exciting to see the ways that costuming techniques have grown and the amount of highly skilled artists out there who create amazing work. It's great to see the ways it affects fashion trends as well. I think in the future, in the way that fashion is trend driven by the masses, so too will cosplay culture be driven. Fashion and trends are no longer dictated to us. With DIY culture, Etsy and self-publishing, the only thing needed to share our creations is access to the internet. I look forward to the ways the culture will grow and seeing new artists and genres evolve.
What do you feel draws people to Cos-play? Do you feel like it serves a basic psychological need for people? Or is it just fun? Or both?
Although at its heart it is mainly for fun and the joy of sharing our love of our art, in an interactive way with the world, I think there are definite psychological benefits to cosplay culture. In the way that children role-play adult behavior that we later emulate in adult life, so too are we able to play out the aspects of the characters we admire, and grow from that experience.
When I was younger I was painfully shy and found it extremely difficult to express myself and be social, although I desperately wanted to. When I decided to start performing with my band I forced myself, out of love for the music and the genre I portrayed, to get on stage, although it was very difficult. To do so I created a persona, based on attributes I wished I had myself. I modeled my on-stage persona after characters I aspired to be like, including Auntie Mame, Mae West and RuPaul. Every Saturday night Igot on stage and began became "Miss Midori". I found, over time, that aspects of the persona I created leaked into my every day life, after all these behaviors had come from within me initially. I was able to grow into a more confident and happy person by acting out the characters I admired.
I think cosplay can produce the same benefits, it creates a pathway for us to channel aspects of ourselves that need to come out, whether we do so as another character or eventually as ourselves. It can be both cathartic and character building as well as an avenue to developing artistic skills and creating a social scene for people who are not usually very social.
I know that beside parades and costuming, you are a make-up artist, a model, and a milliner (hat maker). I have a feeling you do 20 other things that I don't even know about... What projects do you have going now?
Parade culture is year-round so there is always a costume or contraption of some kind in various states of being built. With Wizard World/Comic Con now over, currently I am finishing parade costumes for the Mystic Krewe of P.U.E.W.C. / Chewbacchus, dog costumes and vehicle for Krewe of Barkus, several specialty cakes orders, a few art commissions, and practicing for a performance with the Chorus Girl Project. I am also working on new interchangeable bike costumes to ride in parades throughout the year.
With my hat design label "The Great Hatsby" I have created a few special hat designs for some local New Orleans personalities including one for the founder of Chewbacchus, Ryan Ballard. I will also be creating a few hat designs we will debut at this year's Gay Easter Parade in the French Quarter.
I also enjoy working as a make-up artist, and in addition to the bulk of beauty work I obviously love creating theatrical looks for Mardi-Gras, parades, masked balls, photoshoots and costumed events. Being a makeup artist is a daily creative challenge because you have a new canvas every day and a challenge to find a creative solution in a short period of time.
In addition I am also a baker and have been creating art cakes as Nola Voodoo Cakes for a few years. I have created everything from multi-tiered giant wedding cakes to a cake made to look like a giant bottle of champagne or a realistic bust of Boba Fett. Thankfully, people in New Orleans like to eat and there is a great audience for both baked goods and artistically designed cakes.
I have been lucky to find a place in the world where there is a great audience for all of my creative outlets, from costumes to makeup to cakes and more. Each of my endeavors allows me a chance to bring joy through my creative pursuits, and for that I am thankful.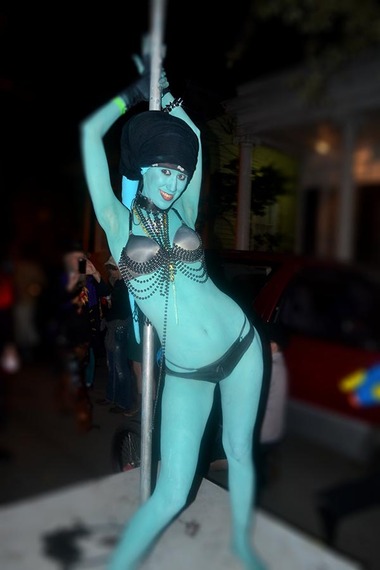 Above, one of Chewbacchus' founders, Gin Walker, Chewbacchus 2013. Below, Lauren DeVoe and Elena Wolf, who this year will be heading the sub krewe Party Elves Of Mirkwood. Photo from Chewbacchus 2013.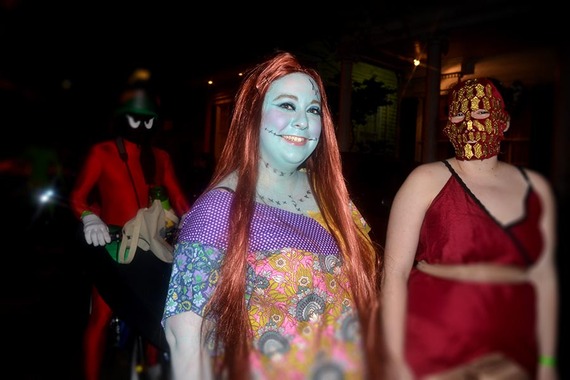 All photos by Kenny Klein.
Popular in the Community