Maren Morris cemented her position as one of country music's most outspoken allies for the LGBTQ community this week by taking a defiant stance against Tennessee's new anti-drag law.
After taking the stage Monday at Love Rising, a benefit concert for LGBTQ causes, the Grammy winner wasted no time in sharing her opinion on the controversial legislation.
"Yes, I introduced my son to some drag queens today," Morris told the crowd before being joined by drag performer Alexia Noelle Paris. "So Tennessee, fucking arrest me."
Morris and her husband, fellow musician Ryan Hurd, are the parents of a 3-year-old son, Hayes.
"He's growing up here as a Nashvillian, and I just want to leave this world for him a little bit better than the one we're in right now," Morris continued. "And I feel like nights like tonight help do that."
Morris was among the headliners of Love Rising, which took place at Nashville's Bridgestone Arena. T.J. Osborne, who in 2021 became the first openly gay artist to be signed to a major country label, performed as one-half of the Brothers Osborne. The lineup also included Hozier, Sheryl Crow, Jason Isbell and Amanda Shires.
Proceeds benefited Inclusion Tennessee, Tennessee Equality Project, OUT Memphis and the Tennessee Pride Chamber, among other local advocacy groups.
Morris' remarks come less than a month after Tennessee Gov. Bill Lee (R) signed a law making it illegal for "male or female impersonators" to perform in public, where they can be viewed by minors. First-time offenders can be slapped with a misdemeanor charge, and any subsequent offense counts as a felony.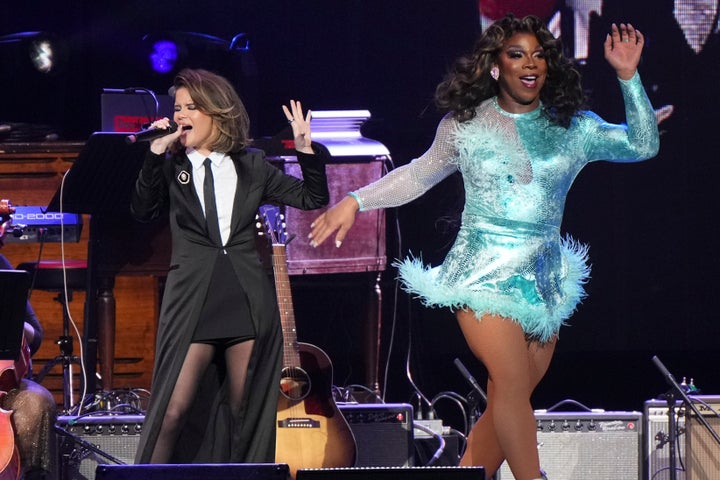 In recent years, Nashville has come to boast a fair number of openly LGBTQ artists and personalities. Compared to rock and pop, however, country is still broadly considered a conservative genre.
Hence, it's no surprise Morris has stirred controversy for speaking out in defense of the LGBTQ community. In 2022, the Texas native became embroiled in a social media dust-up after calling out Brittany Aldean, the wife of country musician Jason Aldean, for comments directed at parents of transgender children. The exchange prompted Fox News host Tucker Carlson to brand Morris a "lunatic country music person."
In the end, Morris had the last laugh, selling T-shirts featuring Carlson's insult as a fundraiser for Trans Lifeline and the GLAAD Transgender Media Program. She reportedly raised more than $100,000 for the two groups.
Popular in the Community