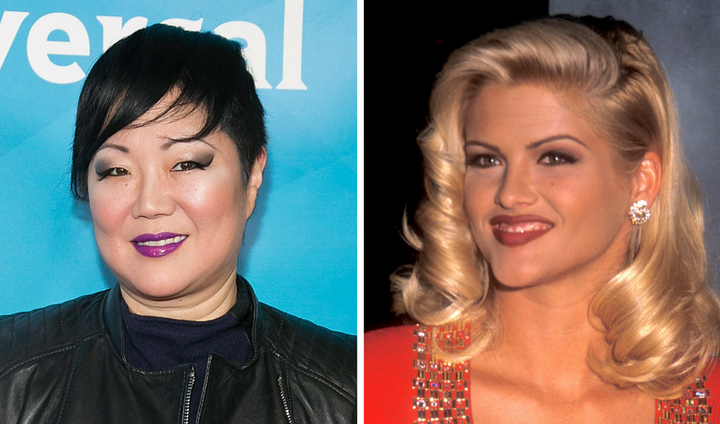 In the mid-1990s, Anna Nicole Smith was one of the most famous models in the world. She posed for both Playboy and Guess in ads that are still imitated to this day and became a cultural icon.
These days, however, she's seemingly remembered more for her controversial marriage to oil tycoon J. Howard Marshall, 63 years her senior, her struggles with substance abuse and the dispute over who fathered her daughter, Dannielynn Birkhead.
"I think that her grief was overwhelming," Cho told Menounos. "Her son had died, and her son was just so precious to her."
Amid the heartbreaking incident, there was also a dispute between Smith's boyfriend at the time, Howard K. Stern, and photographer Larry Birkhead, over who fathered Dannielynn. It turned out Birkhead was the biological father -- he got custody after Smith's death -- though Stern's name was on the birth certificate.
"There's lot of things going down in that story. So it has to do with some postpartum depression, some overwhelming guilt that her son had died. They both had an issue with prescription painkillers and different drugs like that," Cho continued. "I don't know if there's anybody that's necessarily at fault. Of course, we're all guilty. Anybody that's close to her is guilty, if anyone."
The "Fashion Police" host, 47, went on to talk about how her friend dealt with the grief, sharing a heartbreaking detail about how Smith reacted after her son's death.
"But then how do we deal with addiction, how do we deal with that overwhelming grief?" she said. "When a mother loses a child -- I know it took them four hours to pry her off of his body. She wouldn't allow him to be buried, she just had to be next to him and near him. I couldn't even picture it."
Cho recently released a music video tribute to Smith, whom she considered a friend. The comedian said the video, made in collaboration with Garrison Starr, is "her version of 'Candle in the Wind,' and about the archetype of someone who is too good for this world that exists in all of us."
CORRECTION: This post initially misstated Cho's age as 57. She is 47.