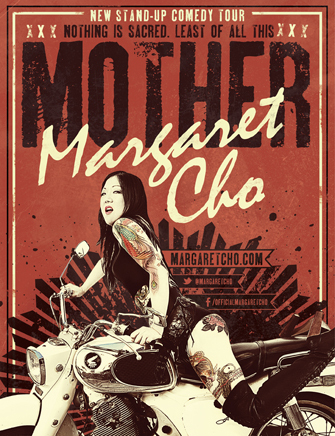 I talked with comedian/actress Margaret Cho about her current stand-up comedy show, Mother, which takes on sex, queer politics, drugs, guns, and identity and proves time and time again that boundaries uncrossed are meaningless. According to Margaret, Mother offers a nontraditional look at motherhood and how we look at maternal figures and strong women in queer culture. She explained:
I think that if you're queer, if you're a woman of color, and if you do comedy, it's like your voice is very important -- your existence is political -- and so I think it's a really great thing and what I've always tried to accomplish, and now that I'm older it's even more important.
I talked to Margaret about her current tour and her spin on LGBT issues. When asked about her personal commitment to LGBT civil rights, she said:
Well, I'm bisexual, and so I'm definitely involved, and also it's about my upbringing, my childhood, and my upbringing within the queer political community in San Francisco. It was a big deal for me and had a great impact on me. It's something that is in my heart and in my history and in my life, and it always will be.
Margaret also addressed her reaction to the U.S. Supreme Court finally overturning Proposition 8 and ruling a key section of the Defense of Marriage Act (DOMA) unconstitutional, and she discussed her strong commitment to ending the epidemic of LGBT teen "bullycides."
Margaret is taking her Mother tour to various U.S. markets, as well as to Europe and Australia. She has a fabulous supporting role on Lifetime's Drop Dead Diva, which just finished its fifth season. She'll be appearing on The Late Late Show With Craig Ferguson on Nov. 19, and she has teamed up with her opening act from her Mother tour, comedian Jim Short, for a brand-new podcast called Monsters of Talk. She will be appearing at the Crest Theatre in Sacramento, Calif., on Nov. 2 at 8 p.m., and at the Wilbur in Boston, Mass., on Nov. 6 at 8 p.m.
Listen to more interviews with LGBTQ leaders, allies, and celebrities at OUTTAKE VOICES™.
Calling all HuffPost superfans!
Sign up for membership to become a founding member and help shape HuffPost's next chapter