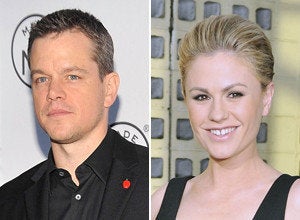 Six years ago, an all-star cast got together to feature in Kenneth Lonergan's second film, a teenage legal drama about a girl who believes she's responsible for a deadly bus accident. Unfortunately, editing issues, creative disagreements and its own legal wrangling buried the film on a dusty shelf.
And so the public never got to see Anna Paquin, 23 at the time, playing the 17-year old girl, or Mark Ruffalo as the endangered bus driver, or Matt Damon as the understanding teacher who takes advantage of his position.
"Margaret" centers on a 17-year-old New York City high-school student who feels certain that she inadvertently played a role in a traffic accident that has claimed a woman's life. In her attempts to set things right she meets with opposition at every step. Torn apart with frustration, she begins emotionally brutalizing her family, her friends, her teachers, and most of all, herself. She has been confronted quite unexpectedly with a basic truth: that her youthful ideals are on a collision course against the realities and compromises of the adult world.