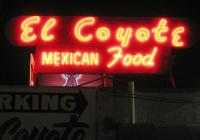 Marjorie Christoffersen stepped down as a manager at the Los Angeles Mexican restaurant El Coyote. Christoffersen's $100 donation caused controversy for and criticism of the 77-year-old L.A. dining spot after local blogs broke the news she had donated $100 to the Yes on Proposition 8 campaign at the behest of her Mormon faith.
Bill Schoeppner, a fellow manager at El Coyote who has been with the restaurant for 26 years, told Frontiers Magazine Christoffersen also resigned as a member of El Coyote's board of directors:
She no longer works here. She just told me tonight...Everybody is kind of used to her walking around the restaurant with a water pitcher going from table to table to table. I guess that part is no longer going to exist.
Frontiers' Christopher Lisotta reports:
Schoeppner said Christoffersen tended her resignation to her mother, Grace Salisbury, described on the El Coyote Web site as the "matriarch" of the restaurant. Salisbury's sister-in-law founded El Coyote in 1931.
At the community meeting, attended by over 70 members of the community, many of whom were long time customers, Christoffersen did not apologize for the donation and did not indicate she would support any No on 8 organization. A series of demonstrations and a month long boycott began. The community itself felt hurt and betrayed by Christoffersen, who had always been kind to them.
When one of the guys died from AIDS, Marjorie paid for his mother to fly out for his funeral. She is not a bad woman, she just listened to her church and couldn't see, didn't understand. There's a disconnect. But our money went towards taking away our rights.
It is sad Christoffersen's faith stepped into her relationship with people she had known for decades and cared about and made her see them as "less than" and undeserving of the same rights she and her family have.
Popular in the Community