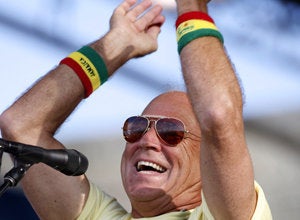 No shirt. No shoes. No problem. That might just be the motto for the first Jimmy Buffett-owned Margaritaville Beach Hotel that opens Tuesday on the barrier island of Pensacola Beach in the Gulf of Mexico, according to Gadling.
It's dubious timing with the oil spill, but the 162-room hotel was 2 years in the making. The hotel is certainly spun from the laid-back southern style Buffett is known for. The Land Shark Landing beach (also the name of his beer line) sits right on the Gulf, where guests can relax and sip cocktails from Buffett's Margaritaville line.
"Having grown up in Mobile, Pensacola Beach was the first Florida I ever knew, long before I headed to Key West," said Buffett in a press release. "I am a child of the Gulf Coast, and it is great to be coming home and making a commitment to Pensacola and the Gulf Coast, especially at this time. We have a lot of work ahead of us, but we have a great bunch of people to do it. Fins Up Pensacola, here we come."