Margaux the poodle is blind and deaf, but she's living life to the fullest with the help of her loving human family and three loyal doggie siblings.
The 12-year-old dog belongs to Laura and Scott Jordan of Ketchum, Idaho. Earlier this year, they noticed that something seemed amiss with their Margaux.
"She couldn't figure out where she was going … she was spinning in circles," Scott Jordan told The Huffington Post.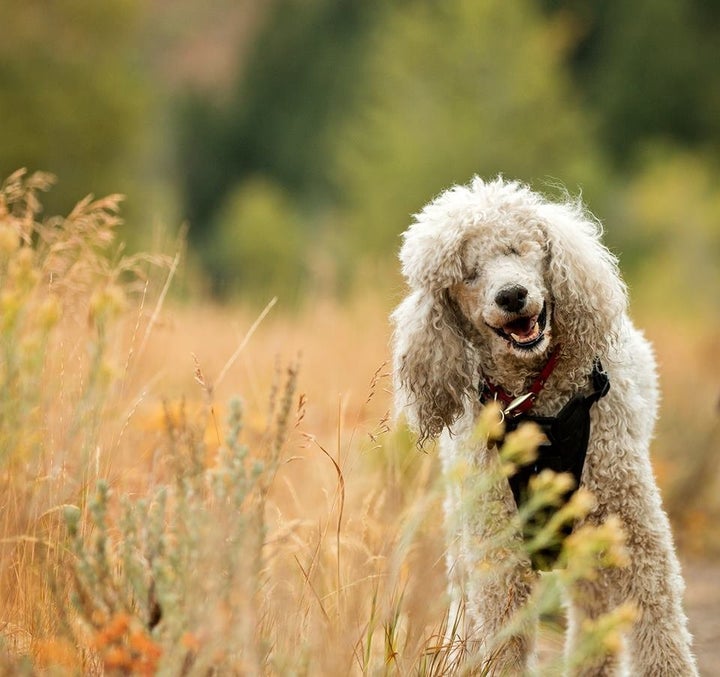 Veterinarians diagnosed Margaux with an autoimmune condition three years ago and her human family had managed it with medication. But the Jordans learned this year that the disease had started to attack Margaux's eyes. The dog, who was already deaf, now had to have both eyes removed.
Some people suggested that perhaps it was time to have the senior dog euthanized. But Margaux's owners sensed that she still had the capacity to love life. So they began to use methods like scent pads to help her navigate and nightly guided tours around the house to help her adjust. And Margaux, who Jordan described as "happy and plucky and sweet and intelligent," started getting back to her old self.
"After we removed her eyes, the disease stopped attacking in the fashion that it did," Jordan said. "Now she lives a pretty full life and brings joy to us and her sisters as well."
Those sisters are three other standard poodles who share the Jordans' home. For the most part, they treat their sibling as if nothing as changed. They still play with her just like before, even mischievously stealing her bone on occasion.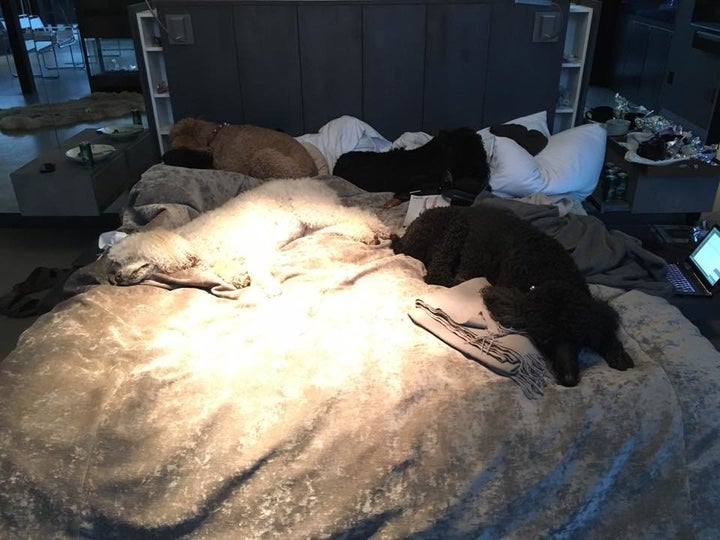 But they do seem to recognize when Margaux can use their help. When Jordan connects the dogs' leashes to let Margaux's sisters lead her on hikes, for instance, they seem take the responsibility of guiding their blind loved one "seriously." And he's confident in how much they care about her.
"I have to believe that if she were in danger they'd be there for her in whatever capacity they could," he said.
Jordan started a Facebook page, Root For Poodle Margaux, after finding that Margaux's spirit was as inspiring to others as it was to him.
"It's really an amazing opportunity to document this and experience it," he said. "We can learn a lot from animals."