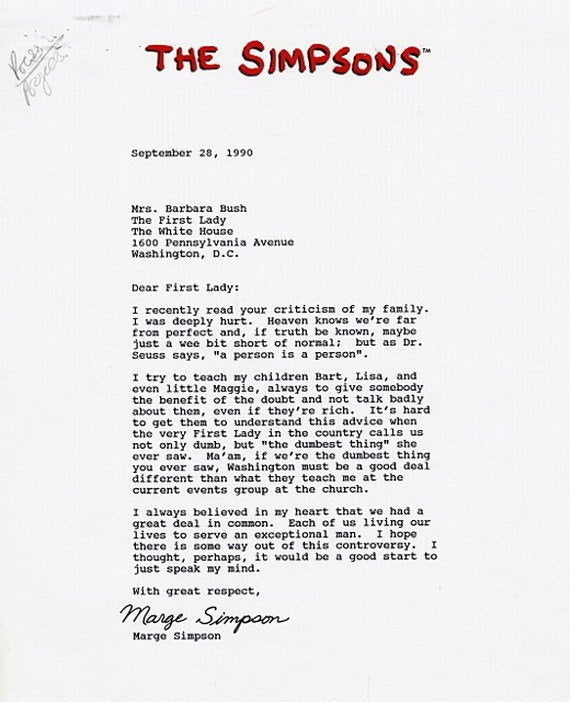 Back in 1990, when "The Simpsons" was in its second season, First Lady Barbara Bush called the show, "the dumbest thing [she] had ever seen," in an interview with People magazine.
She may have been married to a powerful guy, but that didn't stop the cast from responding to Bush's criticism. Simpsons matron Marge nipped the beef in the bud by writing a polite letter in response: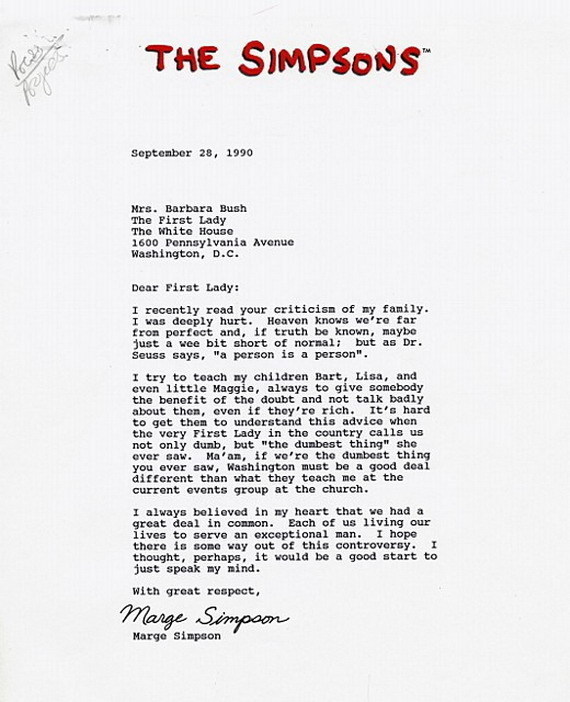 Much to the amusement of all, the First Lady sent a gracious reply, and found herself a new pen pal:
Dear Marge,

How kind of you to write. I'm glad you spoke your mind; I foolishly didn't know you had one.

I am looking at a picture of you, depicted on a plastic cup, with your blue hair filled with pink birds peeking out all over. Evidently, you and your charming family — Lisa, Homer, Bart and Maggie — are camping out. It is a nice family scene. Clearly you are setting a good example for the rest of the country.

Please forgive a loose tongue.

Warmly,

Barbara Bush

P.S. Homer looks like a handsome fella!
Though the correspondence certainly wasn't recent, an image of the letter was published on Letters of Note earlier this week, and the story is going viral.
We wonder if Marge and Barbara still keep in touch.