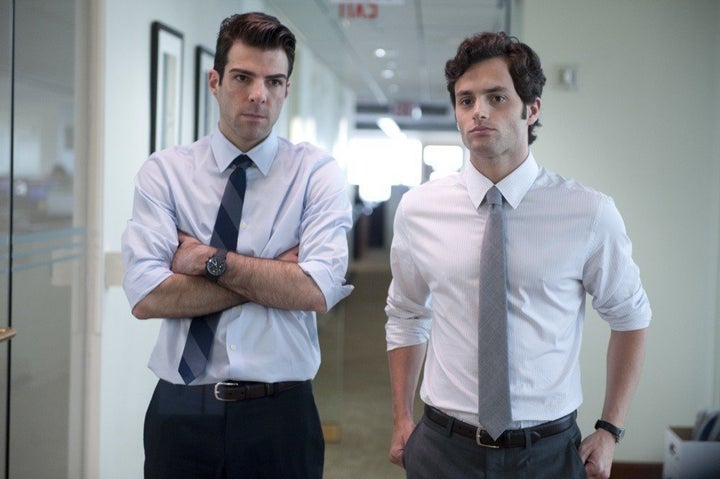 UPDATE: The NYFCC has announced that "The Artist," the Michel Hazanavicius-written and directed silent film, has won Best Picture.
_____
PREVIOUSLY: "Margin Call," a Wall Street-set fiscal thriller, held the unspoken honor of the most-topical-film-ever and now the critically lauded film has been named best first feature of the year by the New York Film Critics Circle.
"We are convening now and will be tweeting as the voting progresses," the social media-savvy Critics Circle informed the public; their picks were also announced via Twitter.
The film came in first, which was revealed at 10:10 a.m.
"Margin Call," directed by J.C. Chandor, stars Zachary Quinto and Penn Badgley as two young traders at a banking firm that is on the precipice of financial disaster. The film also stars Stanley Tucci and Kevin Spacey.
After that, Werner Herzog's "Cave of Forgotten Dreams" won Best Non-Fiction Film; Jessica Chastain took home Best Supporting Actress for "Tree of Life," "The Help" and "Take Shelter"; Meryl Streep won Best Actress for "The Iron Lady"; and Albert Brooks was named Best Supporting Actor for "Drive."
Brad Pitt then won Best Actor for "Moneyball" and "The Tree of Life." Michel Hazanavicius was named Best Director for "The Artist," while "A Separation" won Best Foreign Language Film.

The New York Film Critics Circle's categories include: best picture, director, screenplay, actor, actress, supporting actor, supporting actress, cinematography, animated movie and non-fiction film.