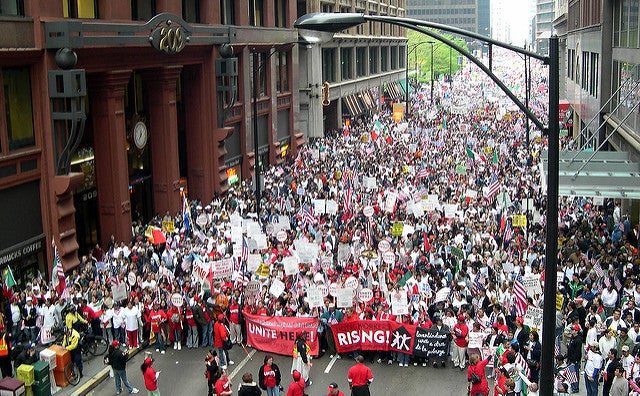 Many people from marginalized groups have heard the saying, "America is the land of the free except if you're ­­­_______." You can fill in the blank: A person of color, a person living in low-income housing, an immigrant, a person who identifies as LGBTQ. As much as I have always known this to be true, it seems as though political attacks against marginalized groups have increased within the last few months.
I've been overly anxious since January. President Donald Trump made numerous promises to his supporters during the campaign trail. For those who would be directly impacted by his "promises," and those of us who fully understood the consequences of his intended legislation were rightly concerned. I had hoped that the irresponsibility Donald Trump spewed on the campaign trail was only to be used as a tool to manipulate voters to cast their vote for him.
The deadly events in Charlottesville where white supremacists terrorized the streets crystalized how far Trump's rhetoric has influenced those full of hate and bigotry. But the attacks by Trump and the GOP against marginalized groups have been happening all along since he took office.
The attacks began immediately on immigrants. On January 27, just seven days after Donald Trump was inaugurated, he announced Executive Order 13769. The EO banned all nationals from Iran, Iraq, Yemen, Somalia, Syria, Sudan, and Libya. Ironically, which happen to be Muslim-majority countries.
Then there's the ongoing attack on the Affordable Care Act. For now Obamacare appears to be safe, but in this last fight multiple groups were under attack in the effort to repeal: people with pre-existing conditions, those in low-income communities, and individuals with disabilities. Although the bill was narrowly shot down, Trump and the GOP made it clear that this is not the end on their fight to take away American's healthcare.
On the campaign trail, Trump made promises to protect the Deferred Action of Childhood Arrivals (DACA) program. However, there have been mixed messages coming out of the White House regarding DACA. Those in the program are currently waiting in limbo for the decision of its outcome.
We will see if Trump will side with white supremacists who want to end immigration and cleanse the U.S. of immigrants of color or if he will stand by his promise to treat Dreamers with "heart."
Recently, in a speech on Long Island, President Trump encouraged police brutality by suggesting that officers rough up suspects as they shove them into the back of police cars. He has since clarified that he was just "joking," but as a Black American who has read about so many young people of color shot and killed by police, I find such a "joke" abhorrent.
In the past six months, the Trump administration, with the GOP standing in strong support, have been on the attack against women, people of color, immigrants, low-income families, disabled individuals, those of Muslim faith, and the LGBTQ community. America is lauded as the "melting pot," but the people who make up the characteristics of this melting pot are under constant attack.
It's exhausting. Only seven months into the administration, it seems we have been fighting every day against a new injustice. But I am heartened to see so many stand up and mobilize, speaking out in rallies, on social media and in the news. Only we can draw the line to tell Trump and his white supremacist buddies enough is enough.
Erica Hilton is a communications intern with the Center for Community Change.
Popular in the Community