Character Actress Margo Martindale will play a bank-robbing animated version of herself, she'll look Meryl Streep in the eyes and reveal she slept with her husband, and she'll seek revenge by serving a dude poisonous moonshine. So where does Character Actress Margo Martindale draw the line when choosing roles? Recently, it was with a particular slur. 
In "Mother's Day," Martindale plays a racist, homophobic, redneck grandmother named Flo. The movie, which opens Friday, marks the third holiday-centered omnibus in which "Pretty Woman" and "Princess Diaries" director Garry Marshall gives us the chance to gaze at A-listers who only had to work for a few days because these ensembles are so massive. (Marshall's first two holiday confections were 2010's "Valentine's Day" and 2011's "New Year's Eve.") 
Sporting patriotic T-shirts and a bucket of fried chicken, Flo and her husband (Robert Pine) load up their RV and travel from Texas to Atlanta to visit their two children (Kate Hudson and Sarah Chalke). The trip is meant to be a grand surprise, but any joy is derailed when the couple learns their daughters have been concealing the fact that one is married to an Indian man (Aasif Mandvi) and the other is married to a woman (Cameron Esposito). Because Martindale's mere presence is so delightful, she elevates a set of stereotypes and becomes the most charming part of the movie. By the end, you might even decide you wouldn't mind having your own Racist Grandma Flo -- if she's actually Character Actress Margo Martindale, that is.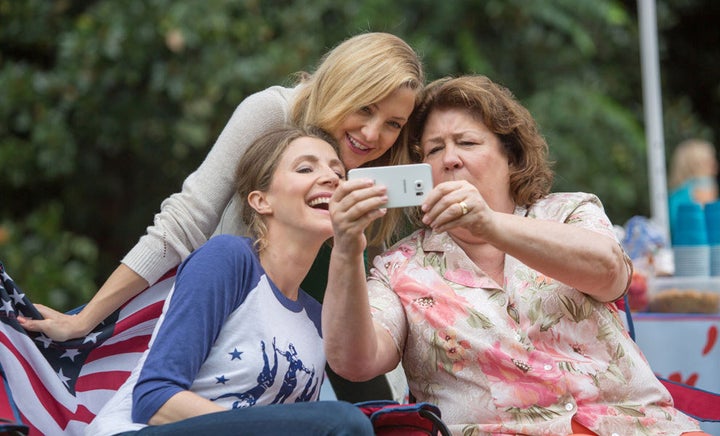 Martindale told The Huffington Post last week that she took the "Mother's Day" gig for two reasons. First, she's wanted to work with Marshall ever since she had to decline a role in "Runaway Bride" because she couldn't get out of her one scene in "Earthly Possessions," a 1999 TV movie starring Susan Sarandon. And second, the project offered a "nice payday" for a quick two weeks of work. (Martindale's idea of a cash cow comes in comparison to "The Good Wife," where she said her recent 13-episode arc netted about $8,000 per week -- the cap for recurring guest actors on network shows.)
But one thing about "Mother's Day" didn't excite her, so she let her on-screen husband do the dirty work. Martindale said she didn't want to call her Indian son-in-law a "towelhead," the derogatory term typically aimed at Middle Eastern men who wear turbans. The script -- by Tom Hines, Anya Kochoff Romano and Matt Walker -- initially called for both her and Pine to use the put-down, but Martindale insisted one was plenty. 
"I said, 'Too many 'towelheads.' I bow out,'" she told HuffPost. "He did it instead. It's OK, he can handle it. I couldn't handle it."
Martindale is accustomed to Southern stereotypes, both as a Texas native and as a performer whose accent has repeatedly landed her parts as brash, sometimes villainous manipulators. In pop culture, the inflections of a Southern drawl tend to dictate one of two things: stupidity or mischief. The latter was most plainly manifested in Martindale's "Justified" character, the murdering dynamo Mags Bennett. (For her, the Emmy-winning role was pure "poetry.") But even the bickering mom she played on "The Millers," the manipulative political strategist she portrayed on "The Good Wife" and the nag she brought to life in the film adaptation of "August: Osage County" are specific products of Martindale's Texas twang.
Of course, this is a Garry Marshall holiday film, so it's not much of a spoiler to say that intolerance does not square with feel-good endings. Thankfully for Character Actress Margo Martindale, the Texas folks she knows aren't anything like Flo -- even if the stereotypes Flo represents are "absolutely" still true. And anyway, as Martindale sees it, the "Mother's Day" couple "aren't ignorant -- they're narrow."
"And I got to ad-lib a little, which is fun," she said. "That's where a little more real stuff came from. Garry Marshall was really open to collaboration and making things actually real. There are people like that."
"Mother's Day" is now in theaters. It also stars Jennifer Aniston, Jason Sudeikis, Julia Roberts, Timothy Olyphant, Britt Robertson, Shay Mitchell, Hector Elizondo and Loni Love.
Calling all HuffPost superfans!
Sign up for membership to become a founding member and help shape HuffPost's next chapter
BEFORE YOU GO
PHOTO GALLERY
Julia Roberts Movies