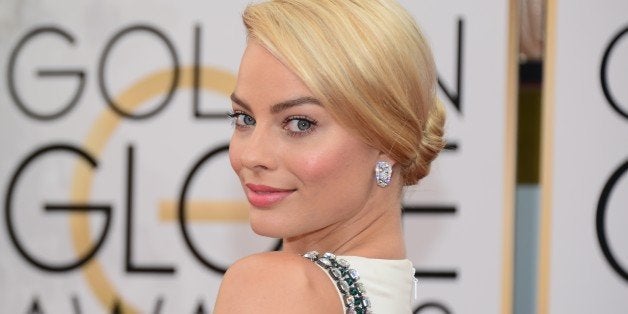 You probably had never heard Margot Robbie's name before she wowed audiences in "The Wolf of Wall Street" as Jordan Belfort's second wife. Yet, all of a sudden, she has sky rocketed to a household name.
Perhaps that's what happens when a foreign actress appears on Hollywood's radar with a brilliantly layered character portrayal and a lot -- a lot -- of nudity.
Robbie's fame has grown incredibly quickly, and she plans on sticking around for a while. So, here's what you should know about her:
Robbie delivered a very believable Long Island accent in "The Wolf of Wall Street," but as soon as the camera's would stop rolling, she always fell right back into her sweet Aussie voice. Robbie was even featured in Australian magazine Inside Film's 2012 Rising Talent Issue.
2. She's younger than you'd guess.
The blond actress is only 23 years old. Nope, that isn't a typo. Her birthday is July 2, 1990.
3. She's obsessed with hockey.
Though ice hockey isn't exactly popular in Australia, Robbie has taken up a love for the sport. She is a huge New York Rangers fan and was even spotted crying during a particularly upsetting game in Madison Square Garden.
Best part? She's so into the sport that she now plays right wing in an amateur hockey league. She told Film.com, "Well I always wanted to play ice hockey back in Australia, I'm not sure why, but we didn't have any ice where I lived. It was very hot, a coastal town. So I played field hockey, but then when I moved to America I was finally able to join a team once I wasn't contracted to a show, but when I was contracted to a show I wasn't able to play." She later confessed, "I play on a team but I'm definitely the worst on the team. I'm not so good at the ice skating part. The hockey is good, but the ice skating I need to work on."
4. She only started acting as a senior in high school.
Robbie told Vulture that she first acted as a high school senior, when her friend asked her to work on an amateur Australian thriller. "When I say amateur low-budget, I mean worse than a student film," she elaborated.
5. She was first known as an Australian soap opera star.
Less than six months after her low–budget thriller, Robbie scored a guest role on Australian soap opera "Neighbours." Then her role grew into a full–time position and inspired Robbie to pursue acting as a livelihood.
The blonde was written off the show in 2011. She described her finale in a TV week interview, saying, "I wanted a big, dramatic death or to go to rehab. But no, it's just a boring old happy ending!"
6. You've probably seen her on–screen before "Wolf."
Robbie starred in the Emmy–nominated ABC show "Pan Am" as Laura Cameron. She also appeared in "About Time," which came out last year.
7. She was initially against nudity in "Wolf," but ultimately encouraged it.
At first, apparently, Robbie had little interest in playing Naomi Belfort in "The Wolf of Wall Street," so she didn't even consider the extensive nudity that the role required. She explained, "They're like, 'Why would she audition for a role that requires nudity if she doesn't want to do nudity?' And honestly, I never expected that this would go any further than an audition tape."
Once the young actress got the part and developed her stunning character, she changed her mind. "[Scorsese] was the one saying, 'Technically, for this sex scene she could have kept her bra on.' But the first thing Naomi would do is get naked. That's how she's gonna win the fight," Robbie justified to Vulture, of her character's nudity.
8. She took three tequila shots before filming her near full–frontal nude scene with Leonardo DiCaprio.
Robbie was asked in an interview with Celebuzz how she prepared for her first sex scene with Leonardo DiCaprio, to which she replied: "I did three shots of tequila at like nine in the morning, right before doing it."
E! News caught up with Robbie on the Golden Globes red carpet and shared a very important piece of information: She's single. "I don't really wanna date an actor, so this probably isn't the night I'm gonna find someone," she divulged of her chances at finding love on awards night.
10. Hollywood hasn't changed her.
A lot has changed very quickly for the young Australian, especially since she's gained "Wolf" fame. Still, she hasn't let the hype get to her. "I feel as if I've stayed the same, but everything around me changed," she explained in an interview with Vogue UK. "I don't know why, but I expected to wake up in a different body -- thankfully that hasn't happened."
Calling all HuffPost superfans!
Sign up for membership to become a founding member and help shape HuffPost's next chapter
BEFORE YOU GO
PHOTO GALLERY
Celebs Whose Undergarments Are Showing