WASHINGTON ― Swedish Foreign Minister Margot Wallström is used to her strong convictions making her job harder.
After she announced that Sweden would become the first Western European power to recognize Palestine as a state, Wallström faced condemnations from Jerusalem and Washington. When she criticized Saudi Arabia's draconian restrictions on women and flogging of an imprisoned blogger, she earned the ire of Swedish business leaders worried about their country's lucrative trade with the kingdom. Israeli officials continue to snub her, and it took an intervention from Sweden's prime minister and its king to defuse tensions with the Saudis.
Still, the minister has remained firm in her views, proudly championing a foreign policy that puts a high value on principles ― particularly gender equality ― not just pragmatism.
President Donald Trump poses the greatest challenge yet to this principled diplomacy. With the U.S. now run by a man who sees foreign affairs as a game of transactions, narrowly defined national interest and wall-building, figures like Wallström must decide how to protect their vision while maintaining good relations with Washington. As the U.S. and U.K. grow more isolationist, the future of international cooperation increasingly relies on small but determined countries such as Sweden.
"We have seen so much of populism, polarization, protectionism and all of these isms ... that lead our world, as I see it, in a wrong direction and will not help us to create more jobs and more wealth and everything that we want," Wallström said in an interview with HuffPost last week, during her first trip to Washington since Trump took office.
"And more peace!" she added.
Without direct condemnations of the president, Wallström offered a broad defense of the internationalist worldview Trump and his allies in Europe call obsolete.
"We see countries turning inward, thinking they can just look after their own interests, but there are few problems or challenges that one country can solve on its own," she said. "I don't think that there is a way back to something that existed. We have to live in this world. And I think our children and grandchildren will not forgive us if we cannot come together."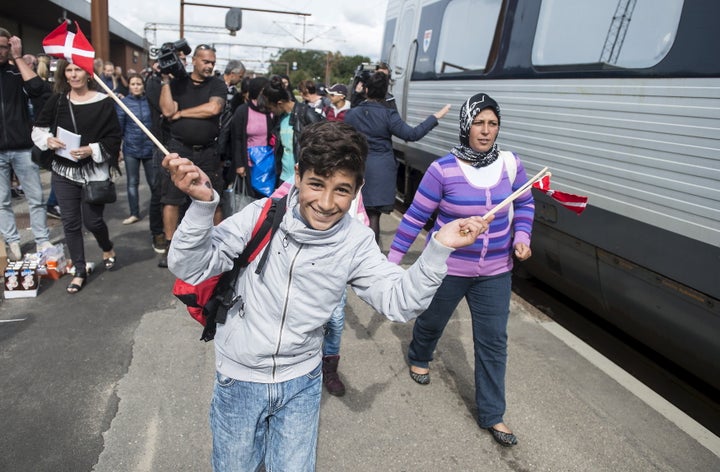 Sweden wants to work with Trump on issues like fighting the so-called Islamic State, European security and humanitarian crises. Wallström was in town to attend a meeting of the U.S.-led coalition against ISIS.
But there's no denying the disconnect between Stockholm and Washington. Wallström's left-wing, avowedly feminist government is already subtly highlighting it: Its ambassador to the United Nations, Olof Skoog, criticized Trump's depiction of the U.N. in January, as Sweden took up an influential position on the Security Council; the following month, Deputy Prime Minister Isabella Lövin posted a tweet apparently mocking Trump's all-male photoshoots. Three weeks ago, Sweden pledged $22 million to the global health organizations Trump has targeted with his ban on U.S. support for groups that even discuss abortion.
Powerful men in elected office "often start by taking decisions that restrict the movement of women or how women dress or violence against women, so that is also something they seem to have in common, and that worries me a lot," Wallström said, in an indirect reference to Trump and Russian President Vladimir Putin, who recently decriminalized some forms of domestic violence.
As the face of Sweden abroad, Wallström bears the greatest responsibility for her country's relationship with the new U.S. administration. And the biggest Trump-Sweden moment so far was a reminder that stability is far from assured. On Feb. 18, the president told a Florida rally that Sweden proved his point about the danger of accepting refugees: "You look at what's happening in Germany, you look at what's happening last night in Sweden," Trump said. "Sweden. Who would believe this? Sweden. They took in large numbers. They're having problems like they never thought possible."
It was quintessential Trump: It turned out there was no incident, and he was referring to a Fox News report in which an expert misled viewers about an increase in crime since Sweden began accepting refugees.
After declining to comment in the immediate aftermath, Wallström now says she wants to use the news peg the president provided.
"We are trying to use [it] to just give a more balanced picture of Sweden," Wallström told HuffPost. "It's maybe difficult [to integrate refugees] in some places, but it is not out of control. ... I don't know where they got that from."
Sweden has introduced new border controls in the wake of the refugee crisis and participated in a controversial deal with Turkey to reduce the flow of people moving into Europe. But it continues to accept large numbers of asylum-seekers ― 29,000 in 2016 and up to 45,000 this year ― and offer them generous social support.
"We just have to get the numbers down so that we can manage," Wallström said, noting that Sweden had received an exceptionally high number of young refugees, who require greater state care. "But we are not changing our rules or laws on exactly what you can get. We want to continue to be able to take care of all the refugees and asylum-seekers in a decent and dignified way and to have them fully integrated."
For some on the anti-immigrant right, like Breitbart and pro-Russian news outlets that frequently spread untruths about refugees to stir up tension in Europe, Sweden's border control could be seen as a vindication. But Wallström doesn't buy that. Whereas right-wing politicians say European centralization is one source of the crisis ― preventing countries from rejecting migrants wholesale ― Wallström says the trouble is too little European coordination.
"This would not have been a problem at all if we had together in the European Union shared responsibility," Wallström said. Ultra-nationalist governments in Hungary and Poland have been stridently anti-refugee, increasing the burden on others like Sweden and Germany.
There's now a government-wide challenge to false portrayals of the situation. In Washington, Sweden's high-profile embassy is running events with the tagline "Safe And Sound" to argue that societies don't have to sacrifice openness, diversity and liberalism for the sake of security. The campaign's first event was the launch of a major exhibit on how refugee integration works in Sweden ― featuring a high-ranking U.S. Department of Homeland Security official. Asked at the opening about language in Trump's Muslim bans that presents anti-refugee measures as important to protect women, Åsa Regnér, the minister for gender equality, noted that levels of violence against women in Sweden have remained relatively constant in recent years.
To experts like her, this scapegoating of immigrants is a clear misrepresentation: Misogyny does take specific and troubling forms in migrant communities, but it's deceptive to pretend that closing the borders will lead to equality. "We know that there is violence in the [ethnically Swedish] majority, and there is also violence among the first and second generation of immigrants, and we have to really understand those and take targeted measures," Regnér said. "I feel we have to speak of both things."
The refugee policy is only one part of how Sweden's approach veers from Trump's policies.
Wallström's government proudly funds efforts to include more women at the U.N. peace talks on Syria, and she doesn't buy Trump-style suggestions that the West embrace strongman Bashar Assad. "It ought to be for the people of Syria to decide who should be their leader ... but the confidence will be affected by the fact that so many war crimes have been committed," she said. Sweden recently used its temporary U.N. Security Council seat to try to punish Assad for his use of chemical weapons.
With Russia boosting its presence in the Baltic Sea and violating Swedish airspace, Wallström's government has reaffirmed its commitment to Sweden's traditional nonalignment. At the same time, it wants Putin to respect the international norm of territorial sovereignty ― in Ukraine and in Sweden's neighborhood. Stockholm has boosted its defenses, including by reintroducing conscription. "We have to be very clear about our policy toward Russia: When you do things like the illegal annexation of Crimea or the aggression in eastern Ukraine, then we will adopt a policy that includes sanctions," Wallström said.
This kind of commitment to principles entails costs ― to prestige and to delicate, important relationships. Wallström acknowledged reports that the anti-ISIS coalition has killed hundreds of civilians since Trump took office, urging accountability for those who have potentially committed war crimes. And she slammed Turkey, the key to the E.U.'s refugee plans, for its crackdown on civil society and increasingly heated rhetoric about European governments.
A Social Democrat, the minister thinks the global left can still recapture popular support despite the rise of groups ― like the Front National in France and the far right in the U.S. ― who successfully pitch a mix of ultra-nationalism and popular, traditionally left-wing state spending.
"We lost our vision more than anything else. We have not been able to describe the tasks in front of us," Wallström said. She wants greater focus on the state's role in tackling wealth gaps, climate change and future sustainable development.
Without that focus, voters see globalization as necessarily causing the growing inequality economists like Thomas Piketty have warned about, Wallström said. "It's ironic, of course, that it's the very wealthy people who seem to be elected."
As the interview concluded, the minister prepared to head to the big anti-ISIS summit. After all the talk of principle, Wallström made a little show of Trump-era pragmatism ― her press secretary offered a printout of information about Sweden's success. First topic: the ease of doing business there.
Popular in the Community