NEW YORK -- Support for a strong climate deal to curb carbon emissions has swelled among big businesses this past year, but there's still a long way to go.
Margrethe Vestager, the European Union's competition commissioner, has hope for fruitful results from the United Nation's climate change conference in Paris at the end of the year.
"This is very, very good and very, very promising," Vestager said Thursday in an interview at The Huffington Post's New York office.
Vestager's job is to keep business in check. In her current role, the Danish politician has spearheaded the EU's fight against Google, whose search engine business allegedly violated European antitrust regulations.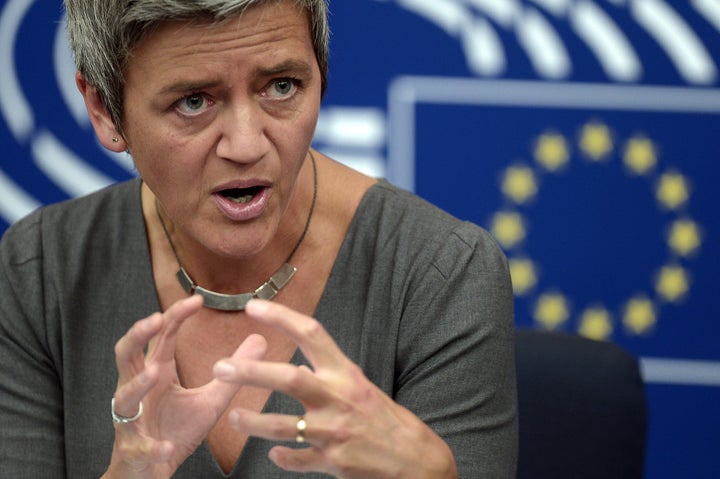 She said the groundswell of corporate support for a meaningful deal to curb emissions -- put on full display last week during New York's Climate Week -- puts pressure on political leaders to come to a historic agreement during the December conference in Paris.
"There is now also a very, very strong business community and business pressure to say, 'Come on, now we need to know. Are you going to do this? We have investments, we have innovations and we have a lot of things that we want to do,'" Vestager said. "'Can we rely on you, politician, to take the lead and enable us to also make this a business proposition?'"
Climate Week yielded some significant achievements.
An unlikely coalition of big corporations -- including Goldman Sachs, Johnson & Johnson and Walmart -- formed to set dates by which they would completely convert to using renewable energy. Since last year, the number of companies vowing to wean off fossil fuels by setting internal carbon prices has tripled.
Even bankers are waking up to the need for radical change. In a joint statement released Monday, a group of six colossal U.S. banks called for a "strong global climate agreement."
While businesses are starting to take action on climate change, there are major concerns that emissions reduction commitments made by countries at the Paris climate talks will fall far short of what is necessary to keep the global temperature rise within a relatively 1.5 degrees Celsius.
Oct. 1 marked the UN's deadline for countries to submit to their emissions reduction targets for 2025 and 2030, but Paul Allen of the U.K.'s Centre for Alternative Technology says that what's been publicly announced so far won't cut it.
"The science demands global emissions must head to zero as quickly as possible," Allen said. "Big emitters like the EU, U.S., China, Japan and Australia need to make much deeper cuts to their greenhouse gas emissions."
Jo Confino contributed to this report.
Support HuffPost
The Stakes Have Never Been Higher
Related
Popular in the Community