At 90 years old, you might think that a prominent influencer like Margrit Mondavi would happily sit back and rest on her fond memories, but that's far from Margrit's story. She still waltzes on stage and personally welcomes guests to the famed Robert Mondavi Winery Music Series in Napa Valley each summer. I was lucky enough to watch her ring in her 90th birthday on a balmy evening at the Mondavi winery last August and this year she has even more reason to celebrate: Robert Mondavi Winery's 50th anniversary. And Margrit will be hosting the winery's anniversary festivities all summer, including a free event at the winery on July 16th with musical entertainment, some cooking and art demonstrations, and wine tasting, of course. The special 50th anniversary wines include; the 2013 Maestro, 2013 Harvest of Joy Fume Blanc, 2013 Harvest of Joy Red Blend, and the 2013 Harvest of Joy Gamay Rose.
It's no secret that the winery's summer music concert series is one of Margrit's favorite projects. Margrit loves to tell the story of when she saw the large lawn in the center of the winery grounds and turned to her late husband, the famed Robert Mondavi, and said: "Why don't we do a concert?" And so they did. And each year since the concert series' inception in 1969, Margrit has donated ticket sale proceeds to support either the Napa Valley Symphony Orchestra or the Napa Unified School Districts music program.
The winery's annual music festival had humble beginnings in 1969, when ticket prices were just one or two dollars, wine was free by the glass, and people parked their cars on the property's fields. Now, almost 50 years later, ticket prices are quite a bit higher, the parking lot is paved and their world-famous wines are sold by the bottle.
But one important factor has not changed: every penny of the ticket sales still goes to support the Napa Unified School Districts' music program.
Margrit and Robert lived big and were incredibly visionary and philanthropic. They were the first chairpersons of Auction Napa Valley, the Napa Valley's most significant community fundraiser, raising millions of dollars for local charities. And Margrit has had a legendary influence on the culture of music, food and the arts in Napa.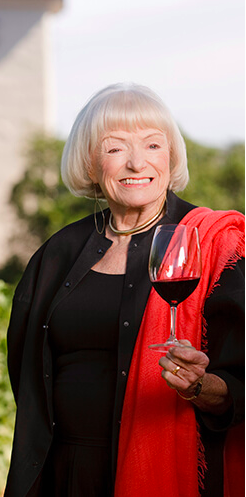 Margrit has tirelessly organized, promoted, supported, and advocated for arts and music programs and even opened an art gallery at the Robert Mondavi Winery that houses rotating exhibits of local artists and is used as the perfect setting for special winery events. In fact, Margrit's passion for art is evident in every aspect of the winery, including her original watercolors that still decorate the winery's menus. The Sculpture collection that graces the property is also notably influenced by Margrit's creative spirit. The most famous piece being the "Welcoming Woman" by sculptor John Henry Waddell which graces the wineries lawn and is said to be the most photographed woman in the valley.
In 2012, Margrit published her first book with Janet Fletcher, Sketchbook, Reflections on Wine, Food, Art, Family, Romance and Life. The book is full of Mondavi family photos and Margrit's artwork. Her second book with Janet Fletcher, Vignettes, Stories and Recipes from a Life in Wine was released in 2015 as Margrit turned 89.
This picture below captures Margrit with brother-in-law Peter Mondavi celebrating 90!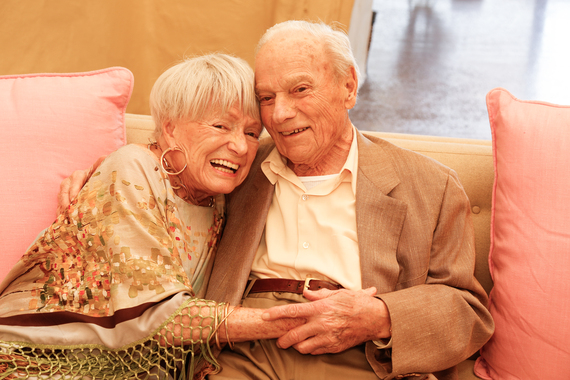 If that's not enough, the Great Chef's cooking school and culinary program started under Margrit's influence in 1976, bringing in great chefs from all over the world into the Napa Valley. The Mondavi's believed wine was meant to be paired with food and enjoyed with family and friends. Their commitment to this notion changed the Napa Valley food culture forever.
Margrit often quotes one of Robert's favorite lines, "Everything in moderation with glorious exceptions." It appears Margrit still chooses to make each day a glorious exception!
Calling all HuffPost superfans!
Sign up for membership to become a founding member and help shape HuffPost's next chapter