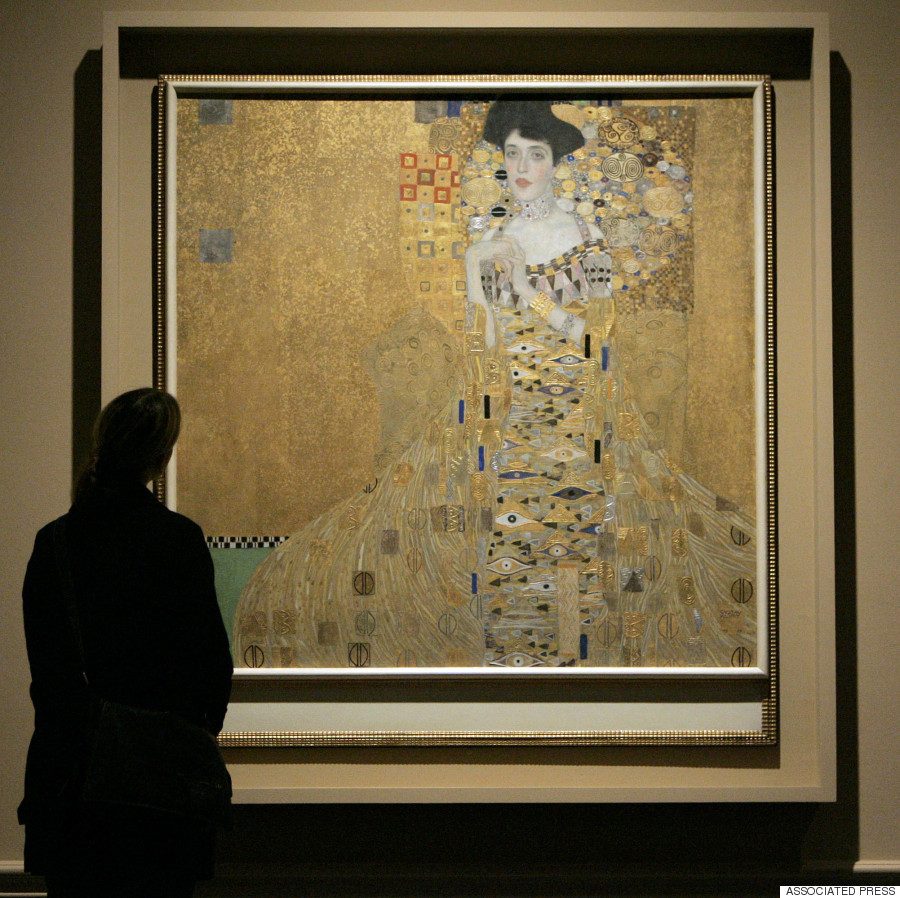 A visitor at the Los Angeles County Museum of Art views the painting titled "Adele Bloch-Bauer I," April 4, 2006, in Los Angeles. (AP Photo/Ric Francis)
The artwork had been stolen from her family's home after she escaped from Austria as a Jewish refugee of the Holocaust during World War II. Never certain she would even live to see a verdict, Altmann's fight wasn't about money or revenge. According to her, she simply wanted to preserve the truth of what had happened to her family.
So the history goes, the paintings in question were originally confiscated by Nazi authorities from Altmann's uncle, Ferdinand Bloch-Bauer, and acquired by the state of Austria following German occupation. When Altmann began her fight, in the late 1990s, the portrait of Bloch-Bauer's wife Adele had already made its way to the Galerie Belvedere in Vienna, where it was known by a colloquial moniker, "Women in Gold," to obscure the subject's Jewish heritage.
Shrouded in mystery until Altmann spoke out, the painting had come to be known as Austria's "Mona Lisa."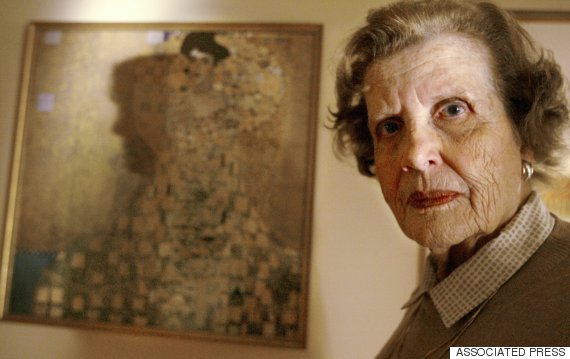 Maria Altmann, at her home in Los Angeles on Jan. 9, 2004, stands before a poor reproduction of famed Austrian painter Gustav Klimt's "The Portrait of Adele Bloch Bauer I." (AP Photo/Nam Huh)
Altmann, then living in Los Angeles, never thought she would actually gain control of her native country's most prized artistic possession. (The Austrian government had ignored Altmann's initial pleas.) And neither did her lawyer, E. Randol Schoenberg. Altmann had chosen him to represent her because he was the grandson of her friend, Austrian composer Arnold Schoenberg.
Schoenberg compared their legal efforts to a PR stunt -- victory seemed impossible, but it was sure to earn Altmann's story the attention it deserved. Really, that's all they wanted. "I told her, 'Everyone is going to know your story,'" Schoenberg told The Huffington Post. "Everyone was going to know about this picture and that was largely our motivation."
The logistics of the legal battle are rather complicated. Schoenberg remained friendly yet exasperated as he unpacked the more complex details. In short, he worked to prove that although Adele Bloch-Blauer's will had directed that her husband donate the paintings to the Belvedere upon his death, Ferdinand Bloch-Blauer had commissioned the painting (and, thus, had been its rightful owner). Furthermore, Adele died before the Klimts were stolen, and Ferdinand's will left everything to his nieces and nephews. It was up to Schoenberg to demonstrate, in part, that Adele's dying wishes were simply a request that could not have been made with knowledge of the horrors that would befall her family.
"She had no idea," Altmann told NPR's Nina Totenberg of her aunt's final wishes. "She would have never requested her husband, even in a dream, to leave these to the [Galerie Belvedere] after a number of her friends were murdered, committed suicide. I mean, it is totally incomprehensible that such a thing would have happened."
Over several years, Altmann's case went from a district court in Central California to the U.S. Supreme Court, which ultimately led to binding arbitration in Austria. It was a risky series of moves meant to push the case forward, as Schoenberg feared Altmann would die before her case was resolved.
"I went into a private room with Maria and told her they agreed to arbitration and she said, 'You're crazy!,'" he explained. "I said, 'Maria, you're 85 years old. If we really want to get this over with in your lifetime, we have to take this chance and I think we can do it."
It turned out he was right. Altmann won the case in 2006, earning back the paintings that had been lost for nearly 70 years. That year, Altmann sold Adele's portrait to Ronald Lauder, co-founder and president of the Neue Galerie in New York City, for a staggering $135 million, the highest price ever paid for a single painting at the time.
When asked why Altmann sold something she had fought so hard to win back, Schoenberg turned lawyerly. He explained that she had to share Adele's portrait with her siblings and their heirs, that none of those in line for the painting could afford to keep it in their homes, due to insurance costs. Then he added:
"The primary motivation was sort of indicating the truth of what had happened to her and telling the story," he said. "You know, no one even thought we would win."
According to Schoenberg, Altmann didn't do anything extravagant with her share of the money. She was able to afford in-home care before her death in February of 2011. He recalled that she had been excited about buying a new dishwasher.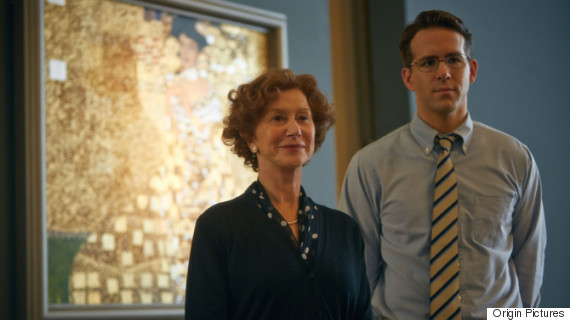 Altmann is the subject of Simon Curtis' latest film, "Woman in Gold." After discovering her tale through a BBC documentary, the director worked carefully with what he calls a "massive story," choosing which elements of the saga to keep, while maintaining a clear representation of the facts in mind. "We had to leave a lot out," he said. "I jokingly say that my last [movie] was 'My Week with Marilyn,' this was my century with Maria."
Curtis cast Helen Mirren in the role of Maria, and the two began to study footage of Altmann. Schoenberg also worked as a consultant on the film, ensuring it remained faithful to Altmann's experiences. He was impressed with how much of the nearly century-long story Curtis was able to squeeze into the 109-minute drama. Even parts of the narrative that were exaggerated for the film -- like Maria's final goodbye with her parents -- resonated with Holocaust survivors who had similar experiences.
"Maria's dad actually died when she was in Vienna, so she didn't have that particular farewell," Schoenberg said. "I always thought of it as manufactured and then someone came up to me and said, 'I love that scene, my mother had to do that with her parents and never saw them again.'"
Schoenberg comes from a Jewish family and his experiences with Altmann helped him connect to his ancestors and the pain they endured during the Holocaust.
"You don't interrogate your grandparents, right?" he laughed. "But when you're a lawyer on a legal case, you have to do that. Working on this case with Maria has opened my eyes quite a bit to what the Holocaust was really like."
One of Curtis' goals in bringing the legacy of the "Woman in Gold" to the screen was to share Schoenberg's experience with a generation of younger viewers, who understand the Holocaust as a distant past. He modeled the character of Randy (Ryan Reynolds) into a vessel for that viewing of the film.
"We wanted our Randy to be an all-American guy, living his life in California," Curtis said. "He becomes aware during the narrative of the film of his past and what his ancestors went through to get him where he is today."
So far, "Woman in Gold" seems to be having that impact. The film experienced relative success at the box office, leading to a wide release in its second weekend in theaters.
"I'd be insane if I wasn't deeply moved and deeply heartened by the way audiences react," Curtis concluded. "They seem to connect and be emotionally engaged by it. It's been one of the great experiences of my life hearing those reactions."
While he regrets not having the chance to meet with Altmann, Schoenberg knows she would have been pleased with "Woman in Gold." After all, the only thing she ever really wanted was to ensure that the world would know her story.
"Woman in Gold" is now out in wide release. "Gustav Klimt and Adele Bloch-Bauer: The Woman in Gold," a special exhibition, is on view at the Neue Galerie until Sept. 7, 2015.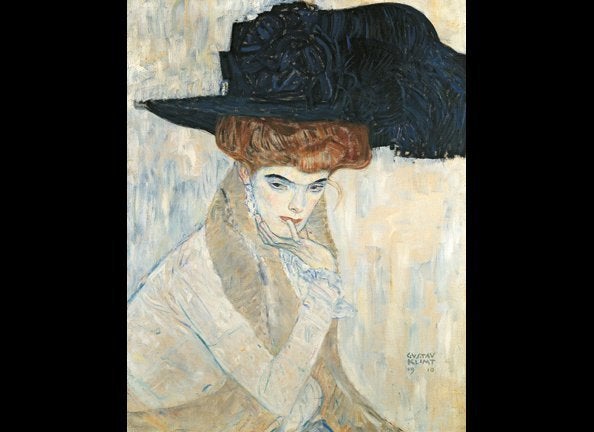 Gustav Klimt
Popular in the Community