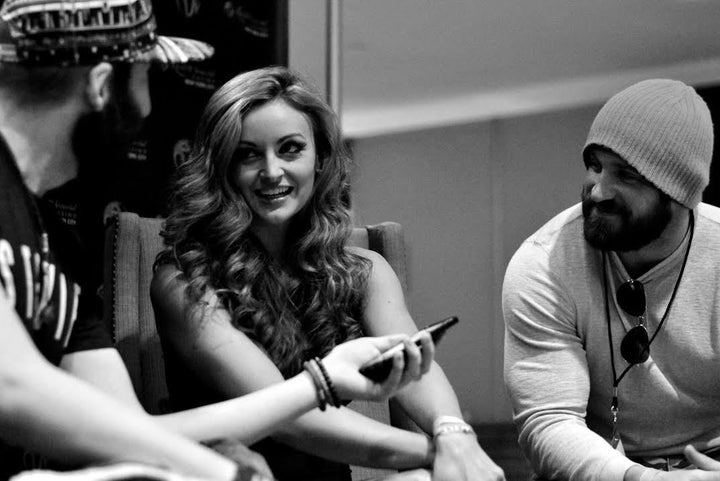 "We're bad," Maria Kanellis-Bennett grinned. Her husband, "The Miracle" Mike Bennett, joined in on the laughter. The couple have been dominating Pop TV's Impact Wrestling throughout 2016. It's no surprise why the two are on top of the food chain. They were just as entertaining as their onscreen characters even when the cameras weren't rolling.
"I'm the first lady of professional wrestling right now. I was the leader of the Knockouts Division. I'd like to believe I'm still the leader of the Knockouts Division," Maria nodded. She continued, "I had it on a very good path. Jade and Rosemary recently had a Six Sides of Steel match and they were the main event of the show. I think that is the direction of wrestling in general. No matter if you are a big guy, a small guy, a girl or a guy—you really do have those opportunities in wrestling. I believe my character on Impact Wrestling was guiding the group of girls in that direction." Maria gave a loving glance to her husband.
"I'm bad as well. I feel like I've been bad my entire career," Mike Bennett snickered. Maria quickly followed up by telling her husband with a wide smile, "You have been bad."
"I left Ring of Honor where I was with the Kingdom and now I am on my own as 'The Miracle' Mike Bennett. That's a big reason why I went to Impact Wrestling. I am trying to get that top spot that every wrestler wants so dearly. It was the one thing that was promised to me—it was delivered," Mike paused. He continued, "They told me, 'Here's the ball. Run with it. It's up to you.' That's where I am right now. I am wrestling their main guys and trying to stamp my name as one of Impact Wrestling's main guys." The two have provided wrestling fans with many memorable moments throughout their run together. The dynamic husband and wife then switched subjects and went into detail about how they first met.
"Our first meeting was incredibly romantic because it had to do with...well, cheese sticks," Maria told me in all seriousness. She explained, "Okay, so—we were doing a show. It was Northeast Wrestling. I was there for a signing and they ended up putting me in the main event. I worked that night with Matt Taven who was in the match, very ironically. Later that evening I saw Mike in the back and he was wearing a Ring of Honor hat. So, here's my game." Mike looked at Maria waiting for her to spill the details. Maria giggled, "I went up to him and said, 'Hey. Do you work with Ring of Honor?' That was the game that I had. Then he went, 'Hey. Do you want some of this old pizza?' Yeah, it really turned me on at that point." Mike shrugged his shoulders, "I was eating really stale pizza." Maria elaborated, "At every independent wrestling show there is always old pizza there." Mike agreed with the sentiment. "Yeah, leftovers from the snack bar. Old hot dogs and all that stuff," he said.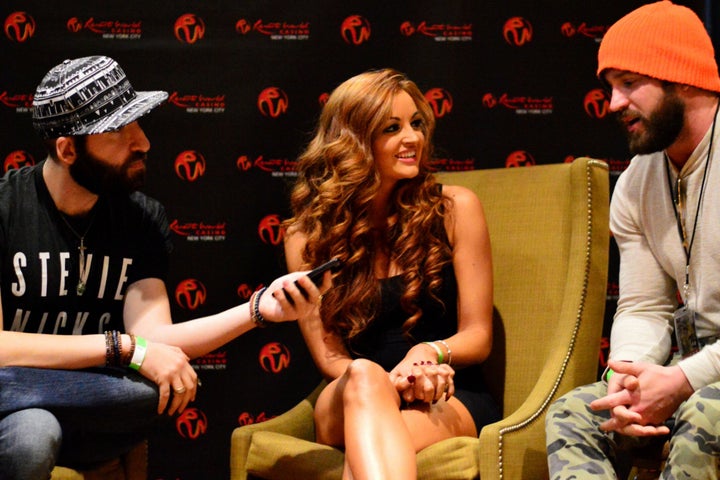 Maria continued with their epic love saga. She said, "After that, we decided to chitchat for a little bit. Then we went to T.G.I. Friday's. All of the wrestlers usually go out to eat after the show. I saw where Mike was sitting and I wanted to make sure I was sitting right across from him." Never missing a beat, Maria finished her story by saying, "So he was sitting across from me. He gets his appetizer which were cheese sticks—and he is eating them with a fork and knife. I was like, 'Who eats cheese sticks with a fork and knife?' And he had no words. He just sat there. No words." 'The Miracle' kept it real. "My plan backfired. I thought I was going to impress her. It really backfired. I was trying to be somewhat fancy. Little did I know, she just wanted me to eat with my face," he told me.
"We were both dating people at the time so nothing happened. A few months later we both ended up being single. He sent me a direct message on Twitter," Maria explained. Mike jumped in, "We were following each other. I just stalked her. I was like a shark in water. Think Jaws." Maria exclaimed, "You creeper you!" They both laughed before she stated what happened next. She said, "So we were both single and we were talking for a month on Twitter and then through texting. I was living in LA at the time and he was living in Massachusetts. We were about as far away from each other as we possibly could be. He found out I was doing a signing in Philly while he was in Boston. He was like, 'Hey. I can drive down so we can go out to dinner.' I was like, 'Sweet!'"
"The Miracle" nodded his head. "She told me, 'I'm going to be in Philly. Is that close?' I went, 'Yeah! It is. It's closer than LA,'" he told me. Maria finished the story by stating, "We wound up going out on a date. Lo and behold, instead of five hours that it should have taken for him to get there it took him nine hours. He was four hours late to our date. But...it was okay. It worked out." The two gave each other a loving look. The couple's chemistry makes it impossible for a television viewer to look away when they appear onscreen together.
"It's a lot of fun for us. We always like to go on the goofy side. We do have to watch that a little bit. I'll get goofy. He'll get goofy. Then it just goes down that path. So we have to pump the breaks a little bit on that but we do have a lot of fun together onscreen," Maria nodded. She then gave credit to the guys that worked tirelessly behind the cameras. She said, "I think that this year we had the greatest writing staff. We were given such a great opportunity to work with people like Dave Lagana and Billy Corgan. They really just took what we already were and what we already wanted to do and they just guided it along. I think that's why the product was so great this year." Maria firmly explained, "You had people who allowed the talent to grow on their own. They were basically there to be the bumpers like when you play bumper bowling. They were there to make sure the storylines stayed on track."
Maria went on to talk about the hard work that goes into making professional wrestling the entertaining product that it is. "We are scripted. I know that some people shy away from talking about that. We are actors. We do have those lines that we have to keep. At the same time, you never know what's going to happen while you are out there," she laughed. Maria continued, "It's like improv, acting, stunt work and everything rolled into one. You know...I think we are the greatest entertainers in the world because we do have to deal with so many different variables where you never know what's going to happen and it's always changing." She then challenged non-fans to think about wrestling in a different light. "Think about a film or a television series. A lot of times the actors are receiving their lines months in advance. For us, we are receiving them the same day. We don't know what we are going to do when we get to the building. When we get to the building is when we find out what's going on," she said. Mike urged her to continue. Maria said, "Even though it is scripted, there is still a lot of reality behind it in the sense that we are learning it as you are learning it. We are going out there performing something that maybe we only received in the last couple of hours. We talk to each other a lot. We really do."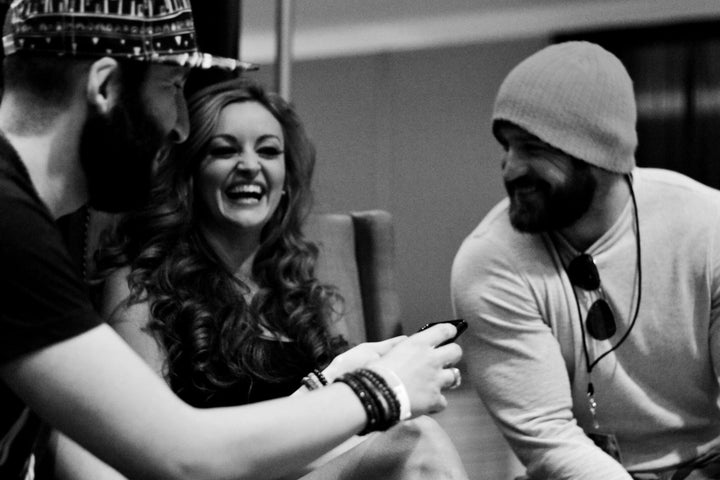 The first lady of professional wrestling detailed their creative process behind the scenes. "Sometimes we bullet point it to where we go, 'Alright. These are the main points. Let's fill in the rest.' Once you are out there, you never know what the other person in the ring with you might possibly say. You have to listen," Maria stated. She continued, "Sometimes in a film—you don't always have to listen to exactly what the person across from you is saying. They are going by the script which makes sense with your lines." She took a breath before explaining the science behind the art of pro wrestling. "But when you go out to that ring and there are thousands of people screaming at you and some person in front of the ring is giving you time cues...and then whatever just happened in the back and maybe someone took too big of a bump and they are hurting. They get out to the ring and they don't say exactly that line and you say that line verbatim, it makes no sense. No sense," Maria exclaimed. She concluded, "It's like they go, 'Oh yeah so the ring is red.' And you go, 'Yeah, the ring is blue.' You just totally threw everybody off in that audience. You have to listen. I've done improv classes and that is one thing I work with all the time. You have to listen while you're acting which is completely different than acting on a film."
Mike Bennett then gave words of wisdom for young wrestlers out there. "I try to tell independent workers who are coming up that it's a matter of how much you want to get into the actual entertainment aspect of professional wrestling," he nodded his head. He continued, "I like to look at every aspect so I think we need to get into it more than just what we do in the ring. It's everything. I talk to Maria about this all time. A lot of people in the business say that we have to be our characters even when we use the internet so people believe it." "The Miracle" shook his head with disapproval. "I always say, 'No. I don't think we have to be those people online. I think we just have to be better on camera.' You don't watch a movie and think Arnold Schwarzenegger is really the Terminator. You don't watch The Walking Dead and think Andrew Lincoln is actually a sheriff that kills zombies," he said. Mike elaborated, "If you check out his interviews that float around the internet, he talks about his family and all the charity work he does. That doesn't mean when you watch The Walking Dead you think he is the dude that talks about being the family man. You watch it and are enthralled because he is a really good actor. I try to tell people that we need to be better actors. It's on us. We need to be better actors and performers."
"The Miracle" echoed his wife's earlier sentiments about the public's opinion on wrestling. "We've gone past the idea where everyone thinks wrestling is real. We are past that. Everyone knows we are entertainers now. Now, we have to go to that next level where we are really good entertainers and where we make people believe without walking through an airport where someone goes, 'Hey that's 'The Miracle,'' and I slap that person's coffee out of his hands and go, 'Screw you!' No. Now I'm just a real life jerk," he said. Mike then stated, "One of our buddies said it best...we have to stop being the butt of the joke and start being in on the joke—like actors are. If we are going to go on Twitter and act as our characters to our fans, we are the butt of the joke. Everyone knows wrestling is scripted. But if we go and say, 'Yeah, it's scripted...but we are really good at it,' now we are in on the joke." Mike was convinced that fans will always be drawn to someone with an electric personality. "People still connect to good characters. They will watch a match and a move will take their breath away but that's only temporary. They will watch it but by the end of the night they will remember how a certain wrestler made them feel. They won't remember how the move made them feel unless it's Mick Foley being thrown off of a cage," he stated. He followed up by saying, "But even if you think about that, the reason why that moment was so big was because of all the drama that was added to it. It was him being carted off and then going back to the ring to still put up a fight."
Maria nodded her head with delight. She fondly recalled memories of watching WWE's attitude era and what made her a fan. "You have to care about the characters. I remember watching when I was in my teenage years. When The Rock would be on the show, I wanted to hear what he had to say. I wanted to know how he felt about something. Then he would go into the ring and I would get so angry when he would get beat up for like 95% of the match and he would comeback for 5%. I was just like, 'Why do you suck so bad!' It just gets you that much more invested in the characters."
The couple is focused on making 2017 another incredible year. They both have dreams and goals that they want to accomplish. Maria dished on her recent college experience. She told me, "I'm finishing up my degree. I'm hoping to get my master's degree. I have this little thing that keeps me inspired. Some day, I want to be known as 'Doctor Diva.' It sounds like a mean character but eventually I want to keep going with my degrees. I'm excited to be graduating in May from Johnson & Wales University. I'm in my last term right now." When asked how she was doing, Maria said, "I'm good. It's weird because I never got any As when I was in high school but now I'm a straight A student. I don't know why. I think when you go back and you truly care...I didn't care about college when I came out of high school. I wanted to go out and entertain people, I don't want to be in class." She then explained, "Now I truly care because I know what I want. I'm paying for it with my own money. That's the whole other thing. I go, 'Wait a minute here. That's my money and my husband's back is getting broken in the ring. I better work my tail off to get those As.' I'm excited about that and as a couple, I'm hoping we will get closer and closer to buy our own house. Real human stuff. That's the problem. We live such a gypsy lifestyle. It's really going to depend on what happens in January."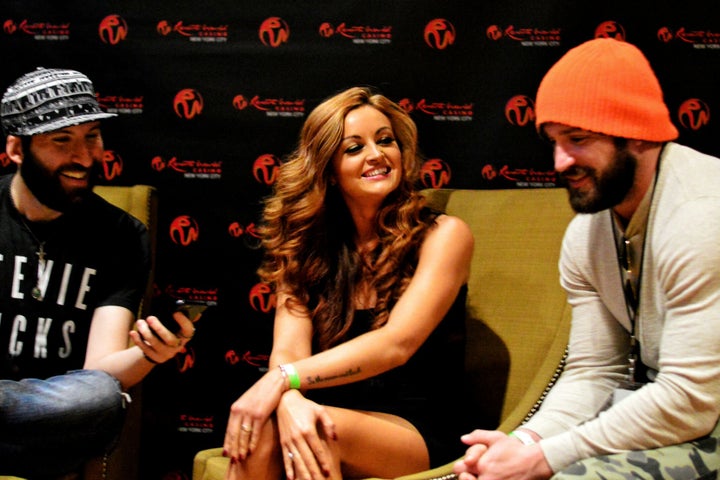 "The Miracle" explained why picking out a house is a difficult process. "We are nomads. I grew up on the East Coast. She grew up in the Midwest. We lived in LA together. We now live in Providence together. We don't have a point where we can call home. We go where work and school takes us. When we decide to finally buy a house, where will we be? Maybe if we are in a particular place at a certain time that's where we will settle down. It's a gypsy life," he nodded.
In the meantime, Mike is busy running a successful professional wrestling school where people can go chase their dream of becoming an industry player. "I have a school in West Warwick, Rhode Island which is right outside of Providence. Me and Matt Taven run it. It's called XWA Wrestling Kingdom. We started six months ago. There is an independent promotion that is called XWA that is affiliated with it. Matt was looking to open a school and we are locals so we went in on it together." "The Miracle" then explained the work that goes into running the school. "We run it Mondays and Wednesdays. We have anywhere between 20 to 30 students at a time and it's great. We are having a blast. It revitalized my love for professional wrestling. We get a little bit of everything. We have a handful of new students who are really talented." Mike cited one of the most influential minds in the business as their inspiration to push students to be their best. "We have a very Paul Heyman mentality where we can highlight one of your strengths and there will be a spot for you in the business. Whether it's you being a wrestler...but being a comedy wrestler. If you are good on the microphone—you can be a commentator or a manager. We tell everyone that we focus on highlighting strengths and hiding weaknesses. If you love what you do, you will find a way to make it work."
Before the interview concluded, Maria hinted that January is going to be an interesting time for the couple. She stated, "It's a free-for-all right now. Our contracts are up at the end of the year. We are looking to be happy. We've worked in a lot of different places at this point. We are looking to really branch out in ways that people never thought we could. We are very different as a couple because of how we came into this." She continued, "I came from WWE he came from the indys. We came together and worked Ring of Honor and then went to New Japan. Who knows? Maybe we will end up in NXT or WWE or go back to New Japan. Us, as a couple—we are doing it very differently. We always say we are not a wrestling couple—but a married couple that happens to wrestle. That's our jobs. We will keep on with that."
Related
Popular in the Community