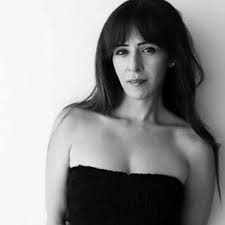 I had the opportunity to sit down with Maria Aristidou, the Greek fashion designer. Her answers to my questions about her 'inspiration' were most interesting. Essentially, her inspiration is drawn from living life and especially from new experiences. She translates these experiences into mental images, a kind of 'learning process.' This learning process forms the basis of her inspiration. She then translates this inspiration into palpable designs.
Maria participated in Paris Pret-A-Porter A/W 07-08 as well as in the Paris Haute Couture Fashion Week A/W 08-09. In 2011 she was nominated for the must magazine STYLE Awards in the category of Best Fashion Designer. Nowadays, maRia aRistidou is working on her capsule collections as well as for the collaboration with LIVE AID Symphony Orchestra at the SGM Conference Center Roma for a Charity Gala Fashion Show in 2016.
How did you get into fashion design?
When I was 16-17 years old, I had an uncle that owned a clothing production plant. He happened to see my sketches one day and he mentioned that I should pursue fashion design. It was the first confirmation from someone that I might have talent and that I should endeavor to develop it. Unfortunately, since in high-school I was an economics major, I did not have the prerequisites to enter a fashion design school, thus, I followed studies in Business Commerce. However, that did not stop me. Throughout my University years I kept sketching non-stop, making small costumes for a dancer friend in Toronto. Then an opportunity to participate in the Cymode'97 competition for young Cypriot fashion designers presented itself. The competition was organized by the Cyprus Chamber of Commerce. My catwalk presentation of 3 outfits won 2nd place. After that my fashion designing life began.
Did you want to become a fashion designer when you were young?
I was playing with Barbies till I was 12-13 years old, choosing and making outfits for them. Back then we did not have access to technology like children have nowadays. Things were more simple back then. But I have to say that one person that influenced me just because he had his personal tailor, shoe designer and always dressed to the T, was my grandfather as well as my grandmother's sister who was a seamstress. For a short period of time I wanted to be a journalist. That faded out, and I just started sketching women's clothes. So I guess fashion designing one way or another was trying to get out.
From where do you draw your inspiration?
From everyday life! Nowadays, there are so many things going on in the world and it's so easy to have access via media that anything can inspire me. From my travels, the people I meet, along with the things I see, read and touch, emotions, fashion history! I can't say that there is only one thing that inspires me. Every collection is a different story, a different picture.
How has the source of your inspiration changed or grown? For example, what inspired last year's S/S designs? And what inspired this year's S/S designs?
The inspiration has to do a lot with the production process and what you have access to. If I recall correctly, the sources of inspiration 10 years ago and what I have now came from learning new things on a daily basis. I have to say that definitely changed and enhanced my work. I am constantly learning new things. I don't believe that it is something that will stop. Last year's SS design, which was a scarf line, simply came out of the need for an easy daily accessory that you can take with you in your summer travels! Something that you can wear at the beach or at dinner on a summer's evening. Nowadays I am working on my SS 2016 collection and the inspiration is a continuation of my AW 2015 scarf line pattern. The slight shift of my winter pattern, the playful summer colors as well as the access of certain means of production are all part of a very chic, high-end collection for both men and women for SS 2016. For women no matter what the inspiration the one factor that is essential is to always be feminine and elegant, whereas for men I always have in mind for them to be comfortable in their outfit as well as trendy.

What is your philosophy about the ART of fashion?
Art is the core of fashion. It is very important to see the aesthetic of something and bring it to life. I was never an Art major student and I did not really have someone to influence me during my childhood regarding art. Throughout the years I learned about Art and its history and I am still learning. This learning process is part of life and a big inspiration to my work. Any sort of art can touch your aesthetic chord and create something unique and beautiful. It can be a painting, street art, sculpture, installation, a craft etc.
What do you enjoy most about designing clothes?
The process of the collection's production and the smile on my customer's face when they feel beautiful and chic wearing maRia aRistidou designs. Making and choosing fabrics, embroideries, and the first fitting of the pattern are the most enjoyable.
What is the most challenging part?
Living in Cyprus for the time being is one of the most challenging parts for me, since resources for fashion designing are very limited.

If you could choose, which designer would you choose to work with/for?
A lot of my work is inspired by vintage fashion design. If I had the chance I would love to work with the House of Dior, Balenciaga and Jeanne Lanvin back in the 50's . Nowadays, I would love to work with John Varvatos and the Creative Director of Alexander McQueen, Sarah Burton, as well as with the Valentino Creative Duo: Maria Grazia Chiuri and Pierpaolo Piccioli.
Who are your favorite designers?
Every season can vary ...but McQueen has been the one that always fascinates me. For the last two seasons definitely Valentino, as well as D&G menswear, Antonio Marras, Bottega Veneta menswear, Alberta Ferretti.
Does your work reflect your personal fashion taste?? Can you describe your personal style?

I believe up to a point yes, there is an influence from my personal style. But when I design I always have a heroine in my head, and how that look for that particular season will apply to a number of women or men if it is a menswear collection. I love to be feminine, comfortable and chic. I always try to have something from my own touch, whether that is a detail on my garments or a type of an accessory that I love to wear.
maRia aRistidou
www.mariaristidou.com
info@mariaristidou.com
mariaaristidoupress@gmail.com
Instagram: mariafashiondes