A federal judge on Wednesday denied bail to Maria Butina, the 29-year-old Russian national arrested in Washington this weekend and charged with conspiring to influence American politics while covertly serving as an agent of the Russian government.
Butina pleaded not guilty to all charges and was ordered to be held in jail pending trial.
The hearing came hours after federal prosecutors released documents arguing that Butina constituted a flight risk, citing among other factors, her recent "intention to move money outside of the United States" and indications that she was preparing to move out of her residence, as well as her alleged "ties to the Russian Intelligence Services" and other Russian billionaires.
"The defendant's legal status in the United States is predicated on deception," they wrote in a filing Wednesday. "She not only has deep ties to her country (with which the United States has no extradition treaty) but actually works on behalf of the Russian government."
A federal grand jury indictment returned on Tuesday accuses Butina of partaking in a Kremlin-directed plot to ingratiate herself with U.S. political figures in order to convince them to pursue Russian interests. Part of that effort allegedly involved leveraging her ties to the National Rifle Association, which she'd cultivated as founder of the Russian gun group The Right To Bear Arms, in order to gain access to conservative political circles and Republican lawmakers.
Butina now faces charges of conspiracy and acting as a foreign agent. Her attorney has maintained she did not engage in illegal behavior, and has claimed that her efforts to cultivate relationships with political figures were instead innocuous attempts at networking.
An FBI affidavit released earlier this week detailed messages recovered from a search of Butina's electronic devices, in which she communicated with an unnamed Russian official and other individuals in the U.S.
In emails, Butina discussed plans to establish "back channel" lines of communication between the Russian government and American politicians.
The affidavit also describes a separate email sent in October 2016 by "U.S. Person I," seemingly referring to Butina's efforts to cozy up to the GOP, which the affidavit refers to as "POLITICAL PARTY 1."
"Unrelated to specific presidential campaigns, I've been involved in securing a VERY private line of communication between the Kremlin and key POLITICAL PARTY 1 leaders through, of all conduits, the [GUN RIGHTS ORGANIZATION]," he wrote.
The "gun rights organization" fits the description of the NRA, while the individual who sent the email is believed to be veteran GOP operative Paul Erickson. Erickson, 56, is a close friend and business partner of Butina's who counseled her on securing meetings with other high-level officials in conservative politics, according to the affidavit and previous reporting by The Daily Beast and Rolling Stone.
On Wednesday, federal prosecutors said they had uncovered evidence that Butina was living with "U.S. Person 1," though she appeared to "treat that relationship as simply a necessary aspect of her activities," according to court documents. She would also routinely ask the person to "help complete her academic assignments, by editing papers and answering exam questions." Butina had been living in Washington since 2016, after coming to the U.S. on a student visa to study at American University.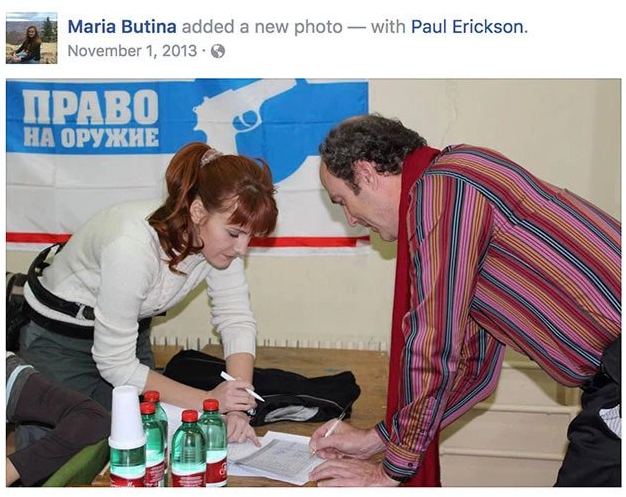 On at least one occasion, Butina also "offered an individual other than U.S. Person 1 sex in exchange for a position within a special interest organization," prosecutors claimed in documents Wednesday.
On the night of President Donald Trump's election, Butina messaged an unnamed Russian official saying she was "ready for further orders," according to the affidavit released this week. That individual appears to fit the profile of Alexander Torshin, a former senator and Russian central banker who was sanctioned by the U.S. Treasury Department earlier this year.
Torshin has been described as a mentor to Butina, and both have been actively involved with the NRA in recent years. They've visited the group's annual conventions and held meetings and photo-ops with its leaders. They both met briefly with Donald Trump Jr. at the 2016 NRA convention in Louisville, Kentucky, and Torshin reportedly sat at his table. The NRA has reported that Torshin had made a "life membership payment" to the organization, but Torshin has claimed that both he and Butina are NRA "life members."
Butina's involvement in U.S. political affairs has also extended beyond the pro-gun camp. In 2015, she was recorded at the libertarian FreedomFest in Las Vegas asking a question to then-presidential candidate Trump about economic sanctions against Russia. Trump said he'd likely drop the sanctions if elected.
Shortly after that appearance, Butina was on hand in Wisconsin as Gov. Scott Walker (R) announced his candidacy for president. Photos from the event show Butina and Torshin meeting with Walker.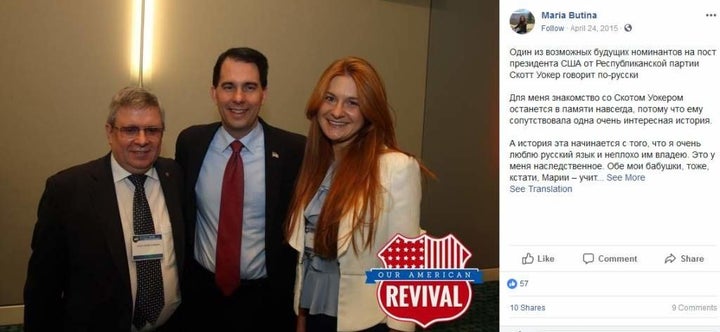 Other photos show the trio alongside David Keene, who formerly served as NRA president and chairman of the American Conservative Union, a group best known for organizing the annual Conservative Political Action Conference, which Butina has reportedly attended as a VIP.
Although the NRA was an earlier supporter of Walker, the group would ultimately go all-in for Trump, spending an unprecedented $30 million in support of his election. Federal investigators are reportedly probing whether Torshin illegally funneled money to the NRA to help fund those efforts.
Butina's attorney, Robert Driscoll, has argued that Butina does not constitute a flight risk and should therefore not remain in jail ahead of a trial. As evidence, he pointed to the fact that Butina did not flee after testifying before the Senate Intelligence Committee in a closed session earlier this year, or after FBI agents raided her home in April.
The investigation into Butina appears to have been conducted separately from special counsel Robert Mueller's ongoing probe into Russian election meddling. In a previous statement, Driscoll claimed Butina had previously offered to interview with Mueller's office, but that it had declined.
If convicted, Butina could face a maximum penalty of 10 years in prison on the charge of acting as an agent of the Russian government, and a maximum of five years in prison on the conspiracy charge.
This has been updated following Butina's Wednesday hearing.
Support HuffPost
The Stakes Have Never Been Higher
Popular in the Community