Thoughts on the occasion of the 90th birthday of Maria Callas, the greatest operatic diva of all times, born on December 2, 1923 in New York City.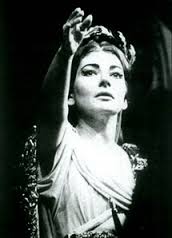 "Maria Callas is booked in Dallas / The carpet's rolled out and they're sold out / Straight to the sky"
This is how Marilyn Monroe and Frankie Vaughn begin their song on 'specialization' from the 1960 film Let's make Love where they stress the importance of specializing for success. Such a strong reference in a Hollywood mainstream comedy proves the extent of popularity of Maria Callas in the late 1950s, when she dominated the world's operatic stages.
Born in New York City of parents of Greek origin, Maria Kalogeropoulos moved as a child with her mother to Athens Greece where she spent her formative years before embarking on an international career. She traveled the world over singing in all major opera houses, based out of Milan. Upon retirement she moved to Paris where she died thirty five years ago this past September. According to her will, her ashes were scattered over the Saronic Gulf, whose waves bathe the shoreline of her beloved city of Athens.
Her professional debut took place in 1943, at the ancient amphitheater under the Acropolis in Nazi occupied Athens, as Leonore in Beethoven's Fidelio. Her performance amazed the troops and news filtered in the German press about this extraordinary young musical talent. From then on, Maria Callas has featured on newspaper and magazine covers all over the world.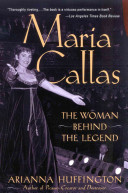 Be it musical criticism or tabloids, no other classical musician has been so widely covered by the media while countless volumes have been written about her, two of the most representative being John Ardon's diligent technical analysis of Callas' approach to her roles and Arianna Huffington's Woman behind the legend, which strips away the myth to reveal the human Maria.
Callas ruled the highest form of opera: the Bel Canto (Beautiful Singing in Italian). This is the quintessential art of adapting spoken word to beautiful melodies, fusing both mediums in one emotionally powerful dramatic effect. Spanish-born diva Elvira de Hidalgo, fleeing the civil war from her home country, moved to Greece and taught at the Athens Conservatory. Hidalgo showed Maria how to master speech declamation by memorizing lyrics and playing them constantly in her mind until she would uncover the multiple layers of meaning of each sentence breathing new life into them. She would then approach the musical lines and the inflections as a language of the soul that also had to be decoded. In parallel Maria would visit the Archeological Museum, literally across the street from her Athens home, and become inspired by its unique collection of classical statues.
These ingredients, mixed with innate talent and a total dedication to the art form, created a concoction of excellence that to this day remains unsurpassed.
Often during a performance, her voice would crack or wobble the two anathemas in the world of opera. Yet Callas' audiences didn't seem to mind them. The electricity she generated from the stage filled the hall and turned patrons in black ties, long gowns and jewelry into frenzied Yankee-stadium groupies. As her live opera recordings testify, a Callas performance in the flesh became synonymous to a sensory experience and anyone lucky enough to attend would be talking about it for years to come.
Unlike her stage career, Callas' private life during the 1950s was uneventful. By 1959 this changed with a vengeance: her passionate love story with Greek shipping magnate Aristotle Onassis, the yachts, private island, their ultimate separation and Onassis' marriage to Jacqueline Bouvier Kennedy and her untimely death at the age of fifty four, made of her a larger-than-life character and launched her into the realm of the living legends.


Today, at ninety, the magic of Callas is stronger than ever. For opera lovers she remains the ultimate performer. To the greater public she is seen as a romantic personality who led a glamorous yet lonely life, so unlucky in love that she died young of a broken heart. In fact nothing short of the tragic characters she portrayed on stage.
In Athens, Callas is a household name. A movement to name after her the street where she spent her formative years launched by the 'Lycabettus Society for the preservation of patrimony' and by neighborhood associations has been met with great enthusiasm. Petitions are circulating across the city and are being avidly signed by a staggering amount of people Everyone wants to become part of this renaming endeavor. In a city hit by a terrible financial crisis and strongly divided by politics, Maria Callas has become a symbol of unity and local pride as she represents the ideal Athenian citizen of the world.
Michael Radou Moussou is an elected councilor in the Municipality of Athens.
Popular in the Community