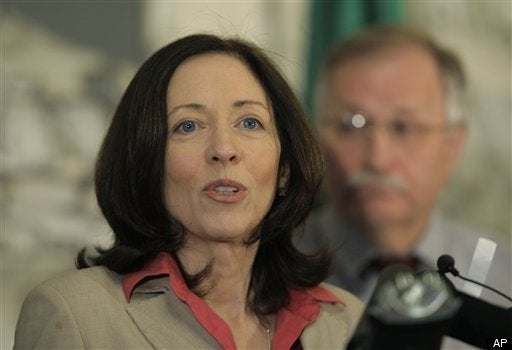 One of the two Senate Democrats opposed to the pending financial reform bill flipped Thursday and announced that she would back a bill she had until now steadfastly opposed for being too weak, potentially bringing Democrats to within one vote of the 60 needed to end Senate debate and secure passage.
A spokesman for Sen. Maria Cantwell (D-Wash.) exclusively told HuffPost that the senator planned to back the bill. She later said in a statement that after reading the final version of the legislation -- and receiving a letter of assurance from a top derivatives regulator -- she would now support the overhaul "because of tough new regulations of derivatives added in final conference negotiations."
Cantwell had previously opposed the bill for its perceived laxity in dealing with firms that try to evade its requirements for derivatives trading, as well as the discretion it affords regulators who may seek to weaken its provisions.
Despite her newfound support, she still cautioned that the bill does not end the perception that some financial firms remain too big to fail. President Barack Obama's top economic adviser has said that ending Too Big To Fail is the "central objective" in reforming the nation's financial system.
Derivatives, financial instruments that transfer risk, were at the center of the financial meltdown and resulting crisis. Largely traded without government oversight, these products were presumed to be the province of sophisticated parties who knew what they were doing, and thus did not need to be regulated. The worst financial crisis since the Great Depression largely changed that view.
Did not impose sufficient penalties on those who evaded the legislation's requirements that a type of derivative known as a swap, which involves regular payments over a specific time period, be routed through a third party that would guarantee counterparties against default;
Did not prohibit the use of these swaps and, more egregiously, expressly stated that no swap can be voided for failure to fulfill this requirement;
And did not give regulators sufficient authority to mandate that these third parties, known as clearinghouses -- facilities that execute trades for parties who are required to post collateral and mark their positions daily to prevailing market prices -- accept swaps which could otherwise be rejected in order to allow the parties to the contract evade the clearing requirement altogether. The legislation mandates that standard swaps contracts go through a clearinghouse.
So parties to a contract could have evade the requirements without penalty and yet still have their contracts be legally enforceable despite this evasion. The requirements, thus, were "optional," as Cantwell and pro-reform groups have argued.
Cantwell had offered an amendment to change that, making such swaps illegal and thus unenforceable. In a May 21 hearing before a Senate panel, Commodities Futures Trading Commission Chairman Gary Gensler said he agreed with Cantwell's position. The CFTC is one of two federal agencies entrusted with policing derivatives.
In the final version of the legislation, which was hammered out by House and Senate negotiators over the past few weeks, a provision was quietly added to make it unlawful for swaps counterparties to evade clearinghouses if their contract is supposed to be routed through one. Cantwell said she pushed for that change.
Also, the final version of the bill increases the power of regulators to mandate that clearinghouses accept swaps, and it eliminated a provision that would have exempted swaps from clearing if a clearinghouse rejected it. That particular provision was feared as a backdoor way for firms to avoid the clearing requirement.
In addition, the new version doubled fines for "knowingly or recklessly" violating the clearing provisions; toughened up limits on commodity contracts that could help prevent speculators from manipulating the market; and it gave American derivatives regulators the authority to require foreign trading venues to register with the U.S., potentially preventing domestic firms from evading U.S. requirements by simply trading overseas.
Gensler has repeatedly praised the bill over the past few weeks, though cautioning much work remains as his agency moves to implement the new regulations. He met with Cantwell on Thursday afternoon after testifying before the Financial Crisis Inquiry Commission.
Adam K. White, director of research at White Knight Research and Trading, an independent research consulting firm, said he was particularly pleased with the final result.
"The core bill is very strong. If you remember, the clearing requirement was always meant to be the solution to systemic risk," White said in an e-mail.
White also explained how the bill -- at least when it came to derivatives -- got stronger:
"The Volcker Rule and [Sen. Blanche] Lincoln's 'push out' provisions came after the House had already passed their version. Because Wall Street was focused on the Volcker Rule and Lincoln's swap dealer "push put' provisions it allowed the clearing section to stay strong," he wrote, referencing the provisions named after former Federal Reserve Chairman Paul Volcker and current Sen. Blanche Lincoln (D-Ark.), whose respective measures would have banned banks from speculating in the markets and dealing derivatives with taxpayer-backed bank deposits, respectively.
"Cantwell's gambit of voting 'no' on the Senate bill paid off in spades because they made her required changes in the conference committee in order to win her vote," White said. "Because of her strong stand we now have an iron-clad clearing requirement which will make it impossible for Wall Street to avoid clearing their swaps.
"This is a huge victory," he wrote. "This bill does not solve all the problems we have within our financial system but it takes monumental strides toward solving our derivatives problem and derivatives were central to the near collapse of the financial system."
Calling all HuffPost superfans!
Sign up for membership to become a founding member and help shape HuffPost's next chapter