For fashion designer Maria Cornejo, getting back into fashion on her own terms after moving to America was her greatest professional challenge.
"I'm not a young guy designer in New York City. I'm a woman, I have kids and I struggle."
But the self-described "Brooklyn Mom" believes scrambling to balance work and family has drawn other strong women, like Michelle Obama, to identify with her and her clothes. It has also shaped her creative contribution to the industry. Rejecting sartorial trends and misguided aspirations of looking "cool", Cornejo's goal is to make her clothes wear-able, welcoming and versatile. As someone who generally dislikes shopping, she works to make her three boutiques -- one on Melrose Place in Los Angeles and two in New York City, on Bleecker Street and Greenwich Street -- places where you walk in and feel positive about yourself.
"Many women are too busy to think about clothes, and we want things to make us feel good, not things that make us feel not skinny enough, rich enough or tall enough, all the things that fashion usually does to people. There's a touch of reality and tenderness to my designs."
Reality and tenderness are also words that characterize Cornejo herself. Sitting in a New York City café' in downtown's "Noho" neighborhood, sheathed in warm, muted tones with a scarf masterfully wrapped around her neck, she is raw, self-deprecating but at the same time remarkably self-possessed and confident. There is a core of strength and wisdom radiating from her as we talk for about an hour on topics ranging from her identity as an immigrant and political refugee to her family, fashion and the openness of America.
Natalia Brzezinski: As a successful businesswoman, what do you think of the status of women today?
Maria Cornejo: I think we really shot ourselves in the foot by overdosing with the women's liberation movement. Now we're expected to juggle it all and be everything to everybody and that's the problem. Women have become these super-duper Amazons but there's something to be said for admitting we can't do everything.
I had a big meltdown with my boys at home and said I know you think I'm superwoman and I can do everything, but I can't! Sometimes you just have to admit defeat and let go of perfection.
Career is one thing, but you also have to have a life. Women are out there multi-tasking and guilt-tripping, and my husband, for example, works from home, does yoga, and when I come home exhausted will make me dinner.
I don't think there is an ideal of womanhood anymore. It's become a lot more real now and people are embodying their dreams.
In addition to having a fabulous husband, how do you balance work and family?
It's about trying to be present wherever. I don't have a Blackberry and my husband is totally against checking email at home. We don't have phones at the dinner table. But it's a struggle. One day, I'm feeling like I'm not devoting enough energy to everybody at the office or at home, constantly guilty that I'm not quite managing it. Another day you just stop beating yourself up and you go well you can only do what you can.
At 11-years-old, you escaped Chile under Pinochet and went to London. Since then, you have lived and worked all over the world including Paris and Tokyo. How did that affect your work and identity?
There's a great comfort in not always fitting in. You don't know what the rules are so you make your own version of things.
When I was thinking of the spring/summer collection I realized that the idea of cultural displacement is very relevant because I have lived in South America and I saw the Indians and their look. Then I went to England and everybody was blond and blue-eyed, and of course in Japan there was a completely different feeling. My inspiration is all about the mixture of cultures and traveling.
Is the way fashion is viewed in America different than Europe or Asia?

In America fashion is based on reality. People actually wear clothes. I think French or Japanese fashion can be a lot more intellectual but in a tortured way.
People are curious here and willing to try things out. Sometimes in Europe they wait for someone else to tell them it's cool.
Do you feel like you had more opportunity in America to spread your wings than elsewhere?

The thing about America is that there is this sense of possibility -- that if you work hard enough you will get to achieve at least some part of your dream. People are very open here, they allow you to have a go at something which doesn't always happen in Europe. Europe can be a museum culture; you can look but don't touch.
How would you describe your clothes in one word?
Irreverent. I love intellectual fashion and art, but there's a point where it has to be fun and playful. I try to do something modern and express joy through it. Color and print have become a huge part of my creative process. Sometimes I will look at a design and say, "that's borderline kitsch but also cool at the same time." People always think I'm so serious, but there's a tongue-in-cheek sense of humor in my clothes.
What's your greatest pet peeve?
One thing I miss about Europe is that you're allowed to age gracefully. In America everybody looks like a film star. It's not easy getting older especially in the fashion business because you're surrounded by youth all the time.
How do you deal with that?

I'm old enough that I realize, sure my body's changing but those are the things you torture yourself about when you're 21-years-old. There's a point when you have to love yourself.
Do you use the same realistic mentality toward body image when you cast models?

Half of the girls who are super skinny have no personality. They have no hips and no bodies because they're only 15! Normal women don't look like that and the image pushed by media is not healthy.
For me it's about energy, self-possession and presence not age. They have to look like they actually wear the clothes and have a personality. Some designers like to have uniform look throughout the show, but we like women to have their own look not a cookie-cutter image. It's much more interesting to have them look genuine, like themselves.
We try to cast older models and mothers. But a lot of the older women don't want to do shows because they have to do fittings and castings with 15-year-olds. It's a bit degrading.
You seem so strong and resilient; does anything make you feel insecure?
I'm very sensitive to people's moods so if there's anything wrong in the family I'm very anxious. I hate going to big fashion events on my own. I'm just as weak as the next person but I've learned how to navigate life in my way. Nobody is superman and you learn to accept your weaknesses.
You have a new swimwear line, shoes, bags, and a menswear line, what's next for Zero+ Maria Cornejo?
I'd love to do a perfume. I think sense of smell is key. I'd love to do more retail because I think it's the only place you can show the collection how you want it to be seen.
For me, success is to be constantly learning. I want to pay my bills, make sure my children feel loved and find something they love to do and feel constantly inspired.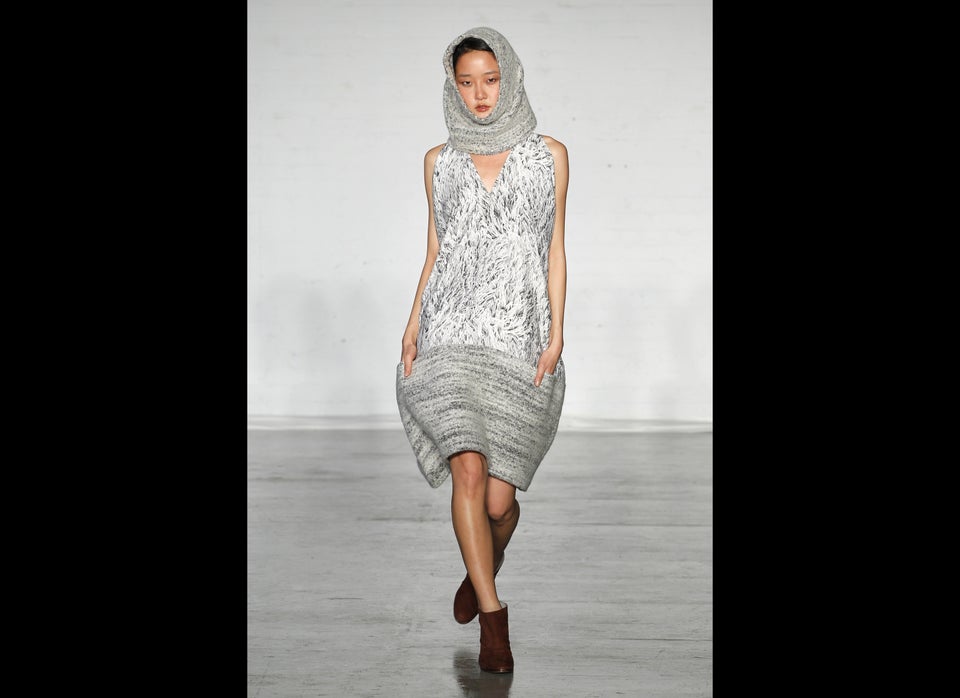 Maria Cornejo
Popular in the Community