A Peabody Award-winning anchor for the Spanish-language Univision network was booed and called "trash" at a commencement address in Orange County, California, this weekend after she spoke a few words in Spanish and mentioned Donald Trump.
María Elena Salinas spoke at California State University, Fullerton, on Sunday, first addressing the entire CSUF graduating class and later speaking to graduates of the school's College of Communications, an audience consisting largely of journalism, advertising and public relations students.
In Spanish, Salinas told the students how proud she was of their generation. Non-Latino grads started shouting "What about us?" according to Denise De La Cruz, a graduate who was at the ceremony.
"Tensions worsened as Salinas began offering advice to journalism students to use the tools of media to rebut political figures such as Donald Trump," De La Cruz wrote in a first-person account for OC Weekly. "That's when folks began yelling things to Salinas such as, 'Get off the stage!' and 'Trash!'"
In a video, a varied response can be heard from the crowd.

Salinas said: "...they blame us so much for so many things, that now they're even blaming us, the media, for creating Donald Trump. Imagine that." Yells can be heard from the crowd. "Isn't that terrible? But we didn't, right? Who did it?" she asked rhetorically. "I don't know. Who did it? But they're to blame."
In this video posted by The Washington Post, boos and shouts can be heard as Salinas mentions that people blame the media for the rise of Trump.
Salinas later said on Twitter that she didn't hear what people were yelling. But, she said, "if they complained about me speaking Spanish it's sad racism is on the rise."
One student insisted on Twitter that the boos weren't because of racism, saying that some people in the audience booed because they felt Salinas' remarks were too focused on Latino students and exclusive of others.

"It's really sad that people can turn such a special moment into a racial war," Salinas told The Washington Post. "Because it seems like that is what has happened. I don't think I insulted anyone by saying a few words in Spanish to the parents. The whole speech was directed to everyone."
"I think the message is, we have to cool down the intolerance right now," she went on. "We really do. This is ugly, what's happening in the country."
It's worth noting that Salinas' speech focused mainly on the CSUF students, not on Trump. And some graduates genuinely appreciated her remarks, judging by Twitter.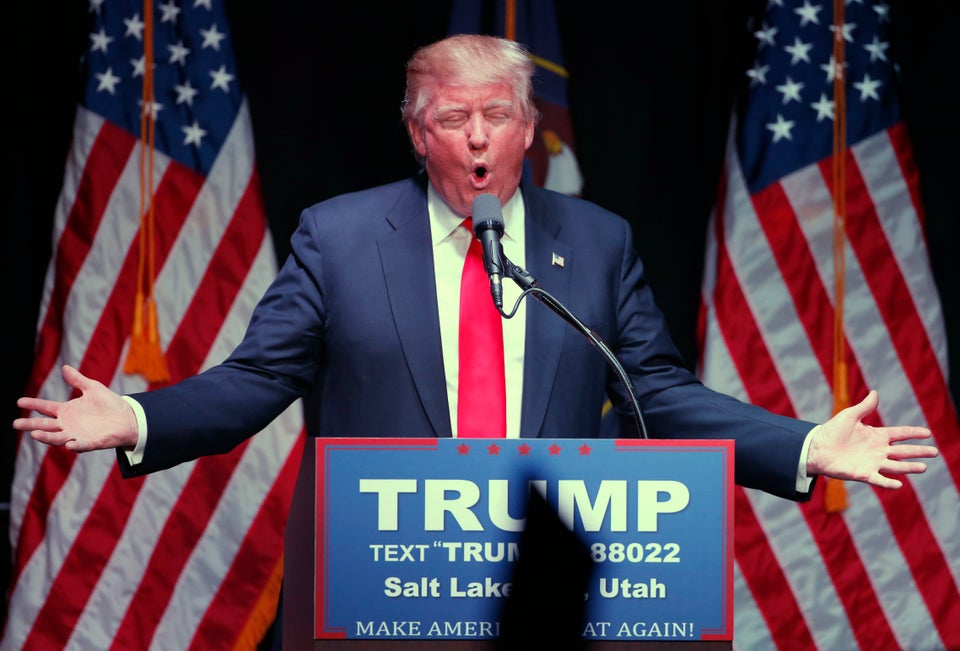 Scenes Of Hate At Donald Trump Rallies
Popular in the Community