A week after Hurricane Maria devastated Puerto Rico, many of the millions of Americans with friends and relatives on the island still haven't heard from their loved ones. As some desperately search for answers on social media, others have tried to channel their nervous energy toward coordinating relief from the U.S. mainland.
Melina Olmo, president of the National Conference of the Puerto Rican Women chapter in Washington, D.C., hasn't spoken to her 70-year-old mother and 43-year-old sister in Utuado, Puerto Rico, since Sept. 19 at 9:21 p.m. ― just before the Category 4 storm slammed into the island. Olmo has since been posting photos and information about her family on Facebook, hoping someone will find them.
"I have not been able to get a full night's sleep since the storm," Olmo, 41, told HuffPost. "I keep waking up every two hours, just waiting for the phone to ring, for a text, for some divine sign that they are OK."
Olmo tried to brief her family on the news during their last phone conversation. "Their power had just gone out and my sister did not have time to pay her cellphone," Olmo said. "She was concerned they would cut it off."
Utuado's plight is typical of the island's towns. Maria, which killed at least 16 people, left all of Puerto Rico without power and took out most wireless cell sites. The lack of communication has hindered relief efforts and makes it impossible to fully assess the impact of the storm. Although some residents, mostly near San Juan, have found ways of communicating with loved ones in the U.S. mainland via radio, word of mouth and a few working landlines, many in the Puerto Rican diaspora have yet to hear from family on the island.
Here are some of their stories.
'Every day that passes is a day I don't hear from them.'
In Miami, Jazmin Nadal is desperate for information about her 60-year-old mother and 67-year-old father, who live in Las Marias, approximately 80 miles west of San Juan.
"The west coast right now has no communication, and there's no way to get to them either because a lot of the roads have been blocked," Nadal, 31, said. "It's now been a week and still nothing. ... I'm able to leave voicemails on my mom's phone with status updates and where they can go to get food and water, but I don't know if she's receiving them," she added via Facebook messenger on Wednesday.
"I feel scared because I keep hearing people say 'It's OK' and I'm like yea but every day that passes is a day I don't hear from them," Nadal said. "I'm not sleeping well, I'm cranky, I'm distracted at work because I'm looking at my phone thinking maybe today they call me from a satellite phone and I'll be able to have a quick conversation with my parents."
"What if something happens? God forbid," she asked. "Who is going to get to them? No one. There's no way for them to get an ambulance or police or anything. I can't go, I can't fly in, I can't risk driving into the countryside to try to help them out when I don't know what the situation is. I don't know if there is any roads or if I'm putting myself also in danger trying to help them out. I'm severely stressed."
Nadal and her brother have seriously considered flying to Puerto Rico to search for their parents, but she's been told by people on the island that worried relatives shouldn't come, lest they add to the scarcity of fuel and other supplies. Instead, islanders suggest people on the mainland help coordinate aid.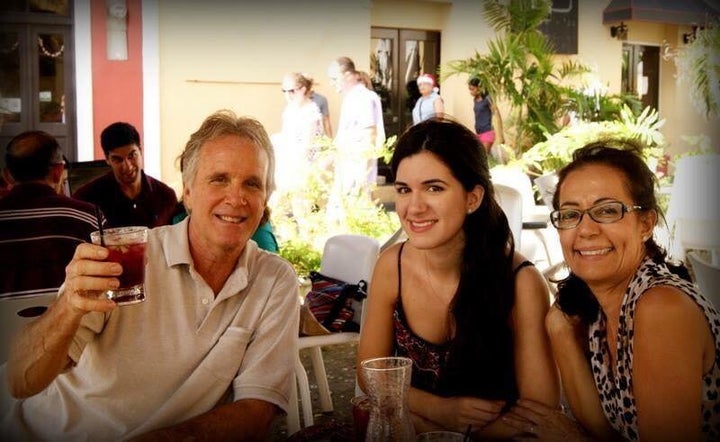 'I still haven't been able to get in touch with half of them.'
Mia Castro moved to New York City from Miami a few months ago. After the hurricane hit, she wanted to fly to San Juan, but friends warned her any air travel she booked would likely be canceled. She ended up back in South Florida, and is now collecting donations in Miami for the island.
Castro, 29, heard from her mother in San Juan two days after the hurricane, and spoke briefly with her again on Sunday. But she has yet to hear from many other relatives on the island.
"I still haven't been able to get in touch with half of them," Castro said. "I just know they're OK through word of mouth."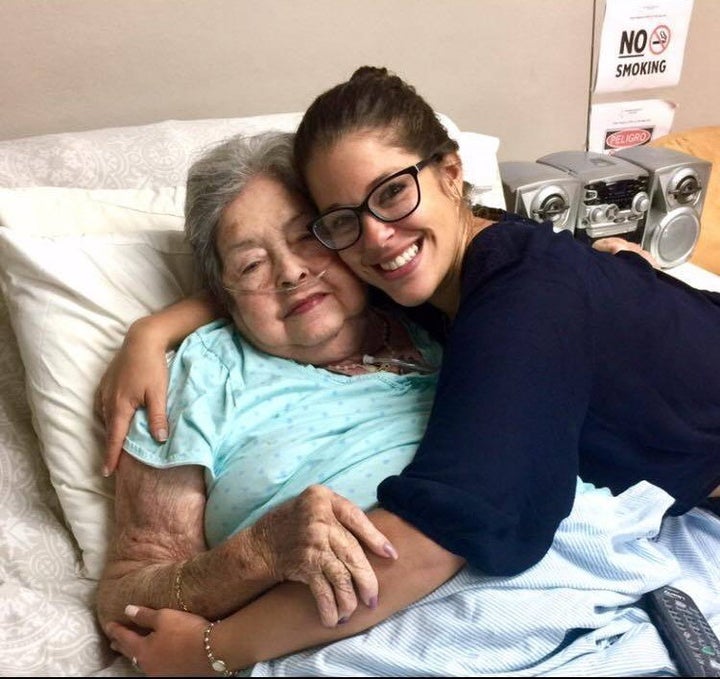 The grapevine isn't much comfort. Castro is especially worried about reports that power may not be restored to much of the island for months. Electricity is crucial for Castro's 85-year-old grandmother, who can't walk and needs an electric crane to help her out of bed and into a wheelchair. Her grandmother also relies on an oxygen tank, which now needs a refill.
"I just had a panic attack an hour ago because my aunt texted me and told me, 'I don't have oxygen for grandma's tank. I'm running around like crazy looking for oxygen for your grandmother. I'm without gas for the generator and things are looking bad, we're gonna have to leave,'" Castro said. "That got me very nervous and it was really eye-opening to see how really awful the situation is right now."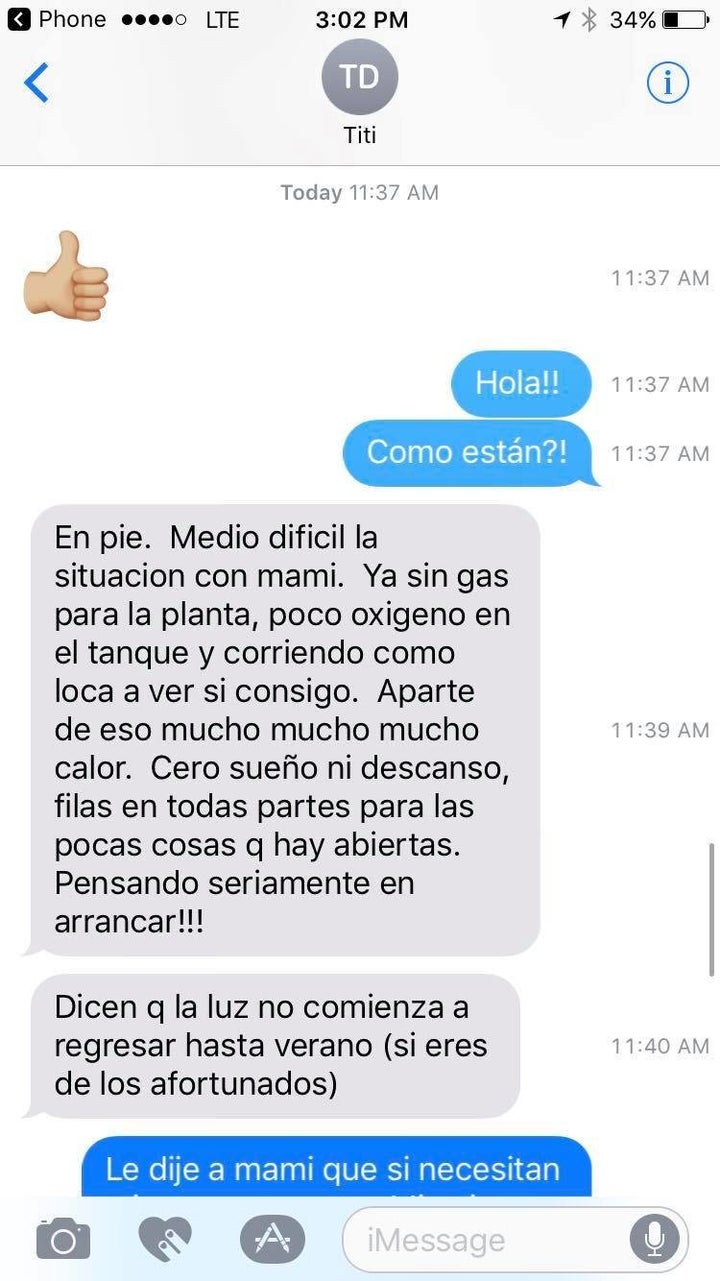 'I know that these towns are often forgotten.'
Samy Nemir Olivares knows firsthand how dire the situation can get for western municipalities in Puerto Rico after a storm. As a child, the New York-based boricua witnessed the devastation of the island after Hurricane George in 1998.
"I lived that," Nemir Olivares, now 25, said. "My aunt lost her home, and recently we were able to raise the funds to rebuild her home after almost a decade. So I know that these towns are often forgotten and the last to receive help. When I was I kid, we went weeks if not months without electricity or anyone visiting us after Hurricane George. This time around it will be worse."
Nemir Olivares has heard from his father, who lives in San Juan, since Hurricane Maria. He has little news from his 65-year-old disabled mother and 24-year-old sister, who live in Yauco, a town on the southern coast near Ponce.
"Until [Sunday], we didn't know what was happening in that town and what we know is that it's a highly flooded area," Nemir Olivares said. "What we do [for information] is literally rely on social media and Facebook groups that we created. There is one about our town with 3,000 people asking about our families, posting photos."
On Tuesday, a cousin texted him saying his aunt saw them and both are OK. "I was so relieved," he said, "but I still need to hear their voice!"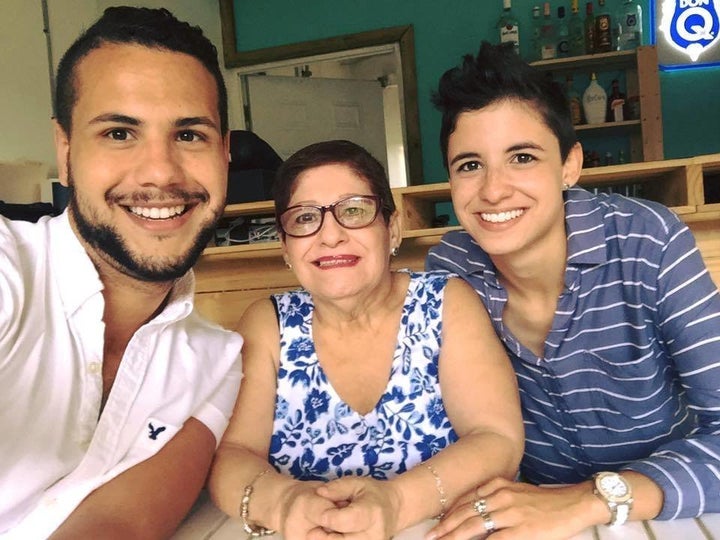 'It's essential that families be able to communicate with loved ones and find out if they're OK.'
Selymar Colón didn't hear from her family for 48 hours after the storm hit. During that time, the managing editor for Univision Noticias digital channeled her concern for family toward helping others: She came up with an initiative to connect Puerto Ricans in the mainland with loved ones on the island.
"I understood the desperation that others were going through because I was living it," Colón said. "We know we have to rebuild the island, but before the rebuilding begins I think it's essential that families be able to communicate with loved ones and find out if they're OK."
The #PRActívate initiative asks those looking for family in Puerto Rico to fill out a Google form with details of their loved ones. The information is placed in a database, which Colón and her team in Miami then relay to Univision reporters and freelancers on the island.
Colón and her team have received more than 8,600 submissions since Sept. 20 and are working around the clock to find as many families as possible. So far, they've visited 17 of the 78 municipalities in Puerto Rico. This week alone, they've reconnected at least 80 families.
"Every time a team reports back they tell me there's total destruction throughout the whole island," Colón said. "They haven't gone to a town yet that was able to save itself from the hurricane's wrath, and they tell me there are already serious problems in towns like Mayagüez, Añasco, Aguada, Rincón where they are running out of gas reserves and clean water supply. The damages to the towns are incalculable, and when you go toward the mountain region things are worse."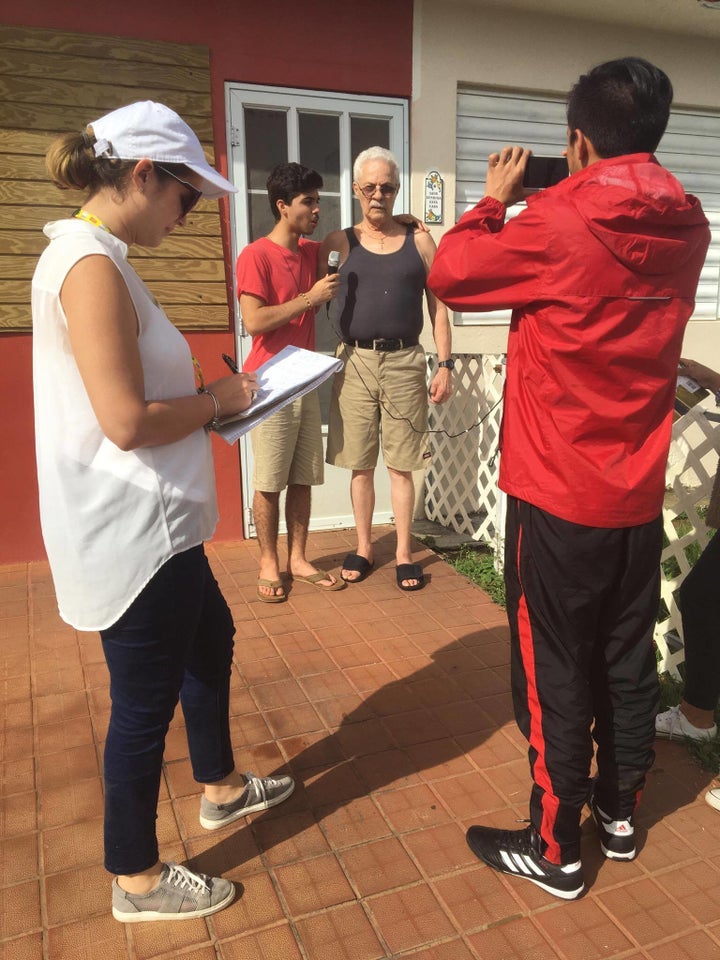 Zuania Capó is one of the freelancers helping Univision in Puerto Rico. The media executive and her husband had begun a similar initiative on their own in the days following the storm.
"Everything started because it'd been days since I heard from my family in Manatí and, like most Puerto Rican families, was desperate and felt very impotent," Capó, who lives in San Juan, told HuffPost via text. "My husband and I decided to risk it and go to Manatí. We found them safe and sound, but quickly we noticed that their whole street was in the same situation, without a way to communicate and desperate to speak with their loved ones.
"We went to all the houses and spoke to their neighbors, we took back a list of more than 20 families," Capó continued. "When we arrived to the metropolitan area we had on and off signal, and we spent the whole night calling families and the press and we got in touch via Zello to the U.S. We continued doing this until we ran out of gas, then Univision contacted me to continue the work."
On Monday, Capó and Univision reporter Nicolás Hernández went to the west coast and came back with 20 more families to reconnect. They also got photos and video of all them to show loved ones in the diaspora.
"When their family members see them or hear them, they feel as if they are here with them," Capó said. "It's a true labor of love."
But reconnecting families is only the beginning of the struggle that lies ahead for Puerto Rico. From what Capó has seen, the devastation in the west is extensive and many in the region don't expect the aid they desperately need.
"The situation in the poorer areas of Rincón and Añasco is unbelievable," Capó said. "Entire communities in Añasco lost everything because of flooding. Entire streets have every houses' belongings laid out on the sidewalk. Much of the elderly population in Rincón is helpless, they feel they've lost everything and have been forgotten."
Those in the U.S. mainland and abroad looking for ways to help can go here.
Popular in the Community