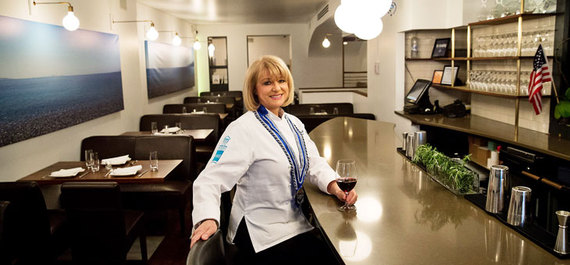 Loi Estiatorio without Maria Loi would not really be Loi.
Of course, one could say that about many restaurants whose owner's name is on the awning, but in so few cases these days do those owners ever set foot in their own establishments. When you enter Loi, you'll always find Loi everywhere.
She's the vivacious Greek woman with the blond bob, the big glasses, the white chef's coat and a ribboned medallion. She may be at the bar signing copies of her latest book, The Greek Diet (Harper Collins)--she's written 35--or she may be posing for photos with her admiring guests.
More than anything it is her infectious spirit--what the Greeks call efforia--that sets the ambiance at Loi, a slender room with seascape murals of Nafpakt
os, the town where Maria was born. The place seems just big enough to be her own home's dining room, and everybody in the place seems to know her, or wants to know her.
Maria arrived in New York a few years ago and fell in love with the city, and she was determined to bring her own spirit of Greek cookery to town, at first, in 2011, in a too-large restaurant on the Upper West Side. The new, smaller quarters (60 seats) on West 58th Street, almost two years old, are a better fit all around. I just wish they turned up the lighting a bit, which would add even more to the conviviality. I am grateful, though, that the noise level in the room is wholly civilized. Thick white tablecloths help.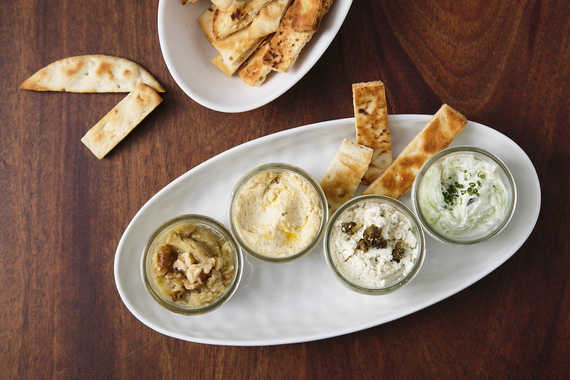 Before emigrating to NYC, Maria Loi had been appointed the official Ambassador of Greek Gastronomy--twice--by the Chef's Club of Greece; she had her own TV show on PBS, "Cooking with Loi," and she cooked at the Obama White House for 250 guests, and last year was invited to be a panelist at the Mediterranean Diet Roundtable Conference in LA. She even has her own Greek food line at Whole Foods Market, and keeps a namesake restaurant back home in Nafpaktos.
The menu at Loi is in three parts: Classic Greek dishes, "Village Dishes" and Maria's own specialties, so it's good to order from each and to consult with the very helpful staff. Maria points out that none of her food is fried, which is one of the things that distinguishes her restaurant from a taverna.
The wine list is modest, with high mark-ups: A Dougos Assyrtikos that costs $16 in a wine shop, $62 here, and a Porto Carras red is $25 versus $88.
Complimentary pougi is an amuse bouche of thick, housemade yogurt, feta, roasted cherry tomatoes, fresh herbs, Greek oregano, and olive oil, all baked in parchment paper and served warm tableside. (Incidentally, in her book Maria says she used to have food fights with her sister, throwing yogurt at each other, then using it to moisturize their faces.)
With the yogurt comes a basket of both whole grain pitas and, unexpectedly, some delicious cornbread biscuits. I was a bit surprised that this basket was not replenished throughout the evening, which is customary in Greek restaurants.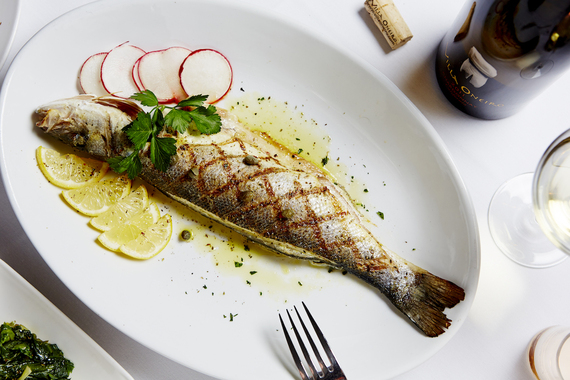 The appetizer portion of the menu toes a fairly predictable line, including grilled halloumi cheese with lemon, olive oil and fragrant Greek oregano ($17); a salad of tomato, red onion, green pepper, cucumber, Kalamata olives, feta and olive oil ($16); and a savory spinach pie with dill, mint, feta and phyllo ($15). Delightfully out of the ordinary was stuffed eggplant with zucchini, bell peppers, onion, tomato and rich Greek-style béchamel ($18), which was also layered into a Greek lasagna with slowly cooked spiced beef, tomato, house-made pasta and myrzithra cheese ($29). Crispy octopus croquettes ($18) were new to me, little balls of ground, seasoned octopus, pleasant but a bit bland. Another octopus dish was a signature special, hatapodaki stin schara, slowly cooked, then grilled, tossed in ladolemono lemon-olive oil emulsion and served over a bed of fava purée with capers, red-wine macerated onions and topped with micro chives ($21).
Lamb shank is a hearty, succulent dish, suffused with red wine and abundant with tomato, onion, and lamb jus and sided with orzo ($39). Special one night were good-sized langoustines (MP) with fat bodies and sweet meat, simply graced with olive oil and lemon, much the same as the star dish of the evening--a lavraki (sea bass or branzino) whose flavor showed every sign of having been recently plucked from the Mediterranean rather than a fish farm. Served with arugula ($39), it was as simple and perfect as seafood from that part of the world gets.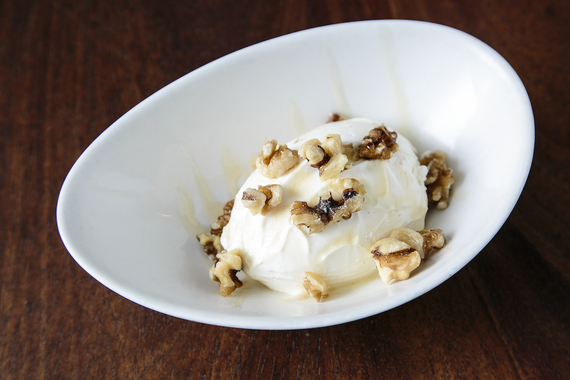 Don't miss ordering some side dishes like the gigante beans braised in tomato with spinach ($11) or the cauliflower steeped in tomato ($12).
For dessert (all $10) you could be very happy with more of that wonderful yogurt, now lavished with Cretan honey and walnuts, or any of the phyllo-pastry items, one with custard and cinnamon, but I was most delighted by a very dense cake of very fine, light chocolate called sokolakopita made with olive oil.
At meal's end, as the room empties out, you may well want to stick around and sip strong Greek coffee and an after-dinner mastiha, a resinous Greek liqueur. Leaving a room this warm and hospitable is not that easy, and Maria Loi is happy to have you linger.
Loi Estiatorio offers lunch Monday through Friday, and dinner daily. There is a $44 prix fixe pre-theater dinner.
LOI ESTIATORIO
132 West 58th Street (near Seventh Avenue)
212-713-0015