For the second time this year, officials in the Philippines on Friday arrested pioneering journalist Maria Ressa, a longtime target of the country's government and President Rodrigo Duterte for steering dogged reporting on corruption and human rights abuses.
Ressa, the executive editor of the news website Rappler, was served with an arrest warrant at Manila's airport immediately after arriving from a flight, the site reported.
Officials this week charged her and some of the site's board members with allegations of violating investment and securities law, which Ressa claims is yet another attempt to silence her and Rappler.
Calling her arrest an "abuse of power and a weaponization of the law," she was released later in the day after posting bail.
"It's sad that this is the kind of welcome our country gives a journalist," she told reporters Friday. "Sad day for me, and apparently the Philippine government isn't satisfied with arresting just me. The fact that they also included upstanding, successful tech and education entrepreneurs and businessmen? This is a bad signal to send to the rest of the world."
In February, Philippine officials arrested Ressa in a separate case, accusing her of cyber-libel, among a number of escalating steps that the government has taken to attempt to stifle Rappler's reporting on Duterte's war on drugs, extrajudicial killings and propaganda campaigns against his critics.
According to Rappler, Ressa and the site have faced 11 legal cases and complaints since January 2018, when the country's Securities and Exchange Commission tried to shut down the site.
Journalists and press freedom advocacy organizations have rallied around Ressa, who was named one of Time magazine's 2018 people of the year, part of a series commemorating journalists killed or physically threatened while doing their jobs.
"When I look back a decade from now, I want to make sure that I have done all I can," she said after her arrest in February. "We will not duck. We will not hide. We will hold the line."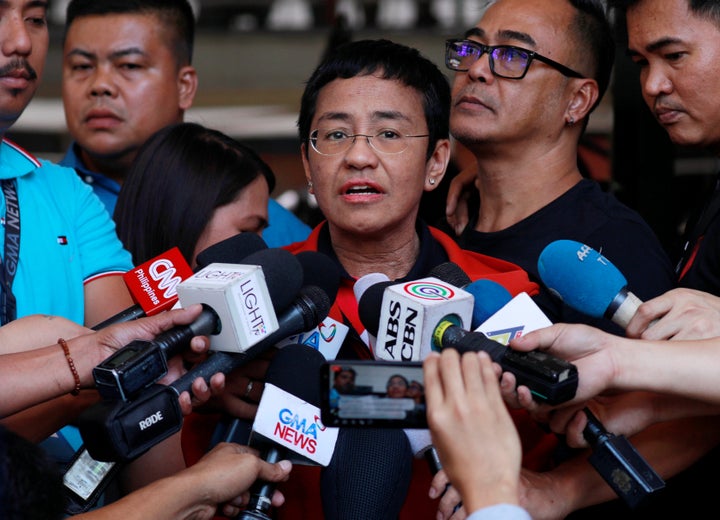 The veteran reporter regularly warns of declining press freedom around the world, attributing it to the rise of propaganda and disinformation campaigns on social media platforms — particularly in the United States, where attacks and threats against members of the media have increased under President Donald Trump.
"Our problems in the Philippines are partly caused by your problems here," she said in November, when accepting the Committee to Protect Journalists' Gwen Ifill Press Freedom Award in New York. "American social media technology platforms, once empowering, now weaponized against journalists, activists and citizens, spreading lies across borders; and, a president so much like ours whose attacks against the press — and women — give permission to autocrats — like ours — to unleash the dark side of humanity and extend their already vast powers with impunity, especially in countries where institutions have crumbled."
CPJ condemned Ressa's arrest in a statement.
"It is clear that the government is manipulating the law to muzzle and intimidate one of its most credible media critics. This egregious harassment must stop," the organization said Friday.
The staff of Rappler said that the arrest has "a chilling effect on the freedom of speech, on business, and innovation."
Echoing Ressa, the site vowed to continue its reporting.
"Journalists doing their jobs will not be intimidated. We will continue to #HoldTheLine."