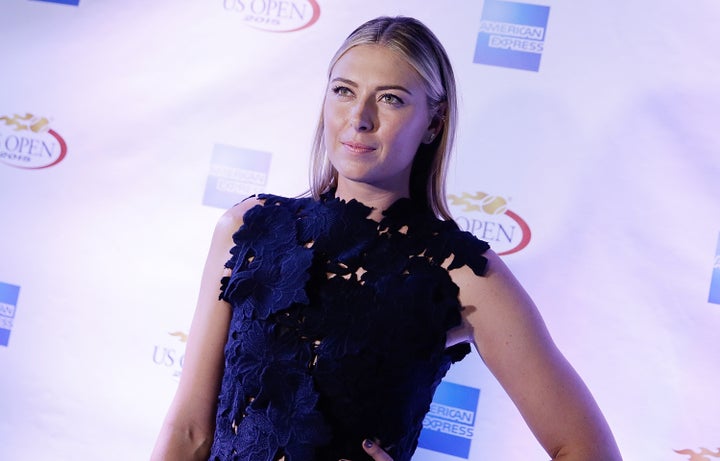 Maria Sharapova is ready to get back on the court.
The tennis star missed both the Rogers Cup and the Western & Southern Open -- the latter considered the last hardcourt preparation before next week's U.S. Open in New York. But before she could turn her focus to the last major tournament of the season, Sharapova took time to appear at American Express' "Rally On The River" pre-U.S. Open event in New York on Wednesday night.
"After tonight, Maria's going back into tennis mode," her publicist said. Sidelined with an injury, Sharapova really, really just wants to have a healthy showing. 
The Huffington Post sat down with Sharapova, for what would be her last interview before the U.S. Open starts on Monday, according to her team. The WTA's No. 3 ranked player addressed a slew of topics, such as her surprising love of drug stores, and of course, Serena Williams' Grand Slam that's on the line.
You've been an American Express member for over a decade now. What's the most regrettable credit card purchase you've ever made?
I love walking around pharmacies. I know it's very random, but I like finding little beauty products that I'll probably never use. I'll just put them in my drawer and never use them. There hasn't been anything specific, but that's something that I regret doing.
The temptation making of small purchases at drug stores is very, very real.
Yes! On a lot of magazines, different hair clips. 
What's your favorite product to pick up at a pharmacy?
It's a little bit of everything. I like to try different products, even if it's just toothpaste. If it's trying out toothpaste, lip balm -- I never use the same thing!
And New York has an infinite number of pharmacies for you to get lost in. But you're here for the U.S. Open, a tournament you last won nine years ago. Looking back, what's different between 2006 Maria Sharapova and the player we know today?
I feel, in many ways, all grown up. I won the U.S. Open as a teenager and it was a moment that solidified my career in a way. It was the second major that I had won and the first one came so unexpectedly. I really felt that at that point in my career, I belonged at the top and belonged as a Grand Slam champion. Those memories always flood back when I step onto Arthur Ashe.
I've developed many incredible memories along the way -- winning or losing. I think even the matches that I've lost, I take away the crowd and the energy and I'm overwhelmed by that. I want to experience it every time I'm there.
In recent years, your championship successes have mainly been on the clay courts at the French Open. What differences do you have to make in your game for the U.S. Open's asphalt surface?
It's always about adjustment. That's just a part of the tennis player's career -- adjustment. You have new balls, new surfaces every single week. The adjustment that you have to make with your body is sometimes much more important than the performance itself, because the injuries and little things you face sometimes impact the performance.
Do you change your training regimen or diet between tournaments to account for those differences?
I do. I think with different surfaces, you have to work on different things. For the clay, you work a lot physically with your endurance because the points are much longer. On grass, you work on much faster steps and quicker reaction drills.
What's one area of your game you've concentrated on in preparation for the U.S. Open?
Right now, it's been about just staying healthy for me, because I missed the last couple of tournaments -- just finding my way back. Obviously, going into a major, it's not ideal preparation missing the last two events, but based on experience, it was wise of me to be able to do that. I'll just go out there and little my expectations and get through and get the rust off as quickly as possible. 
 Sharapova strikes a ball at Wimbledon in June.
Who are some of the other players in the U.S. Open field who you've got your eye on and may meet later in the tournament?
I don't think about later on. You have to manage your expectations and you have to respect everyone that's in the field. It always starts with the first step, the first round.
Serena Williams is under pressure to complete her historic summer and notch that true Grand Slam. Do her expectations and pressures ever affect you in any way?
I don't think there should be much pressure [on Serena]. She's achieved an incredible amount of things in her career already and she's set herself up to be in this really special position. You can never underestimate her consistency and the way that she's been able to achieve the things she has. 
Do her accomplishments push you or other women's tennis players to greater heights?
Oh yeah. I think as an athlete and as a competitor, no matter what sport you are, when someone is playing extremely well and is on such a great level, you always feel inspired to be a better player.
Including Serena's winning ways, this has been a progressive summer for female athletes and their fight for equality in their respective sports. The Women's World Cup stole the spotlight and now the NBA and NFL have their first female coaches. What's been your reaction to it all?
I think it's incredible. When I look back to 8 or 10 years ago, when women tennis players were fighting for equal prize money and equality amongst the tour, it was a subject we talked about at every single meeting and every single press conference when we got faced with the questions. We fought for it for so long -- we achieved a place that we're at today, but we always strive for more.
I think as women, it's powerful and a great feeling to have motivation to be better at what you do and you want to showcase it to the world. I know there are so many women around the world who are so powerful and so inspired. All they do is step up. I think that's personally inspiring.
In many ways, women's tennis is almost the standard for gender equality in sports.
I think it's so appealing because it is global. We get to play and represent all women all around the world on a daily basis, because we go out on the court, we're in front of the public, we go to press conferences after every match. We have a voice and I've been very fortunate to use that voice in a positive way.
What advice would you give to the female athletes who are fighting right now for similar standards of equality in their respective sports?
Don't give up. Keep going. You're strong and you're good enough -- great enough -- to be in that position. Don't get discouraged. Keep going, no matter the roadblocks.  
This interview has been edited and condensed for clarity. 
PHOTO GALLERY
Maria Sharapova's Greatest Hits
Calling all HuffPost superfans!
Sign up for membership to become a founding member and help shape HuffPost's next chapter