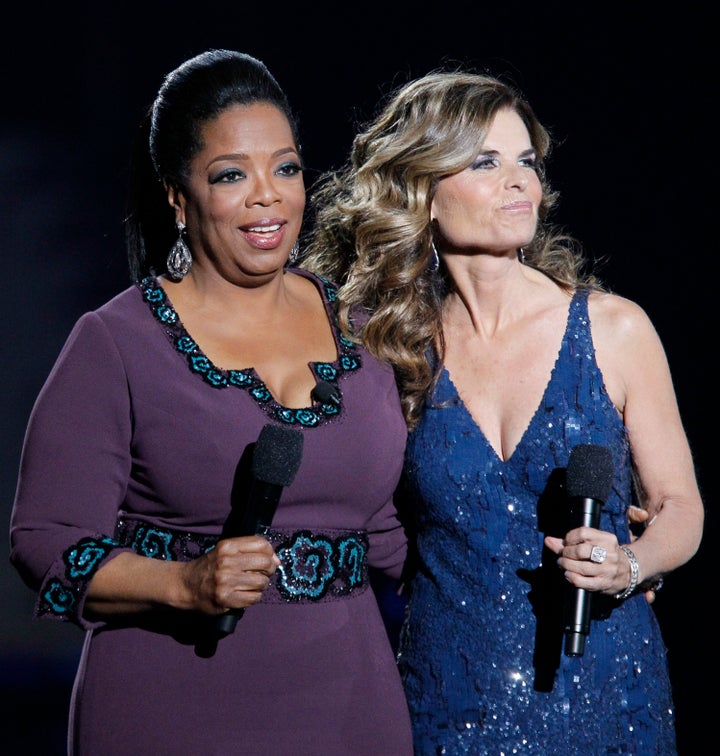 Maria Shriver must have had one hell of a week, though based on appearances, you'd never know it.
Late Monday night, news broke that estranged husband Arnold Schwarzenneger had fathered a child with a former member of the couple's household staff.
The next day, Shriver showed no outward signs of turmoil when she showed up at Chicago's United Center to support good friend Oprah Winfrey as a guest at the talk show queen's farewell show.
Looking radiant in a sparkly blue dress, Shriver told Winfrey: "You have given me love, support, wisdom and most of all, the truth."
More details that surfaced that same evening about Schwarzenegger's alleged infidelities--specifically, that the woman was Mildred Patricia Baena, who had worked as a housekeeper for the Schwarzenegger family for 20 years before leaving in January--didn't seem to get in the way of her plans, either.
Back home in Los Angeles two days later--on the same day it was revealed that Shriver had retained celebrity divorce lawyer Laura Wasser to represent her in her split from the former governor--Shriver attended the GirlPower Awards luncheon, where eldest daughter Katherine, author of "Rock What You've Got: Secrets to Loving Your Inner and Outer Beauty from Someone Who's Been There and Back," was being honored for inspiring young women. Shriver was also joined by her daughter Christina at the event. (Arnold Schwarzenegger did not attend).
"Maria was smiling and very proud," event planner Marsha Grant told People magazine.
"Congrats to my beautiful & brilliant daughter, @kschwarzenegger, for receiving the GirlPower Award from A Place Called Home today," Shriver tweeted Thursday, her first Tweet since the news of Schwarzenegger's love child broke. "And thank you, @LeezaGibbons, for giving one of the loveliest and most thoughtful introductions I've ever heard. You are amazing."
WATCH Katherine share her thoughts at the GirlPower Awards luncheon: