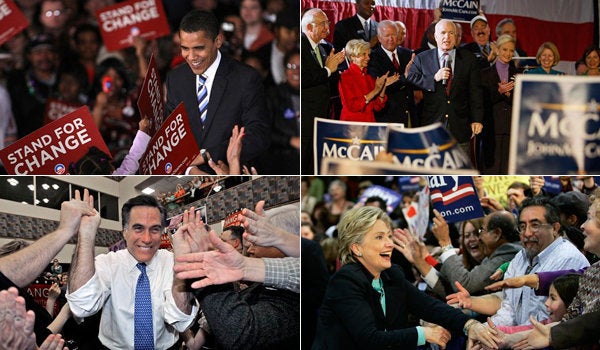 In a dramatic moment at UCLA's Pauley Pavilion, California First Lady Maria Shriver just strode out onto a stage that had already seen its share of celebrities -- Oprah Winfrey and Stevie Wonder among them -- and announced that she was joining the Kennedy half of the family backing Barack Obama, reports our colleague Mark Z. Barabak, who is there.
More details will be posted shortly and in tomorrow's print edition, but Shriver reportedly was waiting backstage wavering over whether she should make her support public, and then finally strode out on stage. Her husband, Republican Gov. Arnold Schwarzenegger, earlier this week announced his endorsement for Sen. John McCain.
The Kennedy family has split over the two top Democratic contenders, with Ted Kennedy joined by Caroline Kennedy Schlossberg -- daughter of his brother John F. Kennedy -- and his son, U.S. Rep. Patrick Kennedy, all going with Obama. Ethel Kennedy, widow of Robert F. Kennedy, also went with the Illinois senator.
But Hillary Rodham Clinton picked up the support of three of Robert and Ethel's children -- Kathleen Kennedy Townsend, Kerry Kennedy and Robert F. Kennedy Jr.
Read more HuffPost coverage of Super Tuesday here.