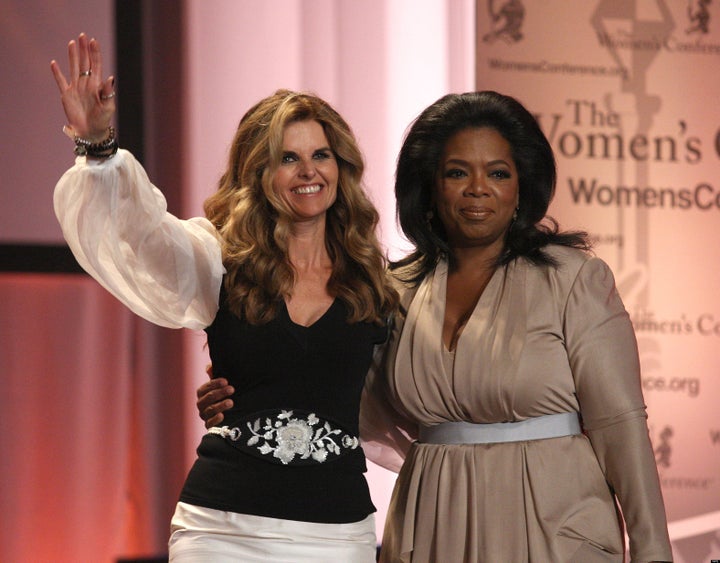 Maria Shriver will be O Magazine's first-ever guest editor, the magazine is expected to announce later today.
Shriver will team up with O, The Oprah Magazine for its April issue, which will celebrate National Poetry Month.
While the issue will include work from well-known poets and favorite poems from celebrities, readers are also invited to join the conversation by submitting their favorite poetry (or original work) to www.oprah.com/poetry. Submissions will be accepted through February 11 with the possibility of appearing in the magazine, which hits newsstands on March 15.
"Maria is one of the busiest women I know, with amazing energy, creativity and dedication, yet she finds time to slow down for contemplation with poetry," editor-in-chief Susan Casey said. "Poetry is an art form that can lift your spirits or move you to tears. We want to help our readers experience its power, and we are honored to have Maria's help to do it."
"I try to mark the occasion of each new day by reading something inspirational. Sometimes the inspiration comes from a book of tips or quotations, but it usually comes from a book of poetry," Shriver added. "Poetry can help us through hard times and bring us closer to our joy. Poetry can be prayerful and somber or irreverent and playful, but what runs through all poetry is the search for meaning and understanding that connects us together. While a poem may bring us deep personal meaning, it becomes more meaningful when we share it with others. That is why we're asking readers to submit their own cherished poems. Poetry has had such a powerful influence on my life, and I'm thrilled to be celebrating National Poetry Month with the readers of O, The Oprah Magazine."

Shriver memorably read a poem at Tim Russert's memorial service in 2008, where she said that poetry helped her through her cousin John F. Kennedy, Jr.'s death.
"A few years ago, when my cousin died, John, in an unexpected way, I was given a poem by a friend that helped me through some pretty dark days," she said. "It gave me some peace within whenever I thought about him in a faraway place, that I would be unable to see him or talk to him again. I read it many, many times and I thought I could share it with all of you today with the hope that it might also give you some peace within."
Shriver's guest-editing stint with O Magazine is one of her first professional moves following her time as California's First Lady. It also represents the latest alignment between Shriver and Oprah Winfrey: the two appeared together in 2008 at a rally for then-presidential candidate Barack Obama, and Winfrey recently was honored with a Minerva Award at Shriver's annual Women's Conference.
Popular in the Community