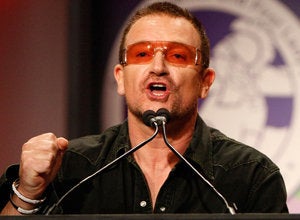 "Be Who You Are" was the theme Maria Shriver designated for this year's California Governor and First Lady's Conference on Women. As she addressed the crowd of 14,000 attendees, most of whom were women, and the additional 1 million viewers watching the streaming live broadcast on Californiawomen.org, she said:
"I myself am still learning how to be me and that's OK. It can take a really long time to become the person you really want to be. Be who you are. It's the greatest gift we can give to ourselves, our community and our world."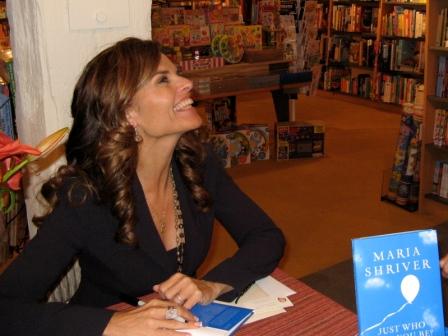 A gift is unquestionably what this non-profit, non-partisan women's conference is for women (and men). Who else but Maria Shriver can pull together such people all at the same place on the same day: Governor Arnold Schwarzenegger, Jennifer Lopez, Warren Buffet, Chris Matthews, Condoleezza Rice, Bono, Rachael Ray, Jack Kornfield, Madeline Albright, Cherie Blair, Gloria Steinem, Willow Bay, Christiane Amanpour, Billie Jean King, Campbell Brown, Bonnie Raitt, Michael J. Fox, Jamie Lee Curtis... and so many more!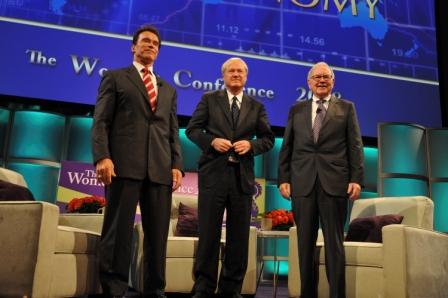 Governor Arnold Schwarzenegger, Chris Matthews, Warren Buffet at The Women's Conference '08
This year's conference tickets sold out within 3 hours. The aura of joy and enthusiasm exuding from the conference attendees, ages that spanned grandmas to grandkids and everyone in between, with ethnicities just as diverse, was thick throughout the massive Long Beach Convention Center all day long.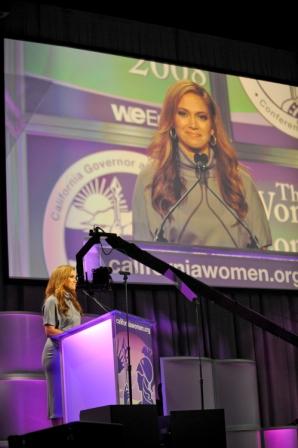 Jennifer Lopez, The Women's Conference '08
Shriver took the helm five years ago of this conference originally started 23 years ago for women-owned small businesses and has grown it into something that is phenomenal to behold and even more of a privilege to participate in on any level. When I was 14 years old, my mother took me to a Pacific Women's Conference in Fiji. Not since then have I witnessed such a spirit of female fellowship and empowerment between such diversity of people whose only basic common denominator is their gender.
First Lady Maria Shriver sat down with the Huffington Post at the kickoff to the conference, the Night At The Village festivities, to share her thoughts on The Women's Conference.
Paige Donner: How can women prepare to be leaders, to be the 'Architects of Change' that you are encouraging us to be?
Maria Shriver: First they have to get to know themselves. That's very important. The most important thing we can tell young people is not to be an imitation of somebody else. That their life is special. They are the creator of their life and their way and find something that they enjoy doing that doesn't even feel like work. It feels like a passion. And then just by doing that and bringing that to the world, they become architects of change.
When I say 'architect of change,' I feel that starts at your own dinner table, your own home. Whether that's speaking up in your job or asking for a promotion or saying, 'I think I can do that.' Using your voice in ways that might initially scare you. That can be being an architect of change.
I don't think you have to go out and become Secretary of State or be Bono but I think it's to let people know that whatever they do in their life that that's good.
PD: How can women begin to engage with their community as a leader?
Maria Shriver: You can go onto Californiavolunteers.org which gives you simple and accessible ways to be of service. We have 50-60,000 service opportunities posted up there every day. The first thing is to just step outside your own life. Go and find some place where you're needed.
There are so many places, particularly right now. Go and volunteer at a food bank. Our food banks around the country are empty. We've asked people to come here and bring food to this conference. Stock a food bank. If you play the piano, go play the piano in an Alzheimer's home. Or read in an Alzheimer's home. Help a military family with babysitting. The opportunities are endless. People often think 'They want me?' or 'I can be of help?' What we try to say here is 'Be who you are.' Feel that, live it and pass it on.
People think, 'Oh my goodness! I have to do something really big.' You don't. Do what you love. There's a great quote from a poet I use all the time: 'Instead of asking what the world needs, ask yourself what you love,' because what the world needs is more people doing what they love.
PD: Do you think it's possible that in your lifetime we might see a female Governor of California?
Maria Shriver: I think that's very possible. All of these positions, it's not 'if,' but 'when.' Because of Hilary Clinton and Shirley Chisholm before her and so many other women, young women today don't think that that's out of reach.
That's huge progress compared to when I was little.
It's just a matter of finding the right person, the right time and the right moment. We're witnessing an extraordinary campaign. We've witnessed history in the making. Certainly, I'm planning on Barack Obama being elected so we'll watch the whole world shift at that moment and I'm just grateful that I'm alive to see that.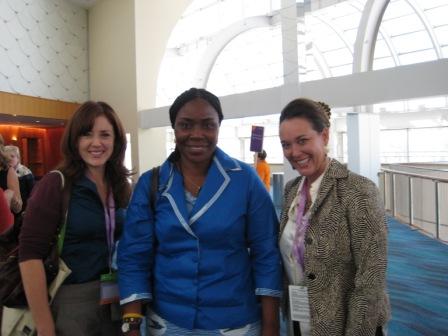 Katherine McDonald, Cerue Konah Garlo (Liberia), Paige Donner
Cerue Konah Garlo, Executive Director, Women NGOs Secretariat of Liberia, led a modern day Lysistrata campaign of thousands of her fellow countrywomen to withhold sex from their husbands until peace was achieved in her nation. The result: the incumbent corrupt President was ousted and the first-ever female President of this African nation was elected in his place.
PD: When you took the helm of this conference five years ago, in your wildest dreams had you ever envisioned it becoming so successful?
Maria Shriver: No. [pause] I was just walking by [outside the Long Beach Convention Center] and I was watching these thousands of women lining up to go to The Village and all I could think was, Whoa!
I almost don't even know what to say. It has become so big. I look at this Seal [California State Seal]. What I love most is that the success of this conference is able to transform women's lives every day. The programs it supports. Investing in women, helping women to achieve their dreams, sending young girls to college. Trying to train young girls to be leaders. Sponsoring the Minerva Awards. All of these programs didn't exist before that help women day in and day out.
I just look at it now and I'm like, Wow! Who thought of that?
We have this program called the Minerva project. We went in to juvenile halls and all the young girls are making their own interpretations of Minerva [the Roman Goddess of courage, strength and wisdom who graces California's State Seal]. They made these beautiful quilts with words that they associated with themselves and with her and they said how transformative it was.
Once you can see something touching you, you begin to believe you can be it.
I liked that Larry King didn't know who Minerva was. [Shriver was a guest on Larry King Live Oct. 20th 2008]. I liked that. So many people don't know who's on the State Seal and they don't know, not just in California but the United States of America, things they look at every day and they say, 'Wow! I didn't know that.' I think that's really cool. I think she's really amazing.
She wears her helmet which says that you can be a warrior and then she holds an olive branch and she uses these words of courage and wisdom and strength and you need that in life. But you have an olive branch. Because what we need most is peace. But don't mistake that for someone who's not a warrior. There's a lot being said in that image.
PD: What has been something you've enjoyed most about being the First Lady of the State of California?
Maria Shriver: Creating the Minerva Awards. I really have enjoyed that. I have to say that I moaned and groaned about this job but the way I have it now, I enjoy everything about it. I enjoy the people I work with. I enjoy this conference. I enjoy the programs that have come out of it. I enjoy working on the museum and telling the story of California in a serious way. I enjoy giving people service opportunities.
I've enjoyed the campaigns. I like that more than the actual governing part of it. I like meeting people and I like being able to help.
The following day in her speech addressing the crowd of 14,000 attendees, just before Secretary of State Condoleezza Rice took the stage, First Lady of California Maria Shriver said: "I've made peace with being First Lady. I don't like the title, but I love the job!"
2008 Minerva Award Recipients
Gloria Steinem, "Maria has created a nation here every year for five years."
Louise Hay, "Life loves you. Love yourself. Go and live your dreams."
Betty Chinn, "One small act of human kindness can change a life."
Ivelise Markovits, "We're all in this together. Especially for children."
Billie Jean King, "I went to Long Beach PolyTech High. Go Jackrabbits!"
When Condoleezza Rice spoke, she said that education is the most pressing national security issue. "I see bright kids trapped in public schools that are just warehousing them. As an educator this makes me scared. As Secretary of State, this makes me terrified," she said.
After the awards were handed out, Bono of U2 spoke to the crowd of adoring women. He spoke for the better part of an hour on the "absurdity" of world poverty. He admitted that brevity is not an Irishman's strong suit and rounded up his speech by saying, "America, we are asking you to help put humanity first on Earth."